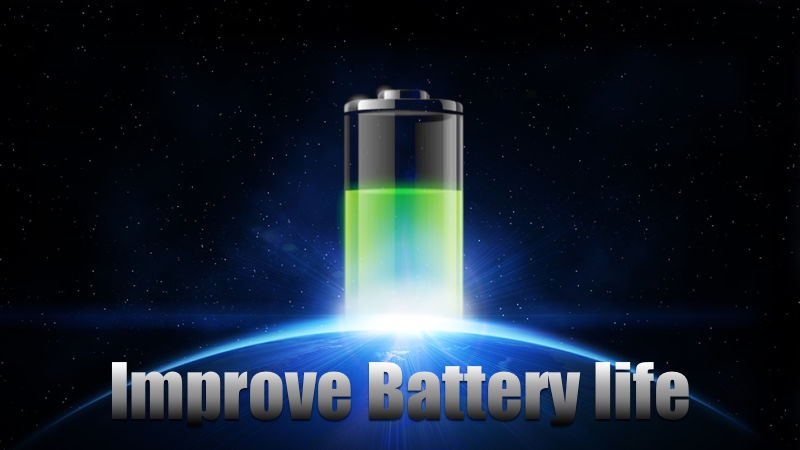 Many users are complaining about battery drain issues on iOS 11. While the problem is not as severe as it used to be during the betas, it is still noticeable perhaps more on some devices than the others. If you are experiencing bad battery life on iOS 11 powered iPhone, iPad or iPod touch then we have got some tips that may help.
Follow these steps to at least improve your iPhone's battery situation and get more out of it in a single recharge. Here are the tips for better battery life on iOS 11 and for solving battery drain on iOS 11.
It may not be possible for you to follow each and every one of these battery improvement tips. But using these tips whenever you can will have a positive impact and improve battery life on your iOS 11 powered iPhone, iPad or iPod touch. These are the best settings for getting better battery life on iOS 11.
Turn off auto brightness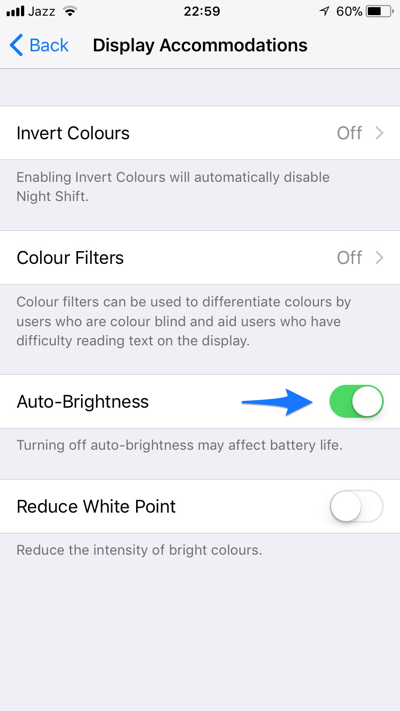 By default iOS 11 has auto-brightness feature turned on, meaning your iPhone or iPad will adjust the brightness of your device's display based on lighting in the room. This is useful but it can also increase power usage, since a brighter screen uses more power than a dimmer screen. On iOS 11 Apple has moved the auto brightness switch, so to access it you have to go to Settings > General > Accessibility > Display Accommodations  > Switch off Auto-Brightness. Once you have turned off the Auto-Brightness dim the display to the lowest point you feel comfortable with. You can increase brightness when you need to using Control Center slider.
Make the screen turn off quicker
By reducing the time it takes your iPhone or iPad to auto-lock you can greatly improve the battery life of your device and reduce iOS 11 battery drain. To make iPhone Auto-Lock quicker simply go to Settings > General > Display Brightness > Auto-Lock. And choose a lower time option (preferably 30 seconds).
Use Smart Invert Feature when possible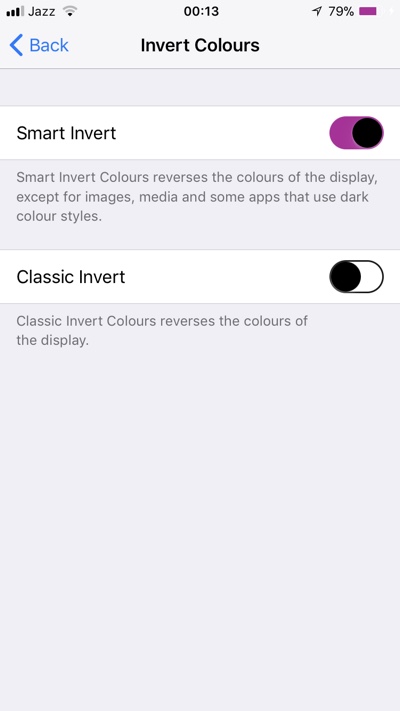 iOS 11's user-interface is mostly white and grey. Just look at Settings, Messages, Mail and other stock apps. Many third-party applications are also made with lighter colors. While they look nice lighter colors make your screen use more power, negatively affecting the battery life of your device.
With iOS 11's Smart Invert feature you can make most of the user-interface dark, which will also reduce amount of power that is used by your iPhone or iPad. Check out this post where we show you how you can quickly and easily turn on Smart Invert feature with a shortcut.
Turn off Wi-Fi and Bluetooth
You may already know this, iOS 11 changes the way you turn off Wi-Fi and Bluetooth using the Control Center toggles. Now when you tap on the toggles iOS simply disconnects the Wi-Fi and Bluetooth from active connections while keeping these services on for accessories like Apple Watch, Pencil etc. You can save battery life when you are not using Wi-Fi or Bluetooth by turning them off from Settings.
Turn on Low Power Mode Whenever you can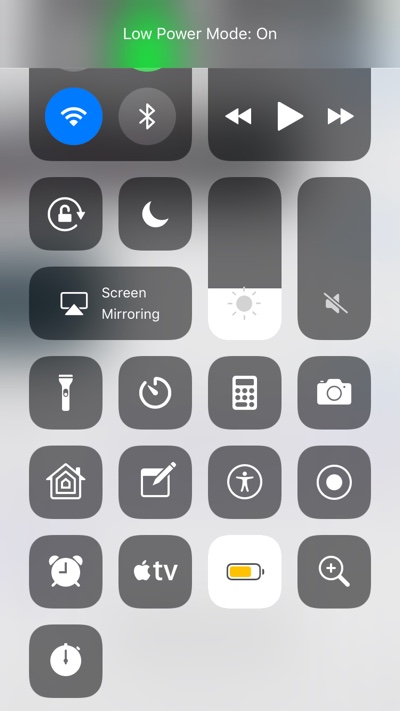 This one is a no brainer but it is still important to remind you that this feature exists. You can turn on Low Power Mode by going to Settings > Battery > Lower Power Mode > On or through its dedicated Control Center button. By turning this on you will be turning off mail fetch, Hey Siri, Background app refresh, automatic downloads, some visual effects. This can also help you extending iPhone battery life when you are running low.
Turn off Hey Siri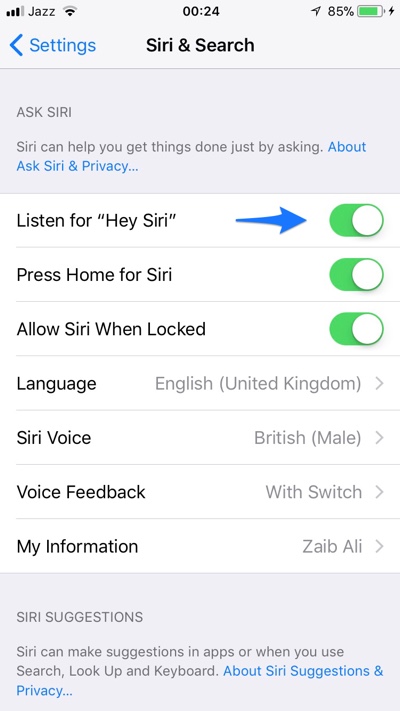 If Apple is turning off the Hey Siri feature during Low Power Mode, then it must make a difference to battery life. If you don't use Hey Siri it is a good idea to turn it off by going to Settings > Siri & Search > Listen for "Hey Siri" > Off. You can still use Siri by pressing the Home Button.
Turn off Location Services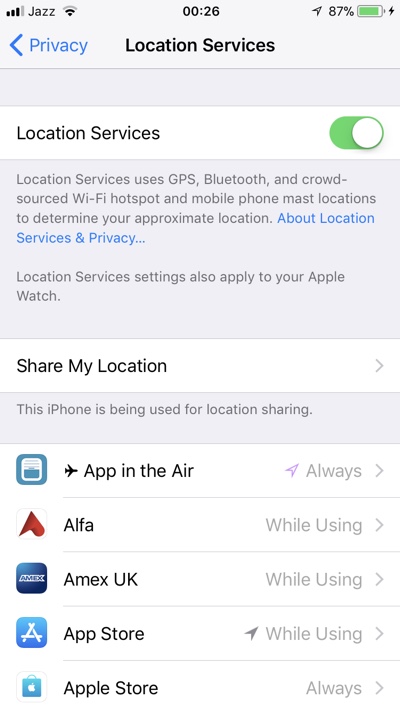 You can improve iOS 11 Battery life by turning off location services. This can significantly solve the iOS 11 battery drain issues on iPhone. Go to Settings > Privacy > Location Services > Turn off toggle.
Turn off email fetch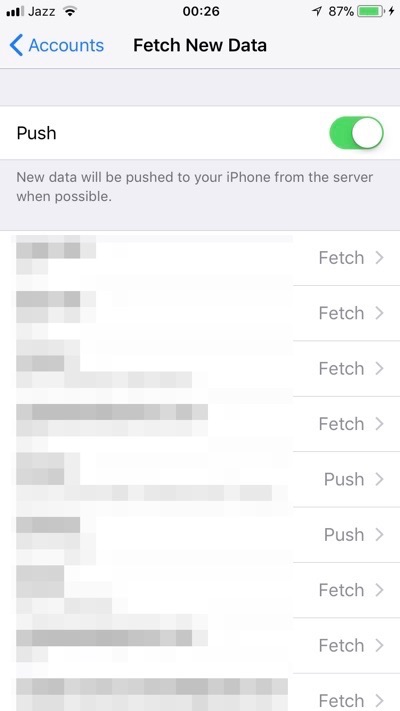 This is another setting that is turned off when you turn on Low Power Mode, so this makes a difference according to Apple itself. You can turn off email fetch by going to Settings > Account & Passwords > Fetch New Data. From there you can turn off email fetch feature for individual accounts. Turn them off for all of them. When this is turned off you will have to manually refresh the Mail app in order to get new emails messages.
Turn off background app refresh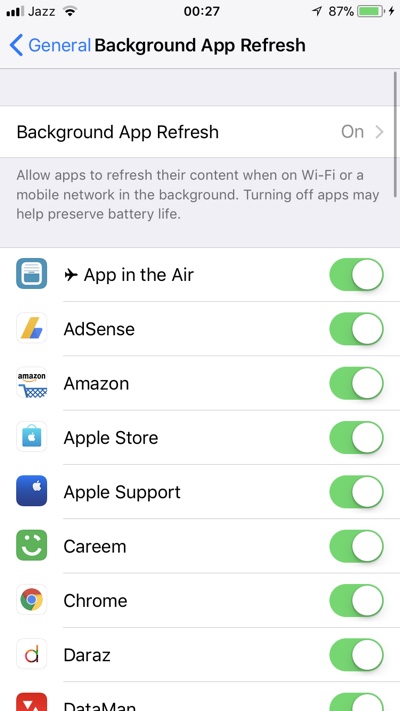 Another thing that Low Power Mode turns off is Background App Refresh, so it is definitely worth it to turn it off for better battery life. To turn it off go to Settings > General > Background App Refresh >  Off.
So there you go folks, these are some of the most effective iPhone battery saving that can solve iOS 11 Battery Drain issue on your device. Did this guide help in fixing battery drain issue on your iOS 11 device? Let us know in the comments section below.