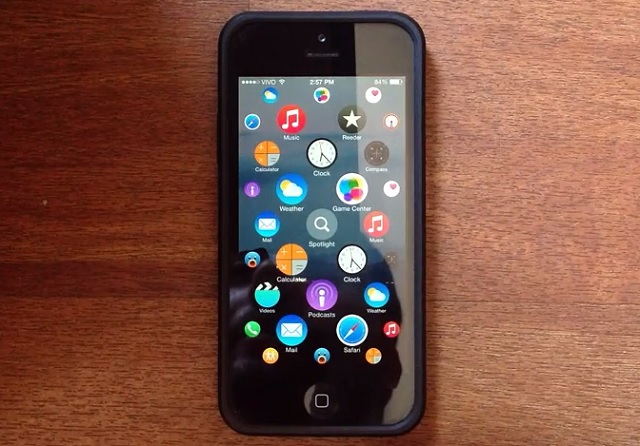 The upcoming Apple Watch features a fascinating user-interface with bubble like rounded icons that you can move around to access different apps. The interface looks so good that everyone has been wishing to have it on iOS. Luckily for us a developer created the whole Apple Watch homescreen experience on iPhone and uploaded the source code of his work on GitHub. Taking advantage of the source code different iOS developers have created apps that users can install on their jailbroken and non-jailbroken devices to try out the new interface. In this post we will show you how you can install the Apple Watch homescreen with or without jailbreak.
Get Apple Watch homescreen on iPhone without jailbreak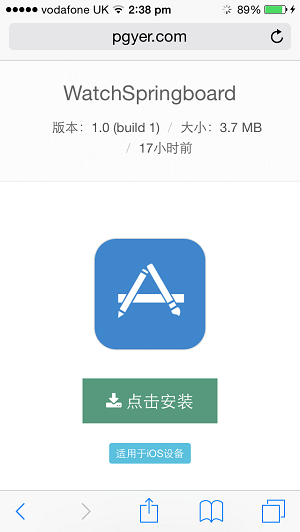 If you are not jailbroken then you can install a web app called WatchSpringboard on your iOS device that will allow you to have a fully functional Apple Watch homescreen on your iPhone or iPod touch. Simply open this link on your iPhone and hit the green download button. Then after the installation is done launch the WatchSpringboard using the homescreen icon. Please note this is a demo purposes only and you won't be able to use or launch your apps through this interface.
Installing Watch UI on a jailbroken device
If your iPhone is jailbroken then you can simply download the .deb for WatchSpring tweak and install it on your iOS device. First download WatchSpring here and then install a package called 'Open' from Cydia. Please note that iOS 8 or above is required for this to work. Unlike the WatchSpringboard web app you can fully use the homescreen to launch apps through WatchSpring tweak.
The developer of the WatchSpring tweak has announced that the tweak will also be released in Cydia, which will make it easier to install. We will let you know when WatchSpring is available in Cydia here. (Reddit)
Disclosure: iOSHacker may receive a commission if you purchase products through our affiliate links. For more visit our privacy policy page.