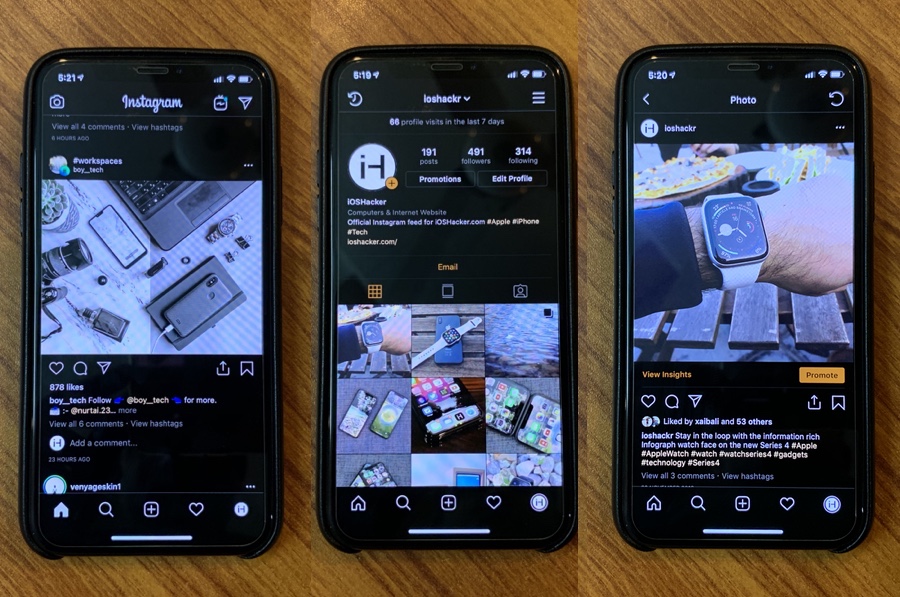 For many iPhone users Instagram is their most used app, and rightly so as the app keeps adding new features with every new update. However there is still one major feature that is still missing from the popular social networking app, and we are not even talking about lack of an iPad app. We are talking about lack of dark mode in the Instagram's iOS app, which makes it harder for users to browse their feeds at night time or in dark environments.
Turn On Instagram Dark Mode On iOS 13 – Tutorial
You can activate Instagram dark mode on iPhone by following these steps:
Make sure your iPhone is running iOS 13 or later.
Make sure Instagram app is updated to version 114.0 or later. You can check or update it by going to App Store and tapping on your profile photo, and then checking for the update on the Updates list.
Enable dark mode on your iPhone.
Launch Instagram. You should now have Dark Mode enabled inside the app.
Note: Instagram app's dark mode relies on iOS 13's dark mode and only works when iPhone's system dark mode is enabled.
Activating Instagram Dark Mode on iOS 12 or lower
While Instagram has yet to add a dedicated dark mode to its iPhone app, there's a workaround that you can use to add it yourself. In order to use Instagram in dark mode we can use iOS's smart invert feature, which inverts the on-screen colors essentially making the white background black. The great thing about this special accessibility mode is that it is 'smart' so it won't invert colors. for photos and other on-screen content thus making it good enough to use while browsing Instagram. Using the app in dark mode will put less strain on your eyes.
The only drawback to adding dark mode to Instagram through this trick is that you won't be able to watch videos, as unfortunately the colors for videos do get inverted. Apart from that this unofficial 'Instagram dark mode' works without any major issues.
You can activate Instagram dark mode on your iPhone by going to Settings > General > Accessibility > Display Accommodations  > Invert Colors > Smart Invert > Toggle On.
We know enabling Smart Invert by going through all those menus every time you want to use Instagram in dark mode can be tiresome, so we recommend a much easier solution.
On your iPhone or iPad launch the Settings app and go to General > Accessibility.
Scroll all the way down on the Accessibility page and tap on the 'Accessibility Shortcut' option.
On the next page tap on the 'Smart Invert Colors' option. Make sure a tick appears next to it when you tap on it.
Return to the homescreen and quickly press the home button three times. On newer iPhones press the side button three times to get the menu. On the third press either the dark mode will be activated or you will get a menu with Smart Invert option on it. In case of the menu tap on the Smart Invert option.
Once Smart Invert's Dark mode is activated you can launch Instagram and use it in dark mode. You can disable the Smart Invert by following the same steps as above.