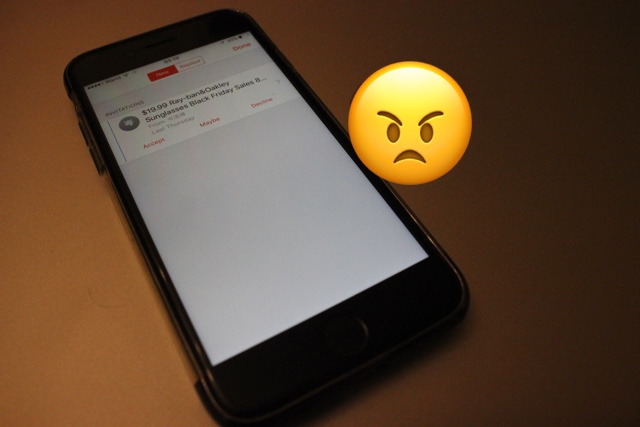 I get more than my fair share of spam emails, we all do. However today I woke up to a nasty surprise that puts email spam to shame. Today I received an invite to participate in an event where I can get Ray-Bans for just $19.99. This sounds too good to be true, because it is not. The event invitation that showed up in my Calendar app Inbox was a spam from some dodgy online retailer. Upon further digging I found out that spammers are now utilizing Apple's iCloud to send spammy invites to people and these invites not only show up in user's Calendar app but they also receive a notification, which is even more annoying. And I am not alone.
Thanks to a tip shared by Reddit user asschompster we can prevent this from happening to us again. The trick involves setting up iCloud in a way that event invitations only show up in your email inbox and inside the Calendar app. Of course you will be able to accept or decline legitimate invitations right from the email. To do so, follow the steps below.
Get Rid Of Calendar App Spam
Step 1: On your computer open iCloud.com. Once you are logged in click on the Calendar web app.
Step 2: Now click on the gear icon from the bottom left side of the screen and then click on 'Preferences…'. This will allow you to change Calendar settings.
Step 3: From the menu click on 'Advanced' tab.
Step 4: Finally under 'Invitations' choose 'Email to [email protected]' instead of In-app notifications.
Choosing this option is not ideal, as it will also send genuine invitations to your email only. However if you are tired of getting spammy invitations and want to get rid of this annoyance, then following the steps mentioned above should suffice.
Update: Thanks to a method shared by reader Michael in the comments section below you can get rid of any spam without notifying the sender. Although this way you can get rid of one particular spam and have to do the same for every spam event that arrives in your inbox, not notifying the sender and keeping the option to receive event invitations in-app notifications seems worth the effort for some users.
The issue with this is that you confirm the email address for additional spam down the line and also that it is an iCloud account.

The best way do handle is this:

1) Create a TEST iCloud calendar
2) Drag and drop the event invite to the TEST iCloud calendar
3) Delete the TEST iCloud calendar
– NOTE: When prompted to confirm Delete, choose Delete
4) When prompted for the Delete confirmation, choose Delete and Do Not Notify

This will delete the calendar and the invite and will not notify the sender
Disclosure: iOSHacker may receive a commission if you purchase products through our affiliate links. For more visit our privacy policy page.