Among many new features of iOS 8 there's one that has seriously annoyed many iPhone users. The new operating system puts the recently used and favorite contacts on the app switcher or multitasking screen. This feature is supposed to make communicating with your most recently used contacts easier however many people don't like it as it destroys the minimalism of the app switcher and puts faces of people at a place you don't want to see. The good news is you can easily remove the favorites and recent contacts from the App Switcher of iOS 8 following a few simple steps. In this post we are going to tell you how to get rid of them.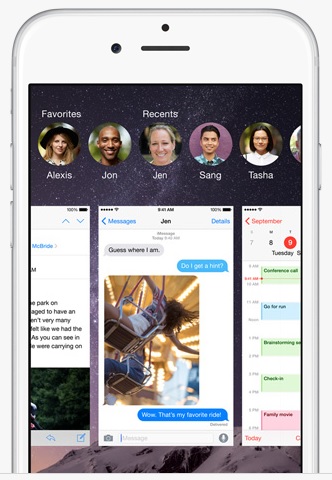 1. On your iOS device open Settings and then tap on the Mail, Contacts, Calendars option.
2. Now scroll down until you see the 'Contacts' section. From there tap on 'Show In App Switcher'.
3. On the next page you will have two toggles. One for Recent and one for Phone Favorites.
4. Turn both toggles off and exit the Settings app.
That's it! Now both favorites and recent contact buttons will be removed from your iOS 8 powered device and the App Switcher will get its iOS 7-like minimalistic look back.