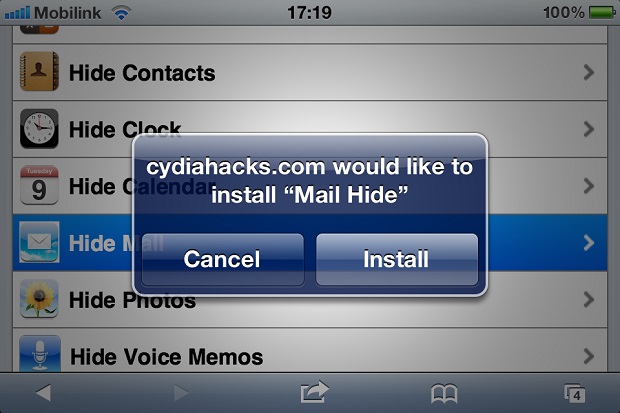 iOS has a great set of stock applications that are capable of doing the job rightly. However there are even superior solutions available through the App Store that are much better than iOS stock apps in terms of design and features, for example Sparrow or Mailbox apps can be more appropriate for some than the stock mail app, Any.Do reminder app may seem more useful than the Stock Reminders app and so on.
One problem many users who choose third party apps over the stock ones face is that they cannot get rid of the stock app's icon as iOS does not allow users to delete or even hide the apps that come pre-installed on the mobile operating system. These icons stay on the homescreen all the time whether you use them or not and there's nothing you can do about it – unless you are willing to use some unofficial solutions.
One way to hide iOS stock apps from the homescreen is through a hack created by the developers of Rag3Hack. This hack unlike most others does not require jailbreak thus is available outside of Cydia.
Here's how you can hide stock apps on iOS using Rag3Hack hack.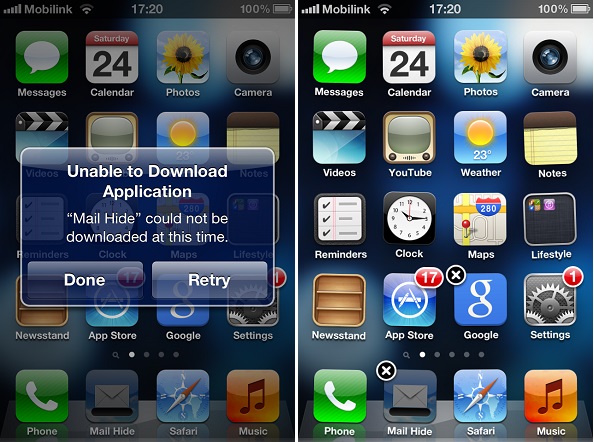 On your iPhone, iPad or iPod touch launch Safari browser and open rag3hack.no-ip.org.
Now tap on the 'Hide Apps without Jailbreak' option on the website.
You will get the menu offering different apps you can hide. Just choose the app you like and tap on it.
The website will now try to install a app or certificate on your iOS device, confirm this action.
You will get a notification that the installation has failed, don't worry and tap 'Done' button.
Now exit the web browser and on homescreen enter the 'jiggle mode' by tapping and holding on an icon for a few seconds. Now locate the stock app's icon you wanted to hide – you will notice that a word with 'Hide' will appear on its name. Tap on the 'X' located on top of it in order to remove it.
Using this hack you can hide the icons of almost all the stock applications of iOS. There are some other useful hacks too including 'Disable iAds in apps' and more.
Although the icon will disappear it will come back once you reboot your iOS device. Which is acceptable since most people don't reboot their smartphones or tablets that often and it makes the process reversible.