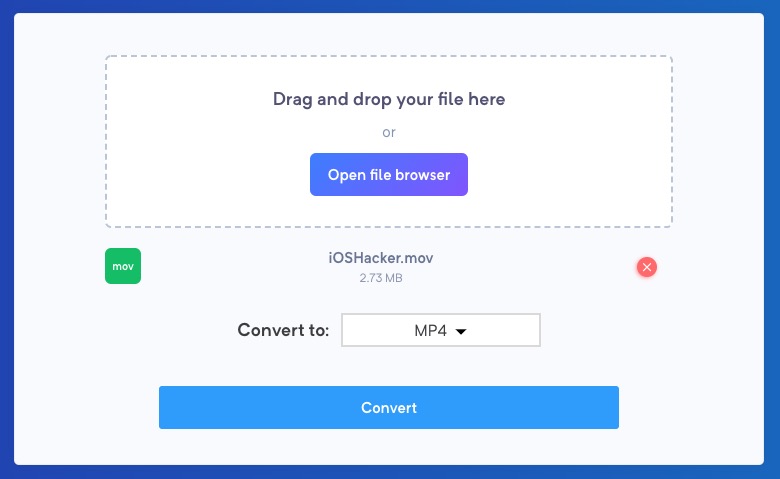 Converting videos from one format to another can be needlessly hassle ridden. You have to download apps just to convert a video from one format to another, and more often than not these applications come with a one time or worse, a recurring subscription fee. MaxConvert's online video converter tool simplifies the video converting process for Mac users by allowing them to easily change the format of a video to the output format of their choice.
What makes MaxConvert great apart from it being totally free and simple to use is the fact that you are not required to download anything on your computer. You can simply load up a web page in your favorite web browser, select the file you want to convert, choose your desired output format then click the 'Convert' button. Upon doing so your video will be converted and available for download in a few moments.
With this online video converter you get a wide variety of formats that you can choose from. You can choose from 10 different options including AVI, MP4, MPEG, MOV, FLV, WEBM, M4V, WMV, MKV and 3GP.
You can convert a video for free by performing the following simple steps.
Open MaxConverter.net on any web browser.
Drag and drop the video file you want to convert. You can also click on the Open File Browser and select the file.
Once your file is listed on the tool, choose the format you want to convert the file into. If its a video file look under video menu, similarly look under audio menu for audio files.
After selecting the format of choice hit the 'Convert' button.
Wait for the file to upload and then convert.
Finally hit the Download button to save the converted video file to your computer.
Another great thing about this particular online video converter is that you are not required to sign up before you can make conversions and there's no limit to how many files you can convert for free. The site is also very secure, as the video files uploaded for conversions are deleted from MaxConverter's servers within 3 hours of upload.
There's also an audio conversion tool built into MaxConvert that gives users access to tools like WAV to MP3 converter, and other formats like M4A, WMA, AAC, FLAC, OGG, AIFF and more.
Since MaxConverter is an online tool, you can use it on any platform including macOS, Linux, Windows, iOS, Android and more.