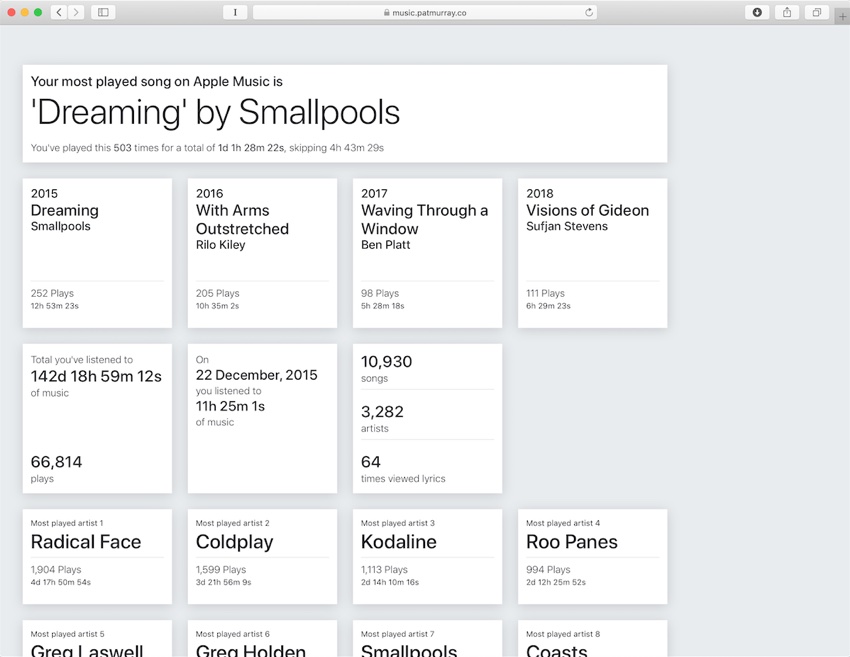 As you may already know, Apple now provides users with the opportunity to download the data company has accumulated from you over the years. While any Apple user can go to Apple ID Data & Privacy website and request his or her data, it may not be as useful in its raw form to general users.
To make this data useful for users and to allow them to see their Apple Music history in a meaningful way, Australian developer Pat Murray has created a tool, which allows users to upload their Apple Music Play Activity file to his online tool. Once you have uploaded the file to the website, it analyzes the data and converts it into a visual report that tells you what songs you have been listening to, even highlighting the number of times you have streamed a particular song from the streaming service.
Apple Music Analyser will tell you how much time you have spent listening to music on Apple Music, your longest session and more. It even tells you how many times you completed a song, paused, skipped to another track, scrubbed on the song's playback and more. The information it provides is pretty fun and interesting and can help you understand your own music listening habits.
Using the Apple Music Analyser tool is pretty simple, just follow the steps below.
Go to Apple's Privacy and Data website and sign into your account.
Click on 'Request a copy of your data' link and from the next screen select Apple Media Services Information and continue.
Click on 'Complete Request'.
Now Apple will prepare your data and email you once it is ready to download. The preparation process could take up to a week.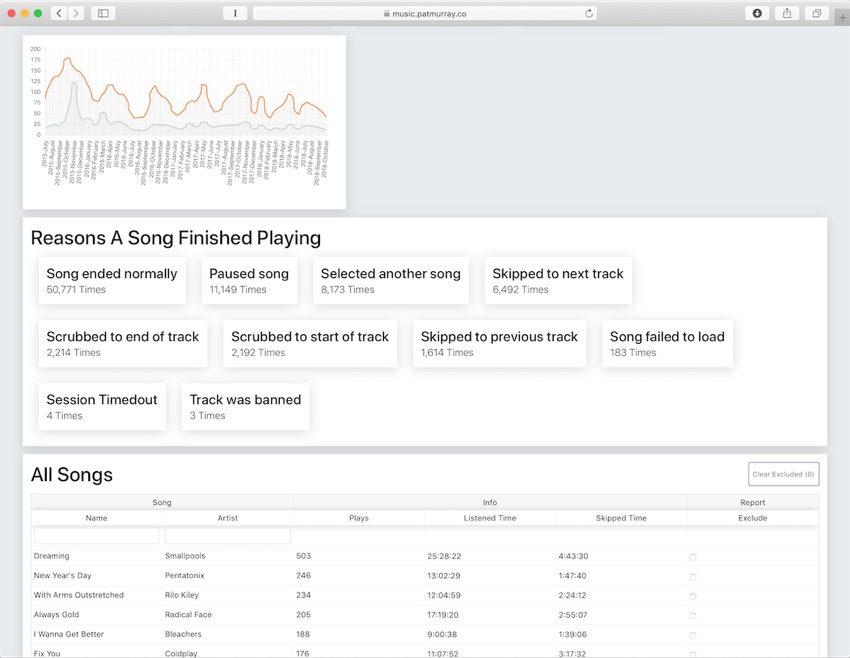 Once you have received your data, unzip the main file and then unzip 'App Store iTunes Store iBooks Store Apple Music' file. Next locate the Apple Music Play Activity file. It should be located at the destination below.
"App Store, iTunes Store, iBooks Store and Apple Music/App_Store_iTunes_Store_iBooks_Store_Apple_Music/Apple Music Activity/Apple Music Play Activity.csv"
Finally you can open this link and upload your Apple Music data file in order to convert it into a visual report. The file is not uploaded to a server and is processed right in your browser.