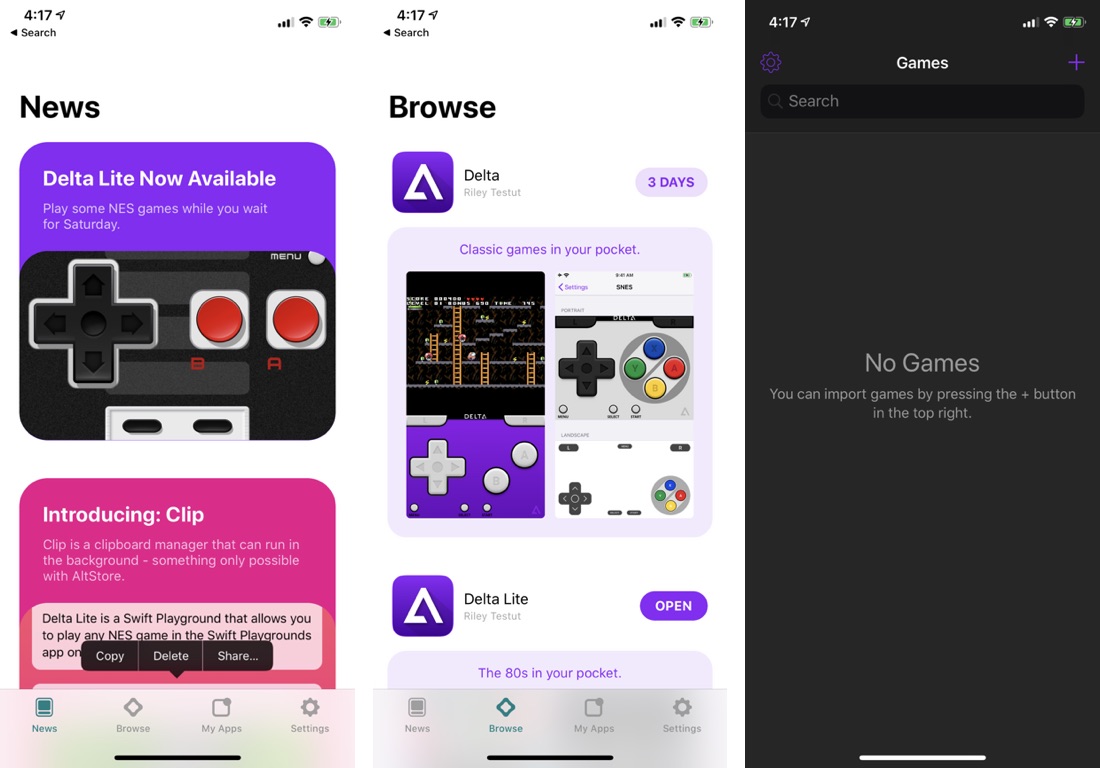 In this tutorial you will learn how to install alternative app store AltStore on your device and use it to install Delta Emulator. With this tutorial you will be able to install and play your favorite classic games like Super Mario on your iPhone, iPad or iPod touch.
What makes AltStore unique is that it is an alternative app store for non-jailbroken devices, which allows users to download and install apps on their devices like they would from the App Store or Cydia if they were jailbroken. However it does that without requiring jailbreak.
For installation AltStore uses clever techniques that don't rely on enterprise certificates. Instead it uses Apple's Development toolkit, which enables users to use their own Apple ID to install apps that they have developed themselves on Xcode.
All this means is anyone with a Mac or Windows PC can install AltStore on his or her device and then use it to download cool apps like Delta Emulator to play classic Nintendo games on their devices. While we only get the Delta Emulator in the preview, we expect AltStore to be filled with more exciting apps and games in the future, especially those that are not allowed in the App Store by Apple.
Here's how to install AltStore on iPhone or iPad
Step 1: First of all open AltStore's website and download AirServer for your Mac or Windows PC.
Step 2: Once AirServer is downloaded run it, and connect your iPhone or iPad to your computer using a USB cable.
Step 3: Now Click on the AirServer icon in the menu bar and from the drop down menu select 'Install AltStore'.

Step 4: From the side menu choose your iOS device. At this point AltServer will start installing AltStore on your device.
Step 5: During installation you will be asked to enter your Apple ID details. Enter your username and password. In case you have two-factor authentication turned on, use this guide to generate App-Specific password.
Step 6: After installation is complete you should see the AltStore icon on your iOS device's homescreen, launch this app.
Step 7: From the AltStore download Delta Lite emulator. You will be asked to enter your Apple ID details again, enter your username and the same password you generated in step 5.
Step 8: Once Delta Lite emulator has been installed you can open Safari browser and download your favorite game's ROM on your device. You should be able to find plenty of websites offering such downloads through Google.
Step 9: After downloading the ROM launch Delta Lite and tap on the '+' button. From the menu choose 'Files' and then point Delta Lite to the ROM app you have downloaded in the previous step.
Enjoy your favorite classic game!