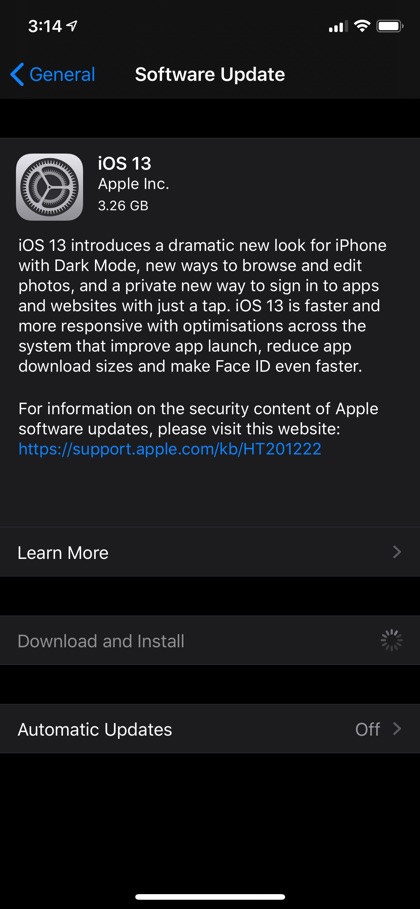 If you are running iOS 13 beta on your device and want to download the final version of iOS 13 on your iPhone instead of iOS 13.1 beta, then you are in luck. In this article we will show you how you can install iOS 13 final on your device and get off Apple's developer beta program.
Starting iOS 13 Apple has adopted a new way of beta testing its iOS software. Instead of pushing a final iOS GM to all beta testers it has kept them on the beta testing train by releasing iOS 13.1 beta before releasing the iOS 13 GM. This means testers who were looking to install iOS 13 GM or iOS 13 final on their device were forced to update to iOS 13.1 beta.
Install final iOS 13 on iPhone instead of iOS 13.1 beta
However if you want to avoid iOS 13.1 beta altogether and finally bring your device to the stable build of iOS 13, you can follow the simply steps below.
Note: This guide only works if you are running iOS 13 beta (such as iOS 13 beta 8). If you have already downloaded iOS 13.1 beta, then read the next section.
On your iPhone or iPod touch open Settings and go to General.
Now tap on Profile option and from next screen tap on iOS 13 Configuration Profile option.
Finally tap on 'Delete Profile' and kill the Settings app from the app switcher screen.
Now open Settings and go to General -> Software Update.
Now you should be able to see iOS 13.0 download. Download this update and install on your device.
For Those Running iOS 13.1 Beta Already
If you are someone who is already running iOS 13.1 beta on his or her iPhone and wishes to install iOS 13.0 final on it, then you can follow the steps below. Remember if you have created an iTunes backup while running iOS 13.1 beta you won't be able to restore it to your iPhone after installing iOS 13.0. We recommend you create and restore iCloud backup instead.
Download the iOS 13 IPSW file from here.
On your iPhone make sure Find My iPhone service is disabled by going to Settings -> Apple ID -> iCloud -> Find My iPhone -> Off.
Connect your iPhone to your computer and launch iTunes. Now click on the iPhone button to access the Summary screen.
Now press and hold the Option key (Shift key in case of Windows) and click on the 'Restore iPhone' button.
Select the iOS 13.0 IPSW file you have downloaded earlier and let iTunes install iOS 13 on your device.
Once completed set up your iPhone by following the on-screen instructions restore your iCloud backup on it. You can also set up your iPhone as a new device.