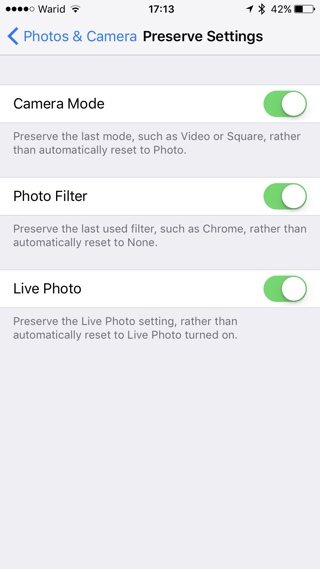 The iOS Camera app has many modes, however it defaults to the Photo mode. Meaning when you exit the Camera app with Video or some other mode selected, and open it again it will automatically reset to Photo mode. This is because the Photo mode, which allows users to take still shots is the most used mode of the application. While this is true for most iOS users, there are many who would rather have the Camera app launch directly on their last used mode such as Video, Square or even Slo-mo mode.
With iOS 10.2 Apple has finally made it possible for users to make their iPhone or iPad's stock Camera app to remember the mode they last used and launch with this mode already selected. To enable preserve feature all you have to do is open Settings app > Photos & Camera > Preserve Settings and switch toggle for 'Camera Mode' to on position. It is nice to see that Apple is offering this feature as an option and not making the preserve function default. So if you prefer to have Camera app reset to Photo mode, then you can keep the toggle off. However if you want it to remember the last mode you used, then you can simply turn this toggle on.
In addition to offering preserve toggle for Camera Mode, iOS 10.2 also offers preserve mode for Photo Filter. This means if you have enabled a photo filter on your device while Photo Filter toggle is on, the app will preserve the last used filter rather than resetting to 'None'.
iOS 10.2 also allows users to have the option to preserve on/off setting for Live Photo option. All of these toggles can be accessed under Photos & Camera settings.