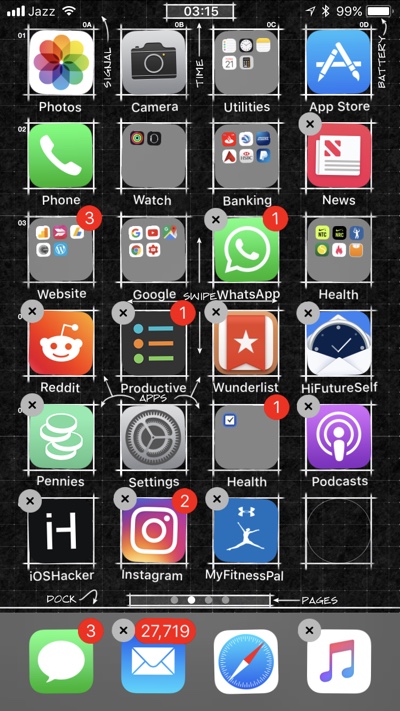 In the early days of iOS, using the iOS home screen was quite simple. You could tap on an app to open it, or hold down on an icon to rearrange them. Then folders were introduced, which you could create one by holding an icon on top of another. It was really quite simple and intuitive. Things got more complicated when the iPhone 6S came along with 3D Touch. Now, if you pressed harder on an icon, you would get shortcuts for those apps.
As it turns out, some people had trouble rearranging the home screen after that. They would hold down on the icon pressing firmly, which invoked the app shortcuts, but wouldn't put the home screen into edit mode. Some users had difficulty differentiating between holding down lightly on an icon and holding down an icon firmly. Fortunately, with the latest beta of iOS 11, beta 3, Apple has made it easier for these users.
Now, if a user uses 3D Touch on an icon and holds their finger down, the shortcuts disappear and the home screen enters edit mode if a shortcut isn't quickly selected. Don't worry; you don't need to be fast about selecting your shortcuts now. To have more time to select the option you want, simply remove your finger from the screen. It will then behave exactly as it did before.
I personally like the change. While I had no problem distinguishing between the two actions, I could see how it could be difficult for new user to learn the differences between the two.
What do you think of the change? What's your favorite new feature in iOS 11? Let us know in the comments section down below!
P.s Get the Blueprint wallpaper from the screenshot above here.