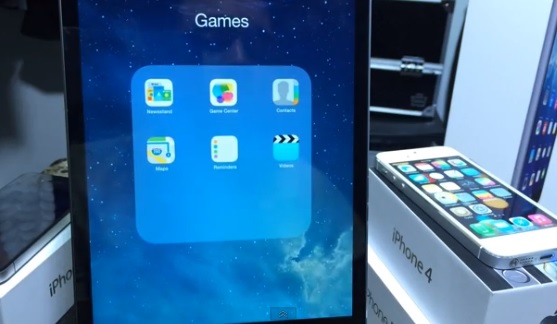 We recently told you about a glitch in iOS 7.1 (or earlier) that allowed users to create nested folders on their iOS device. Now it seems like that glitch isn't the only mistake Apple made while designing the iOS 7.1 homescreen. As demonstrated by a Youtube user you can extend the nested folders glitch and hide the stock applications of your choice from the homescreen. Having the ability to get rid of stock apps that we don't use is something we have always wanted and this glitch has finally provided us with that opportunity.
In case you are wondering the stock apps are certainly not deleted when you follow the steps shown in the video, instead they are just hidden. They will reappear as soon as you restart your device.
Here's how to hide stock app icons using the iOS 7.1 glitch
1. Put the stock apps you want to hide into a folder. Make sure its on a homescreen page that is full (including the dock).
2. Next take any random app and drag its icon onto the icon of another app to create a folder. When the animation for folder creation begins quickly tap on the folder of stock apps you created in the first step and put it into the folder 2 as well.Now remove the two apps from the folder 2 leaving the first folder (with the stock apps) in it.
3. Next drag out the folder that is placed within the folder 2 to the homescreen. As soon as you drag it out on the homescreen the folder will disappear taking all the apps with it as well.
It is a simple trick that takes less than a minute to perform. You can watch the video embedded below to get a better idea of how it works.
[
9to5Mac
]