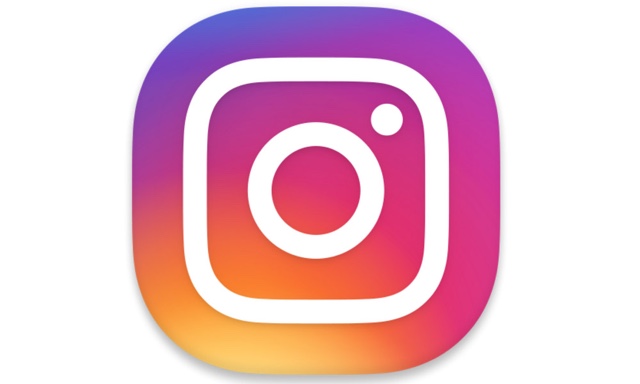 If you are an Instagram user, then you would be thrilled to know that the photo sharing app has made it easier for users to quickly share photos to their accounts, right from the Photos app. Starting Instagram 8.2 for iOS, users will be able to open the Photos app on their iPhone or iPad and simply launch the sharesheet, which will allow them to post the photo in question to Instagram. Users were already able to use the sharesheet extensions to post on other third-party apps like Facebook, Twitter, Flickr and more.
While posting photos to Instagram is very simple, there are a few extra steps that you need to perform in order to activate this feature. To help you through the process we have written the instructions below.
First of all make sure you are running Instagram 8.2 or above. If your version is older, then open App Store and update the app for free.
Once you have updated to latest version of Instagram for iOS app, launch Photos app and tap on the photo you want to post on social networking app.
Tap on the 'Share' button and then slide on the row of social app icons. Tap on the 'More' button.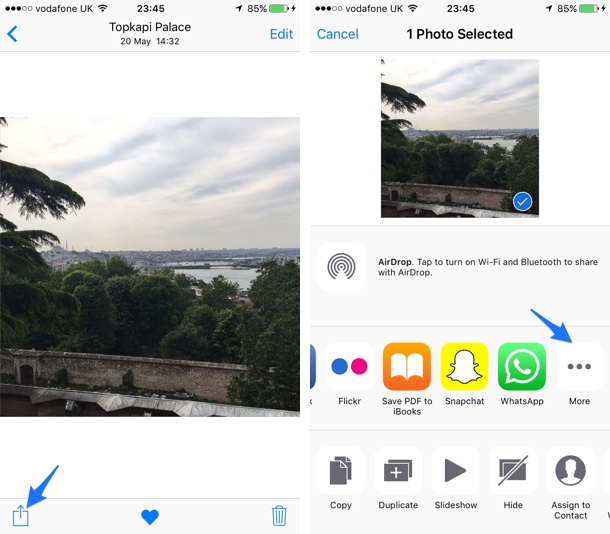 From the 'Activities' list look for Instagram and turn on its toggle. You can also change the position of the Instagram share button on the sharesheet menu by dragging the three line reorder button.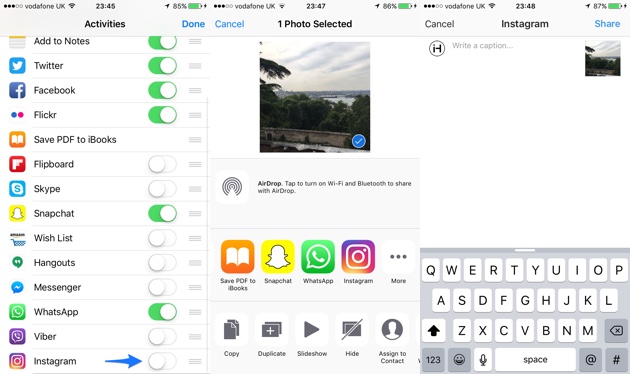 Once the Instagram share button has been activated you will be able to quickly share any photo to your account by accessing it. You get the option to add a caption for the picture.
Please note that with the current implementation it is not possible for users to add Instagram filters to photos before sharing them through sharesheet. Also, if you have multiple accounts added in the Instagram app, the photo will be shared on the one that is currently active.
Disclosure: iOSHacker may receive a commission if you purchase products through our affiliate links. For more visit our privacy policy page.