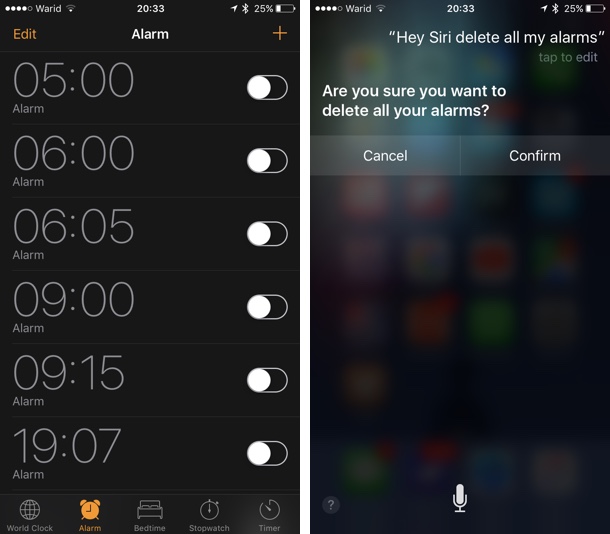 When you have multiple alarms in your iPhone's clock app and you want to delete them all, you soon come to a realization that Apple has not included a delete all button to iOS yet. This means once you are in the 'Edit' mode you have to delete each alarm individually. Now this is not something that would normally require a lot of time or effort but if you have multiple alarms, lets say 10 or more deleting them could take a while. Thankfully Apple's virtual assistant that we all know as Siri has a useful trick up its sleeve as noted by Reddit user Bagatell.
To delete multiple alarms you can take advantage of Siri's Clock app integration. Just summon Siri by saying 'Hey Siri' or long pressing the home button and then say "Delete All My Alarms" or something similar. Once Siri recognizes the command it will ask for confirmation on whether you actually want to delete the alarms. Just tap on the 'Continue' button and you are good to go. At this point Siri will remove all the alarms on your device clearing up the mess in the Clock app. You can now start from scratch and create new alarms without having to deal with any clutter.
Bonus tip: If you have multiple alarms you can ask Siri to enable or disable all of them at once. Just say 'Enable/Disable all my alarms'. This is useful for those who usually have more than one alarms set up and want to activate all of them without launching the Clock app.
Also read: Now you can swipe to delete alarms on iOS 9+
Disclosure: iOSHacker may receive a commission if you purchase products through our affiliate links. For more visit our privacy policy page.