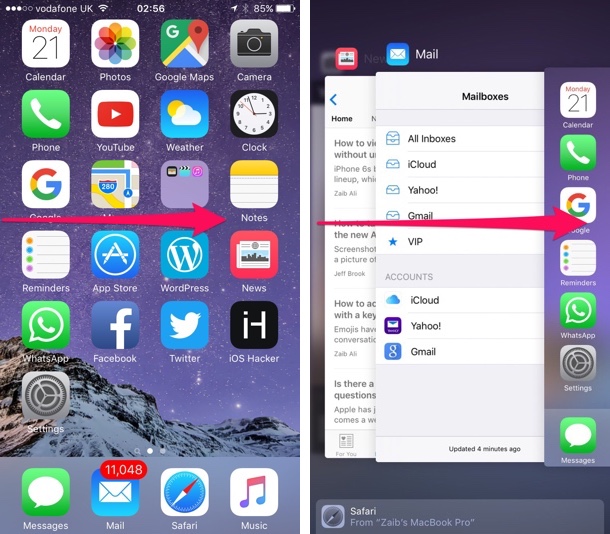 iPhone 6s and iPhone 6s Plus have a 3D Touch feature, which allows users to perform different functions by applying force on their device's screen. There are many gestures for 3D Touch including peek and pop, icon shortcut menus etc. One little gesture that many users are not familiar with gives us the ability to jump between two running apps. You can do so without actually pressing the home button or opening the app switcher screen, well sort of.
How this tips works is pretty simple. All you have to do is swipe in from left most side of your screen towards right. Remember the swipe has to be performed with a force touch, not a normal touch for this to work. When you are doing so, you will see that the app switcher will appear. However instead of stopping continue to slide until you are taken from your current app to the next app in line. You can perform this gesture again in order to return back to the first app you were using.
Using 3D Touch to switch between two apps can make multitasking a lot easier on iOS. On iPhone 6s and 6s Plus, which do not offer split screen functionality like the iPads, this can make the life of users more convenient. You can use this tip when reading information from one app and using it in another, or when you are talking to someone on iMessage while browsing the web. It can be helpful in a wide range of usage scenarios.
Disclosure: iOSHacker may receive a commission if you purchase products through our affiliate links. For more visit our privacy policy page.