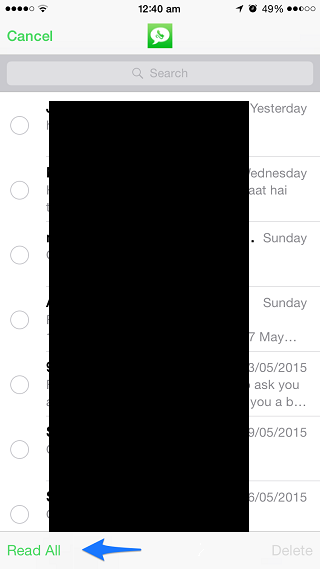 If you are like me then chances are you get tons of messages on daily basis. Sometimes the messages are so many that you don't have time to read them all. Then there are times when you don't want to open the messages right away, but also don't want to delete them as well as you plan to come back to them at later point. No matter if you plan to read the messages or not their's an easy way to mark all new and unread messages as read. All you have to do is perform a few taps and boom, you no longer have to worry about the unread messages count that appears on the Messages app's icon. Follow the simple steps below to mark all messages as read on your iPhone, iPad or iPod touch.
1. Open the Messages app and tap on the 'Edit' button.
2. Once you are in edit mode simply tap on the 'Read All' button.
That's it! Now all your unread messages will be marked as read without requiring you to open each individual thread.
While ability to mark all messages as read is quite useful, a feature to delete all of them at once would have been even more helpful for the users, as right now you have to tap on each thread to select it and then tap on the 'Delete' button.