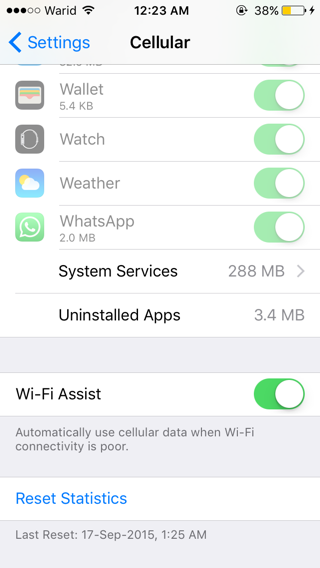 In addition to big new features, iOS 9 has also brought some small features to iPhone that make the life of users easier. One such feature is the new 'Wi-Fi Assist' option found within the Settings app. This option as detailed by Apple automatically switches user's internet connection to cellular data when WiFi signals are weak or there's no network available on a WiFi connection. This feature is there to make sure you always get the best speeds for your web browsing does not get interrupted. While the feature is useful, it can be problematic for some users as well.
When enabled Wi-Fi Assist automatically changes the active internet connection to cellular if WiFi is not working properly, without notifying the user. So if you have a limited data allowance on your contract, you may run out of available bandwidth sooner than normal, without even realizing it.
If you don't find the Wi-Fi Assist useful and don't want to end up paying extra for all the 3G/4G data you have used unknowingly, it is better to turn off the Wi-Fi Assist feature on your iPhone. You can do so by following the simple steps below.
How to turn off Wi-Fi Assist feature on iOS 9
Open Settings and look for the 'Cellular' option
On the Cellular page scroll down until you find the 'WiFi-Assist' toggle. Just turn it off.
WiFi-Assist is indeed a useful feature, but for those who have unlimited or large data allowance. For others it is just a quicker way of running out of data before the network refreshes.
Disclosure: iOSHacker may receive a commission if you purchase products through our affiliate links. For more visit our privacy policy page.