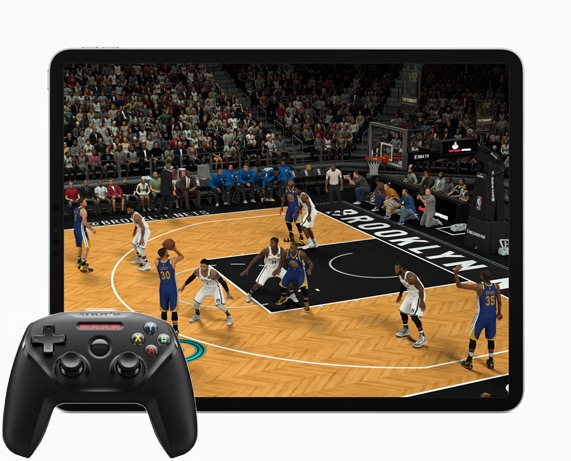 Today Apple took the stage to announce the all new iPad Pro 11-inch and iPad Pro 12.9-inch. Both these iPad sizes feature the same design and specs, with the only difference being their size. The new iPad Pro is a gorgeous looking powerful machine. With the A12X Bionic Chip that has 8-Core CPU and 7-Core GPU. This new processor is able to provide 35 percent faster single core performance over the previous iPad Pros and a whooping 90 percent faster multi-core performance.
The new A12X Bionic Chip is also great at GPU performance and gives up to 2x faster graphics performance compared to previous generation. All this makes the new iPad Pros great portable gaming machines. In fact while announcing its specs Apple boosted that the new iPad Pros are capable of giving better graphical performance than the Xbox One S gaming console.
With this level of powerful gaming capabilities it only makes sense for Apple to release a physical thumb stick controller, so that iPad Pro gaming is taken more seriously not only by developers by also its users. I personally love to play games on my iPad Pro however most of the games I play don't take advantage of the device's graphical capabilities. Sure there are complex console-like graphics intensive games available on the App Store, however playing them on iPad's touchscreen isn't as convenient as it is on a device like Nintendo Switch, which comes with physical controllers.
There are also quality third-party game controllers for iPad out there however majority of games on the App Store don't support them, thus even the serious iPad gamers don't consider buying them. The developer adoption of controllers will skyrocket if Apple starts selling its own controllers, and goes as far as releasing gaming edition iPad Pros that come with physical game controls in the box. If this happens I will be one of the first to buy them.
What do you think? Do you think Apple should make its own physical controllers to make iPad gaming more mainstream? Let us know in the comments section below.