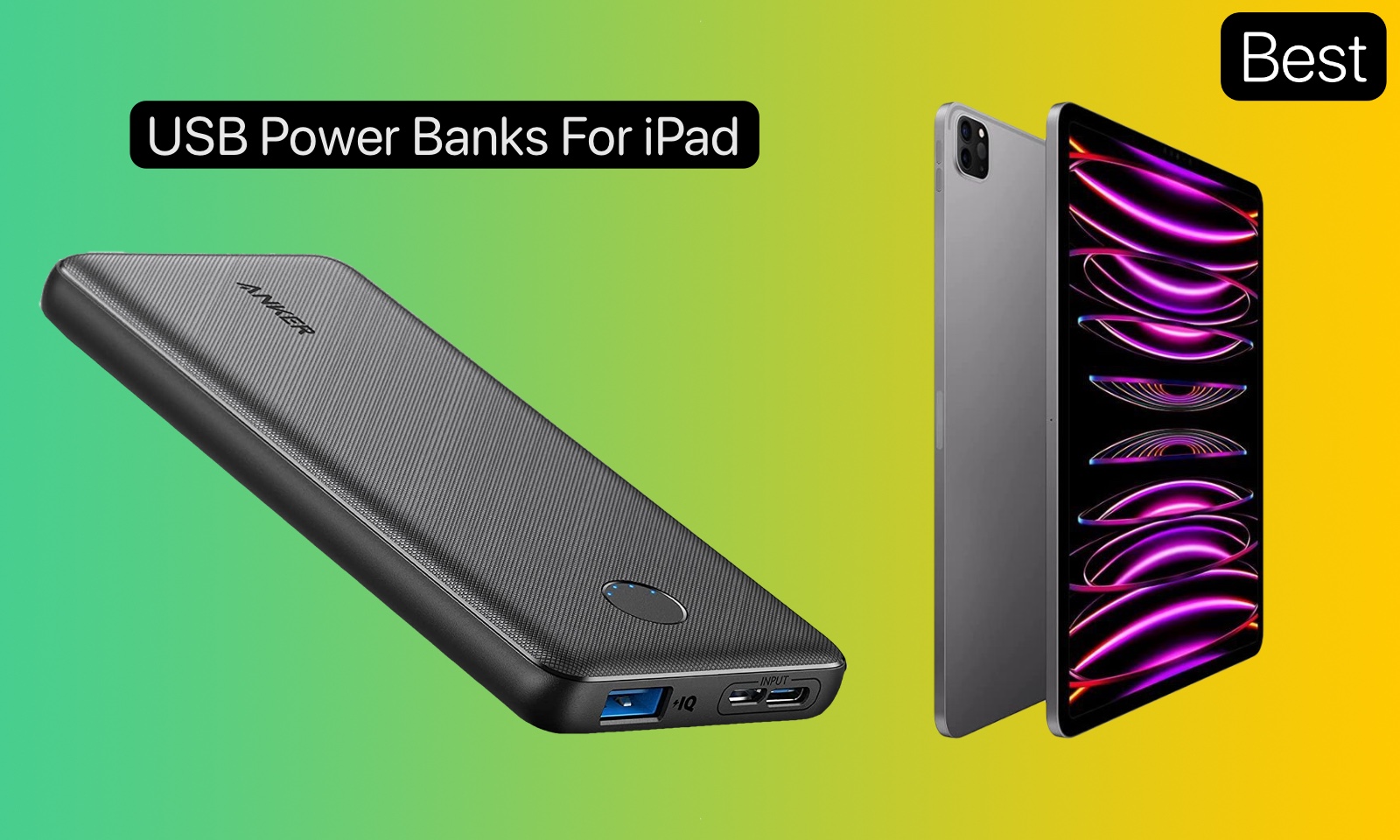 In this post, we have rounded a list of high-capacity, multiple-port, USB-C, PD-enabled, and the best power banks for iPad Pro that also work seamlessly with an iPhone.
Nothing sucks more than running out of juice when you're in the middle of something important. You pray that it lasts just a few minutes longer. Hope that a power outlet magically appears nearby. But, before you know it, the worst of the worst happens. Life drains from your iPhone (or iPad Pro) and the world is not the same anymore.
Almost all of us have been victims of sudden phone shut-down due to low battery at least once in our lives. That's probably what prompted the holy grail of a creation we know best as power banks, battery packs, or portable chargers.
Top-Rated USB Power Banks for iPad and iPad Pro
For the glued-to-your-screen workaholics who never seem to make it through a day on a full charge, or someone who just needs the occasional battery boost, there are several products available in the market to get your daily power high.
We've tested these options to ensure they are worth your money:
1. Baseus Power Bank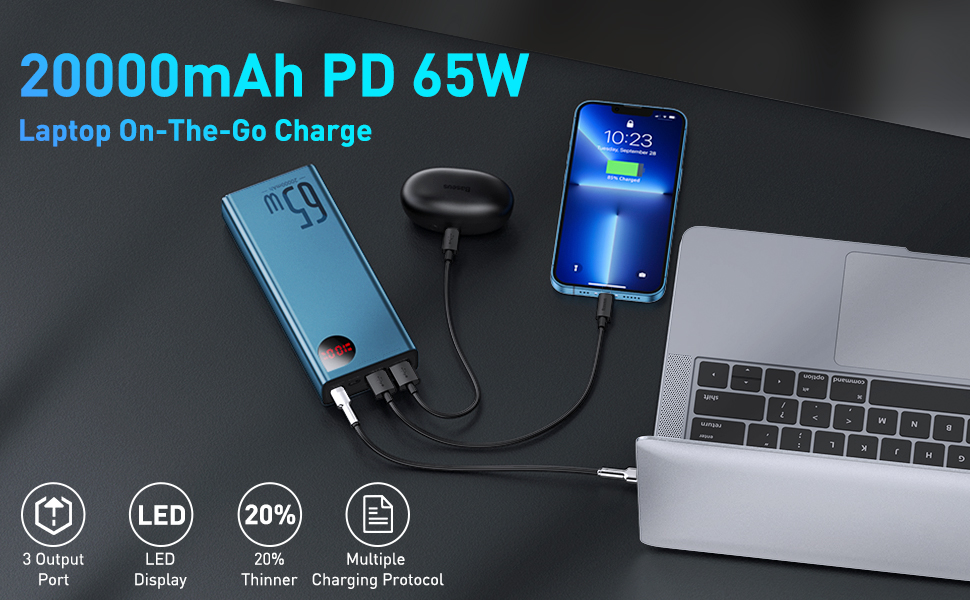 Charge your iOS devices quickly and safely with the Baseus power bank. With a fast charging port and power capacity of 20,000mAh, there is nothing ordinary about this iPhone and iPad power bank.
It offers a 65W PD USB-C port and two 30W WC USB-A ports, allowing users to connect up to 3 devices simultaneously while the 65W PD charging adapter allows the power bank to recharge within 2 hours.
The aluminum alloy housing helps control overheating, plus, allows overcharge protection to ensure a safe charging experience.
To keep up with aesthetics and convenience, the creator ditched the blinking lights and replaced them with a Numerical LED light charge indicator. Moreover, the 20% thinner design compared to the traditional 20,000mAh USB-C power bank makes it perfect for traveling.
The best part is that it supports advanced charging protocols (PD3.0, QC4.0, AFC, SCP, FCP) and all quick charge technologies including iPad, iPhone 14/13/12 Pro, Macbook, and more.
You can buy the Baseus Power Bank for $59.99 here.
2. ROMOSS 30000mAh Power Bank Sense 8+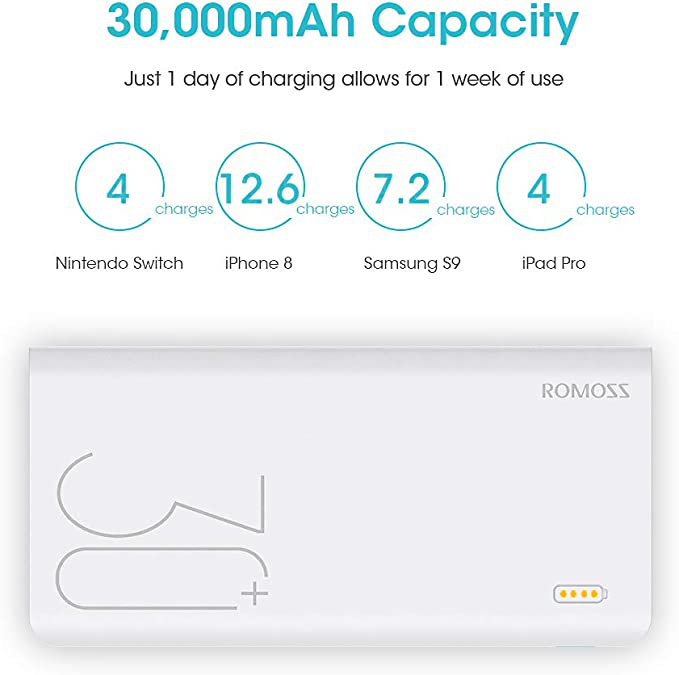 The ROMOSS 30000mAh Power Bank Sense 8+ claims incredible charging speed utilizing advanced charging technology. The model is an incredible 18W PD USB-C power source with USB Type-C and Micro USB connectors.
As the name suggests, the battery capacity of the ROMOSS is 30,000mAh allowing users 1 week of stress-free power and making it a reliable Fast charging USB power bank for iPad Pro and iPhones 8, 12, and 13.
The 18W Rapid Recharge 3-Input featuring Micro USB, Lightning, and USB Type-C ports quickly recharges the power bank within 11 hours. Similarly, the 3-Output USB ports charge multiple QC-support devices 4 times faster compared to traditional charging.
When it comes to safety and reliability, the built-in intelligent safety system guarantees over-heat, over-charge, over-current, over-discharge, and short-circuit, as well as environmental protection for your cables and device.
You can buy the ROMOSS 30000mAh Power Bank Sense 8+ for $39.99 here.
3. Mophie Powerstation 2023 with PD Power Bank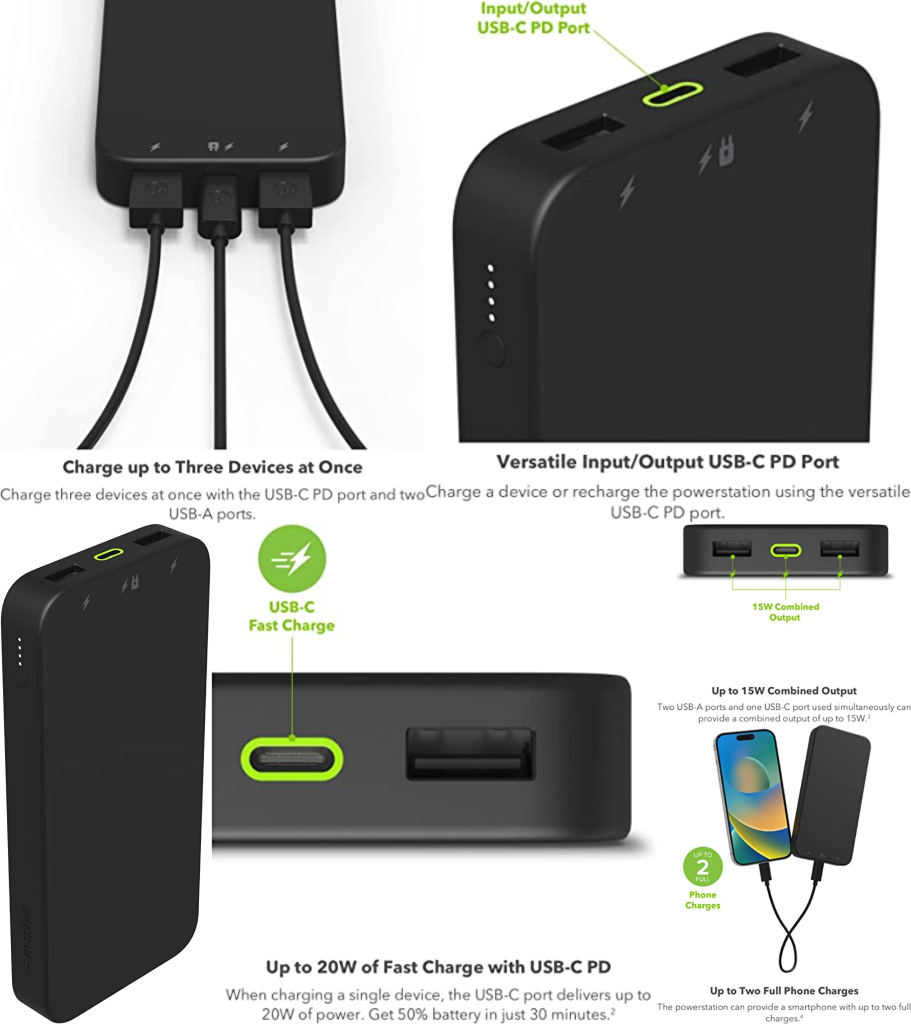 The Mophie Powerstation is a long-lasting USB power bank for iPad and iPhones that allows lightning-fast charging for up to 2 devices at the same time.
With two USB Type-A ports, one 20W USB-C PD Fast Charging Input/Output, a 10,000mAh internal battery, and compatibility will all smartphones, this power bank is truly a good pick for your next travel plans.
If you're someone who wants your iOS device to reach at least 50% within 30 minutes, the Mophie Powerstation is your best bet. Utilizing the 18W USB-C port, you can even recharge the power bank itself in record time.
Moreover, the Powerstation is wrapped up in a fabric finish that prevents scuffs and scratches allowing you to keep the brand-new appearance for a long time. Plus, the 4-light LED power indicator not only makes it convenient to monitor battery levels but also adds to the beauty of the design.
You can buy the Mophie Powerstation 2023 with PD Power Bank for $49.95 here.
4. Anker 313 Portable Charger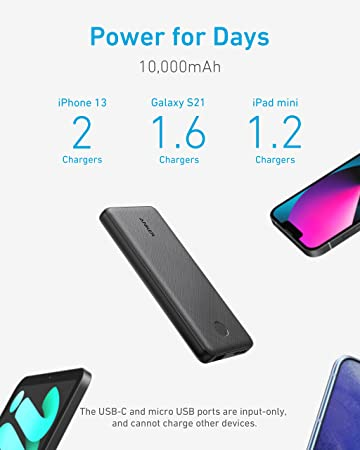 All hail the gallium nitride technology because without it we wouldn't have as small yet efficient power banks as we do today. Due to its light weight, the Anker 313 power bank is considered one of the best portable chargers for travel out there. Plus, it's on the cheaper end as well.
The 313 portable charger offers a whopping 10000mAh Battery Pack with USB-C (Input Only) along with the PowerIQ Charging Technology. While the connector type is limited to Micro USB only, it is compatible with iPhones, iPads, Samsung Galaxy, and more.
Anker 313 is built with superior durability and scratch resistance, making it reliable.
The key USP of the device is its slim size and huge power source. Considered one of the lightest 10000mAh portable charges, it does, however, have its cons. Users can not use the two input ports simultaneously and the USB-C port lacks output function.
Regardless, the exclusive PowerIQ and VoltageBoost technology propose a united front to detect and deliver up to 12W charge as needed. The device also offers over-charge and short-circuit protection, temperature control, and much more.
You can buy the Anker Portable Charger for $21.99 here.
5. Portable Charger Power Bank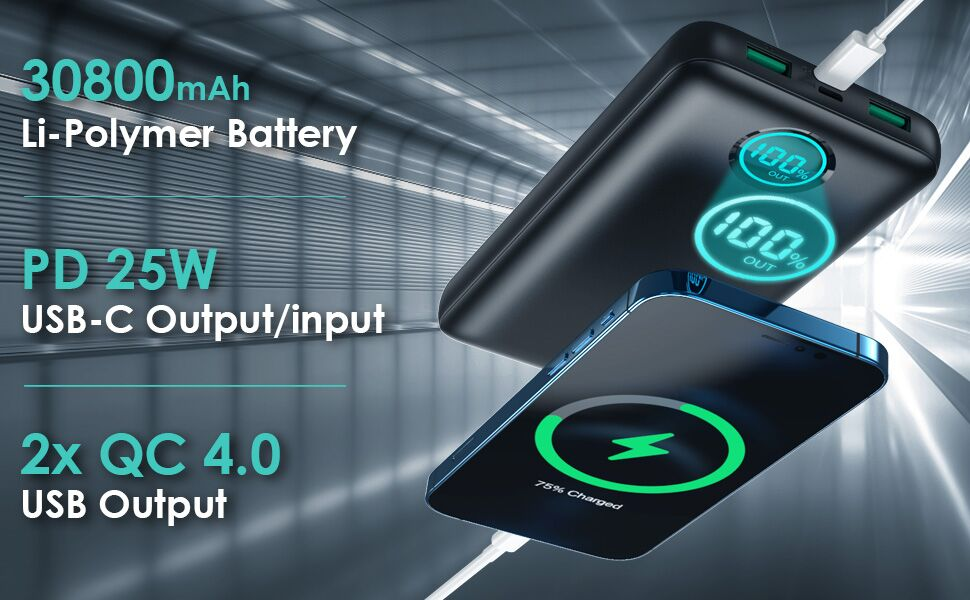 The Portable Charger Power Bank is a compact, 30800mAh, LCD Display power bank with 25W PD Fast Charging that boasts the capability to charge your iPhone at least 6-8 times in one go.
Similar to its competitors, the device comes with 3 Output Ports including QC4.0 output, PD output, and 2.1A USB output, allowing users to charge 3 devices at the same time. Moreover, the Power Delivery 4.0 output and Quick Charge 4.0 output unite to deliver up to 25W Fast Charging.
The portable battery charger for iPad Pro and iPhones is CE Certified and has incorporated Import Intelligent Controlling IC to prevent overcharge, overvoltage, overcurrent, and short-circuit.
Talking about the design, the portable charger keeps up with the latest Smart Chip and a universally compatible LCD Digital Screen. It's high-capacity charging and sleek design makes it the perfect carry-on for business, travel, and your usual hang-out plans.
You can buy the Portable Charger Power Bank for $31.95 here.
6. UGREEN 145W Power Bank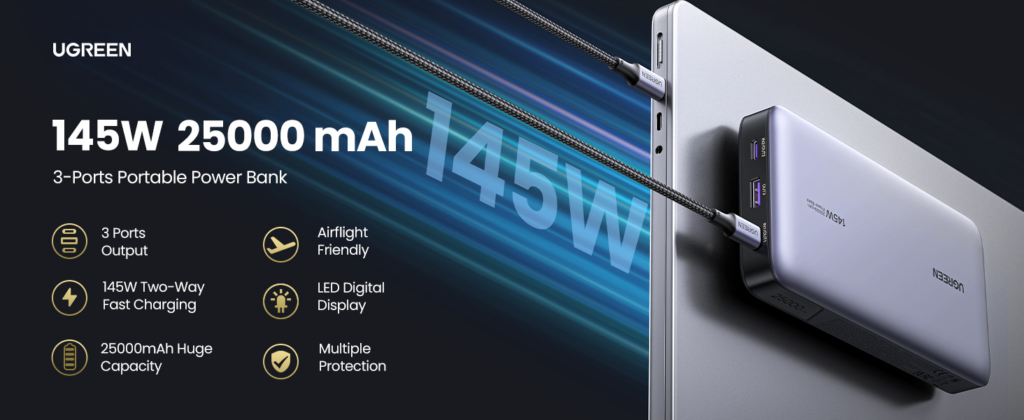 We're in the big leagues now guys, things just got serious. The UGREEN power bank is the fastest-charging and the best USB power bank for iPad and iPhones and it might just be the last portable charger you ever purchase.
With a gigantic 25,000mAh battery capacity paired with 145W of total power output, this monster portable charger can recharge your iPhones up to 5.6 times and laptops up to 1.3 before needing a recharge break itself.
Plus, it's not like the recharging takes forever. With a 65W PD charger, you can recharge the power bank within 2 hours while utilizing the bi-directional technology, you can fast charge other devices while fast recharging this portable charger. Amazing, right?
The device bundles up with USB Type-C and USB Type-A connectors. It is equipped with PD3.0 and QC3.0 which means you get to forget about having to wait hours for your devices to reach full battery. I mean, what's better than getting to fully charge a 2022 13″ Macbook Air in under 90 minutes?
The portable charger comes with a Smart LED digital display that keeps you updated on the remaining power bank battery. It is also compatible with a wide range of devices including MacBook Pro, MacBook Air 2022, iPad Pro, iPhone 14/14 Pro/14 Pro Max/13/12, and more.
You can buy the UGREEN 145W Power Bank for $149.99 here.
7. YELOMIN Portable Solar Power Bank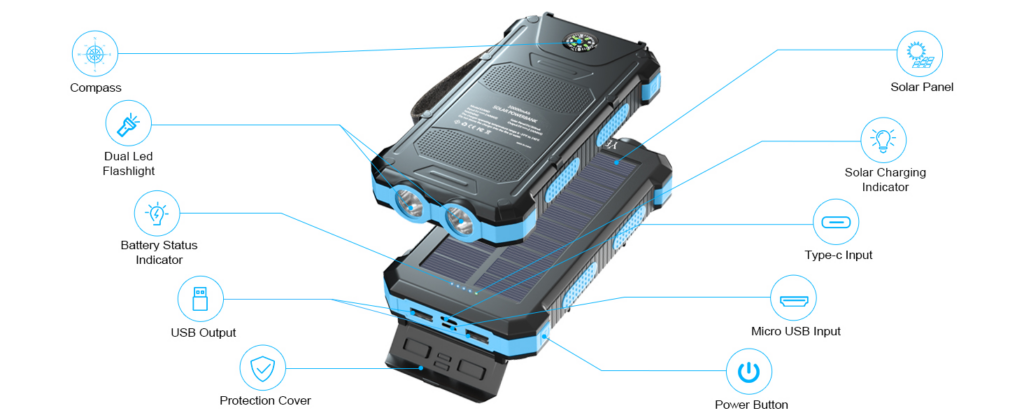 The YELOMIN Solar Charger has a battery capacity of 30000mAh and comes with a Type-C Input Port, Dual Flashlights, & USB Outputs making it ideal for campers, travelers, rock climbers, cyclers, and those who like to fish for hours.
The high-capacity USB power bank for iPad and iPhones comes with an External Backup Battery Pack for your iOS devices. But, with just the built-in 30000mAh battery, you can charge your phone at least 5-6 times even during hurricanes and unexpected power outages.
No electricity? Who cares? Not only can you easily recharge your devices, but also use your Solar Charger as a flashlight. It comes with 2 LED lights and three lighting modes including Steady, SOS, and Strobe mode. Handy, right?
The five pilot indicators keep you updated on the battery status of the device. The built-in dual 5V/2.1A USB output allows users to charge two iPhones simultaneously or a tablet at full speed.
If you're a camping or hiking enthusiast who likes to spend days in the wilderness soaking up the beauty of nature but also likes to stay connected to your iOS device, then this is it for you.
You can buy the Solar Charger 30000mAh for $26.39 here.
8. TECHSMARTER Power Bank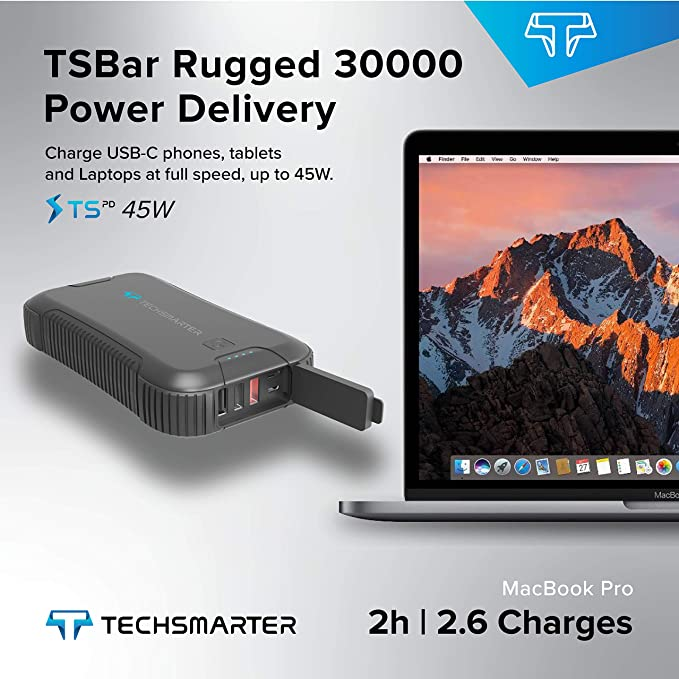 The TECHSMARTER power bank is a rugged and waterproof charger with a 30000mAh battery capacity that can charge an iPhone up to 13 times, tablets up to 6 times, and laptops up to 2 times.
Universally compatible, the top-rated USB power bank for iPad and iPhone comes with a durable design, and claims the capacity to withstand the toughest conditions making it the best partner for campers, travelers, and outdoor enthusiasts.
You can charge up to 4 devices simultaneously utilizing one 45W USB-C PD port, one 18W USB-A port, and two 12W USB-A ports. The TECHSMARTER is engineered with TS+ Fast Charging USB and USB-C PD ports allowing 4x faster charging compared to its rivals.
You can buy the TECHSMARTER 30000mah for $89.99 here.
9. INIU Power Bank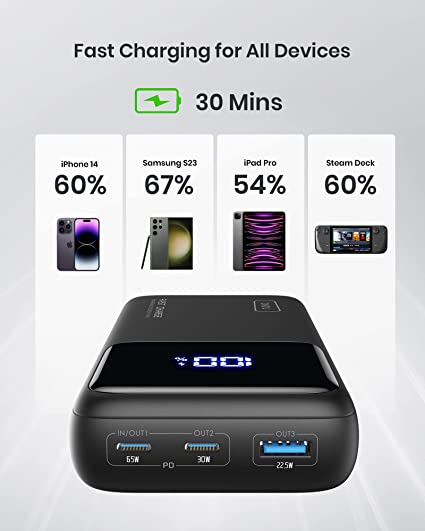 If you're looking for a high-capacity portable battery that utilizes Fast Charging, the INIU Power Bank is an excellent option. It houses a 25000mAh battery, and a 65W USB-C port, and is considered one of the safest and best iPad power banks in 2023.
If you're skeptical about the product, worry not. It comes with an industry-leading 3-year warranty. The portable charger can charge 3 devices at once and is compatible with most laptops, tablets, mobiles, and AirPods.
When you make your purchase, you get one 65W USB-C battery bank, one USB-C to USB-C cable, one USB-A to USB-C cable, a user manual, a travel pouch, a 30-day money-back guarantee, an industry-leading 3-year warranty, and lifetime technical support.
You can buy the INIU Power Bank for $59.99 here.
10. RGVOTA Portable Charger 38800mAh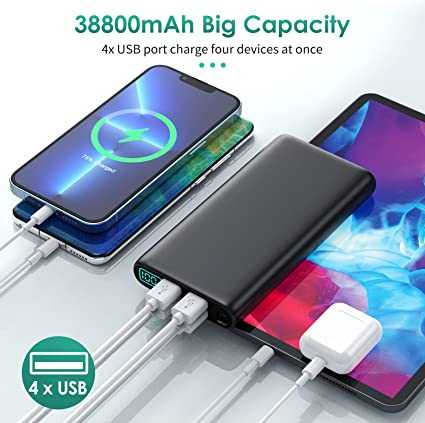 The RGVOTA Portable Charger 38800mAh Ultra-Large Cell Capacity power bank delivers 4 USB Output ports and dual Input giving you full control over how and how many devices you recharge at a time.
Just like any other portable charger, this one has an LED Digital Display as well that allows users to track the current status of their battery. Plus, the built-in intelligent chip won't let your device over-charge, over-discharge, over-heat and will protect it against excessive currents and short-circuits.
Similar to the INIU power bank, this portable charger also comes with a welcome guide, a 3-year warranty, and lifetime technical support.
You can buy the Portable Charger 38800mAh for $34.95 here.
To Sum Up
When making your decision keep in mind that the higher power output rating (mAh) would get you higher charge capacity, but it also comes with a higher weight of the power bank. A charger on the go is a great idea until it becomes a burden for being too heavy. We don't want that.
At the end of the day only you can decide which one of these aforementioned power banks is the best out of all because the verdict is entirely dependant on what you need.
Assess your requirements thoroughly and make the decision accordingly. You don't wanna get stuck with the wrong charger!
What's your final verdict? Let us know in the comments below.