With iOS 11 stock app receives some major new features that will make it more competitive with third-party apps out there. In this update Apple has focused on making the Notes app a step closer to achieving features that you would normally see in desktop apps like Pages or Word. We know there's still a long way to go to consider Notes, which is an app to take notes and not work on official documents to reach the class of a full-fledge word processor, however the features added in iOS 11 do bring it closer in that direction.
When you launch the Notes application on an iOS 11 powered iPhone, iPad or iPod touch you won't notice much of a difference. That is until you open an existing or new note screen. There you will find a big '+' button floating right above the keyboard. Tapping on it brings a bar full of super useful options.
New Notes Features In iOS 11
The new bar that can be accessed by tapping on the '+' button houses 5 buttons that offer access to different features. Here we have discussed each of them briefly.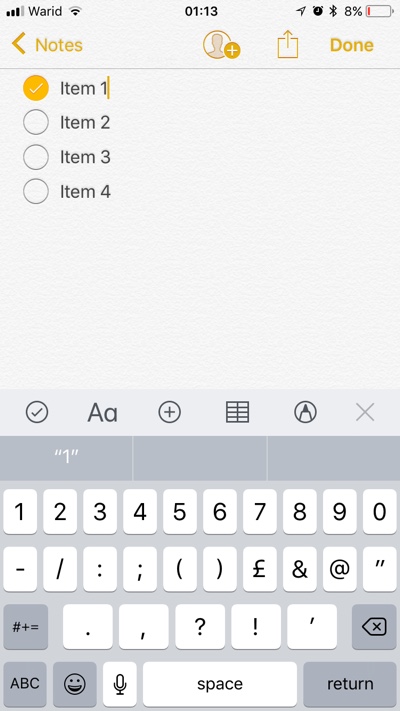 The Checkmark List: The first button on the editing bar that has a tick on it lets you insert a checklist on your note that can consist of tasks or items. Just tap on the checkmark button after which the circle will appear. You can start typing and hit the return key to insert the second item on the list and so on. You can use this feature to create better to do lists or a shopping list if you are going out for grocery shopping. Once a task has been completed you can tap on the circle to mark it as done. This is not a new feature and has been around since iOS 10, however Apple has made it more accessible in iOS 11.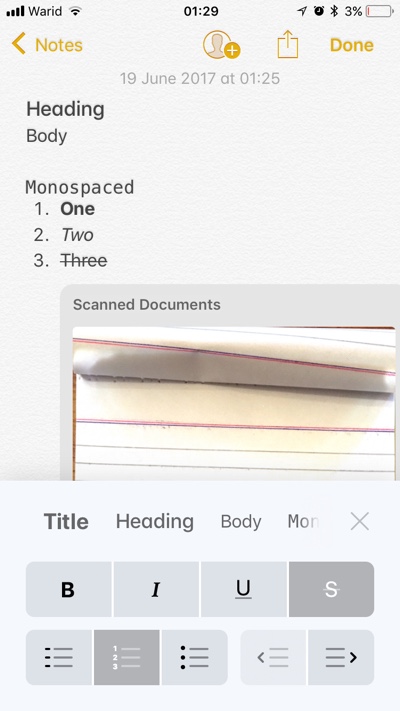 Text format and styling: Next up is the 'Aa' button. When you tap on it the keyboard disappears and a format menu appears that lets you style the note's text. You get styling options such as title, heading, body, monospaced, bold, italic, underlined, strikethrough, bullets, numbers and buttons for left or right indentations. Once you are done with changing styling options tap on the 'x' button.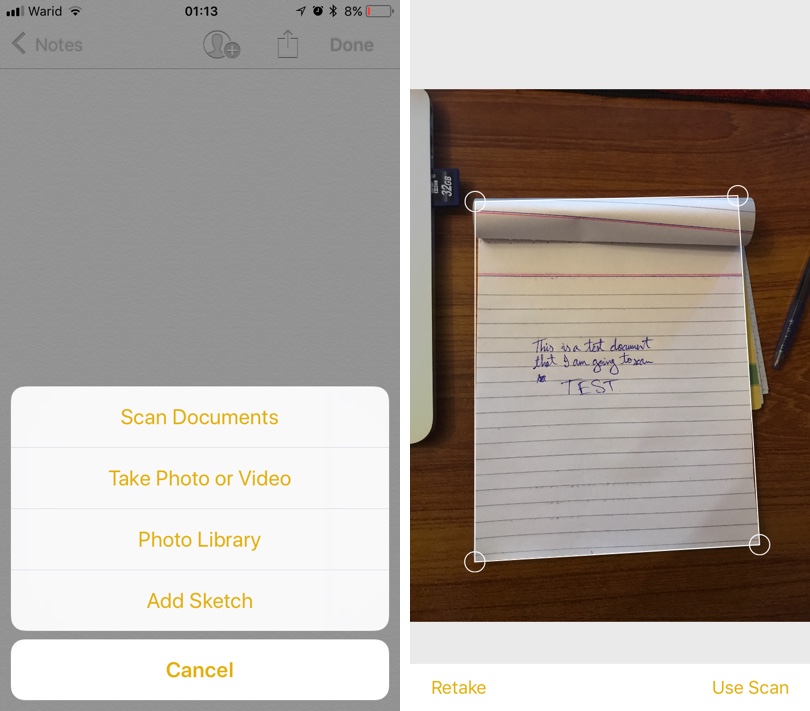 Document scanning: Next up is the + button with circle around it. As soon as you tap on this button a menu appears with items like Scan Documents, Take Photo or Video, Photo Library and Add Sketch. The highlight here is the Scan Documents option that uses clever techniques in order to recognize the document or image user is trying to scan and inserts it into the note. With this feature Apple has made it simpler for users to scan documents without a document scanner app.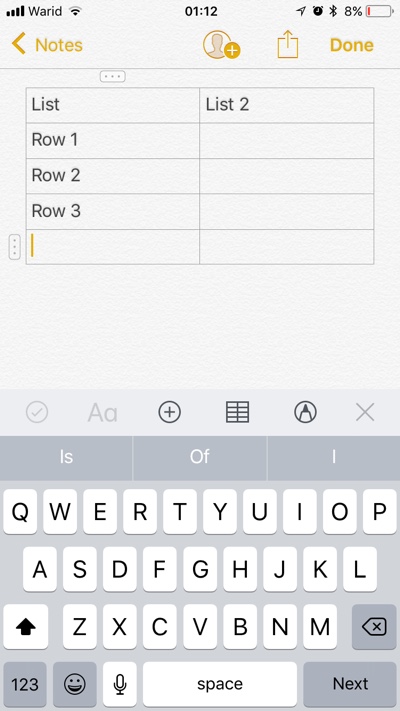 Tables: iOS 11 has added the option to insert tables inside notes, which will make it super easy to create and maintain long lists and data that needs rows or columns. When you tap on the table button you get a table with four cells. You can change the position of the cells or add more cells to the table depending on your needs.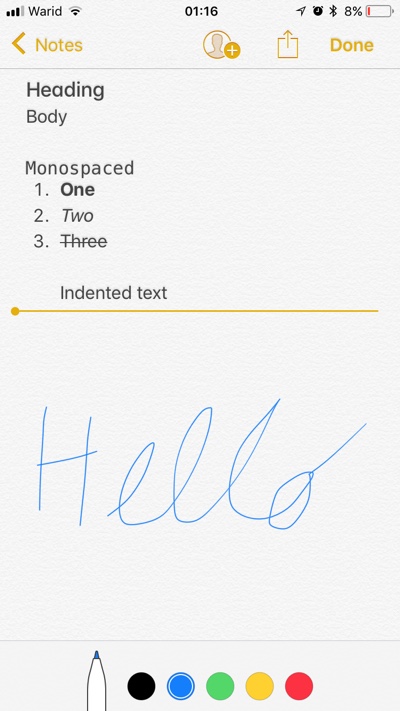 Sketches: Last up is the sketch feature, which is more useful on the iPad Pros with Apple Pencil than on iPhones and older iPads. However it is available across all devices. Just tap on the sketch button and you get access to a number of drawing tools and color options for them.
Overall Notes app has received some solid new feature that will make it more useful to the users. Let us know what you think about these changes in iOS 11 Notes app in the comments section below.
Disclosure: iOSHacker may receive a commission if you purchase products through our affiliate links. For more visit our privacy policy page.