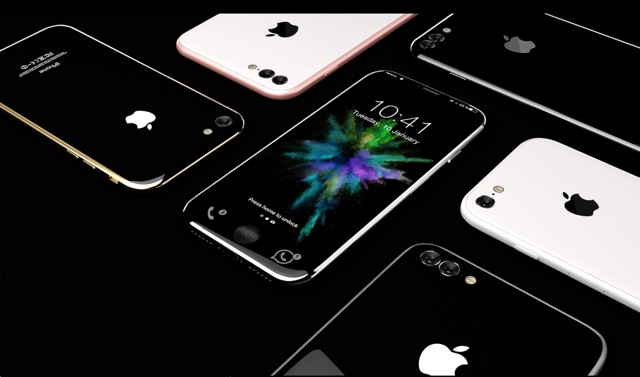 If rumors are to be believed, then Apple is going to introduce 3 new iPhone models this year at its September event. While the first two iPhones will predictably be revised versions of the current models called 'iPhone 7s' and 'iPhone 7s Plus', the third model is what is going to be the star of the event. Apple is said to be making a special 10th anniversary iPhone 8 that is going to feature an edge-to-edge OLED display, wireless charging, 3D Sensor for augmented reality, retina scan based unlocking base storage of 128GB and more.
Now another rumor has surfaced regarding the new iPhone. According to Wall Street Journal Apple next iPhone will sport a curved and flexible OLED display that will be supplied by Samsung. Apple has been experimenting with OLED displays and has finally decided to go ahead with them on its next flagship device.
The use of curved OLED displays will allow Apple to curve the screen at the edge of the phone, something Samsung has already done in its Galaxy S7 Edge device. The display won't be truly flexible as it will only be bent during the manufacturing process and won't be bendable by the user.
A very interesting tidbit in WSJ's report suggests that Apple will introduce USB-C port for the power cord. This is understandable as Apple has already removed the traditional USB-A port from latest MacBooks, and adding USB-C cable in the box is the right way to go. However the report also makes a confusing statement that Apple will also be removing the lightning connector on the device itself used for peripheral devices, replacing it with USB-C.
Here's the text from WSJ's article
They said Apple would introduce other updates including a USB-C port for the power cord and other peripheral devices instead of the company's original Lightning connector. The models would also do away with a physical home button, they said. Those updates would give the iPhone features already available on other smartphones.
It seems like an odd decision on Apple's part to suddenly ditch the Lightning port from its iOS devices at a time when all current wired accessories use the port for connection. Apple introduced the lightning connector with iPhone 5, when it ditched the legacy 32 pin connector found on iPhone 4s and older models of iPods.
With a new USB-C port on the iPhone Apple will be following a standard already followed by most smartphone makers bringing iPhone in line with the rest of the smartphone industry.
Source: WSJ (Subscription required)