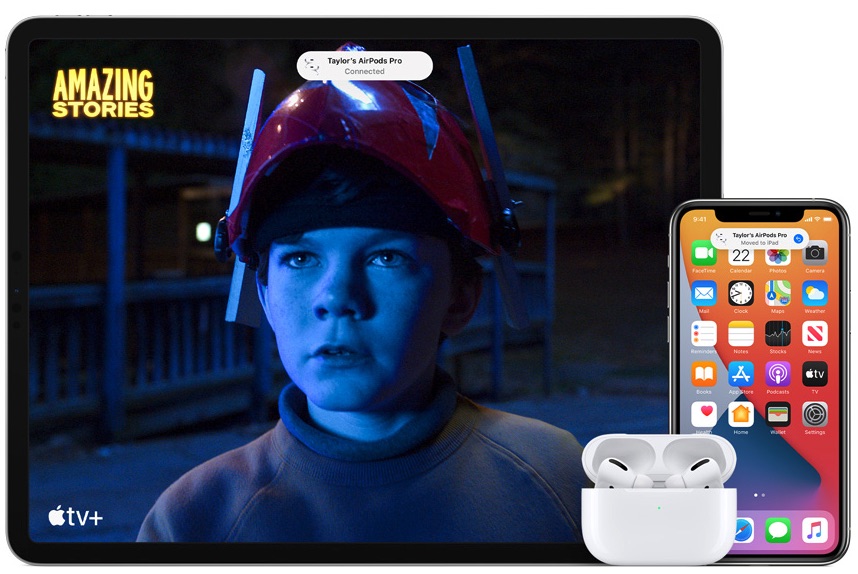 Today Apple has issued a new firmware update for AirPods 2 and AirPods Pro. The new firmware known as 3A283 is now available for both devices and can be installed by connecting the headphones to the iOS device. The firmware number for both AirPods 2 and AirPods Pro is same, even though both were on different firmwares named 2D15 and 2D27 respectively.
While Apple has not shared any details about the changes introduced in 3A283 firmware users who have updated their devices report that Apple has finally introduced the Spatial Audio feature for the AirPods Pro, which was announce at WWDC 2020.
After the latest firmware has been installed users get the Spatial Audio option in the Control Center, which can be used to activate or deactivate the feature. In addition to 3A283 firmware on the AirPods users also need to be running iOS 14 beta on their iPhone or iPad in order to use the Spatial Audio feature.
See also: pic.twitter.com/Msa8Lq2YcT

— Holger Eilhard (@holgr) September 14, 2020
This is what we wrote about the Spatial Audio feature back in June.
This brings Spatial Audio feature to the AirPods Pro with dynamic head tracking through iPhone's gyroscope and accelerometer. This gives user a superior movie theatre like experience all while enjoying his or her favorite movie on the iPad. Spatial Audio applies directional audio filters and adjusts the frequencies that each ear receives. This results in an immersive surround sound experience.
While not confirmed at this point, another feature that may have been activated with firmware 3A283 is iOS 14's automatic switch feature between various iOS devices, Apple Watch and Mac. With this new feature AirPods will be able to recognize which device you want to use and automatically switch to it.
Force update AirPods and how to check firmware version
Unlike other Apple devices, AirPods update to the latest firmware on their own without requiring any input from the user. You can continue using your AirPods with your iPhone and they should update to the latest firmware on their own.
Users can try to force update the AirPods to the latest firmware by connecting their AirPods to a charger and then pairing the AirPods to iPhone.
You can check which firmware version your AirPods are currently on by connecting them to your iOS device and then opening Settings -> General -> About -> AirPods and look at the text located next to Firmware Version.
Disclosure: iOSHacker may receive a commission if you purchase products through our affiliate links. For more visit our privacy policy page.