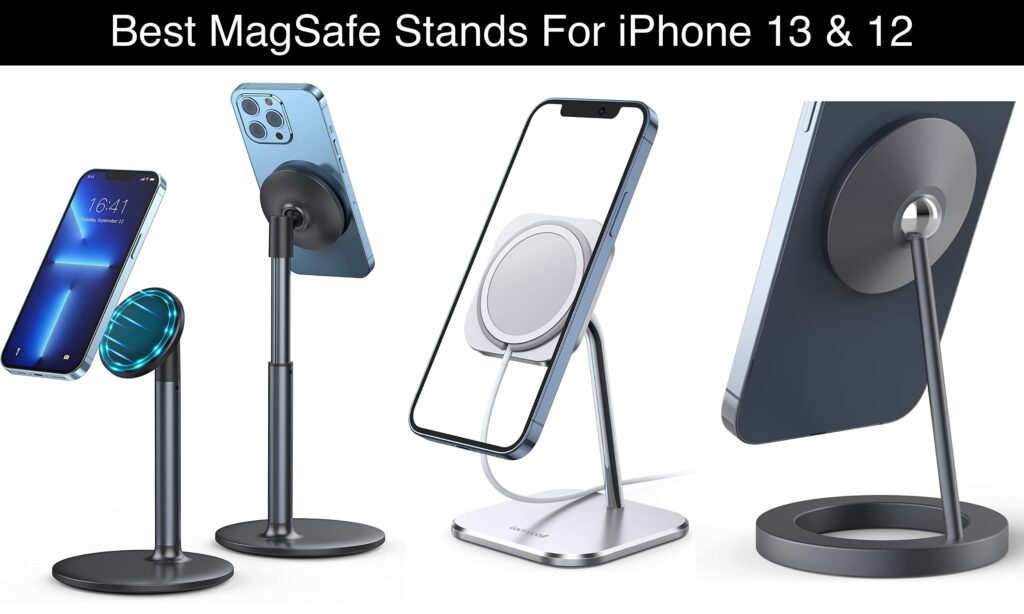 There are many traditional charging stands and docks on the market, but a MagSafe stand for iPhone offers the level of convenience and ease of use not found elsewhere.
Using a MagSafe charging stand, you can store and charge your 12 and 13 series iPhone automatically at an optimal viewing angle. So, whether you need to stream a movie or use your smart device while charging, buy this game-changing stand!
Here is the list of the best MagSafe charging stands for you.
Best MagSafe Compatible iPhone Stands for 2022
Here are the best MagSafe charging stands that you should consider buying for your iPhone 13 Pro Max, iPhone 13 Pro, iPhone 13, iPhone 13 mini, iPhone 12 Pro Max, iPhone 12 Pro, iPhone 12 and iPhone 12 mini in 2022.
1. Magnetic Adjustable iPhone 12/13 Stand Holder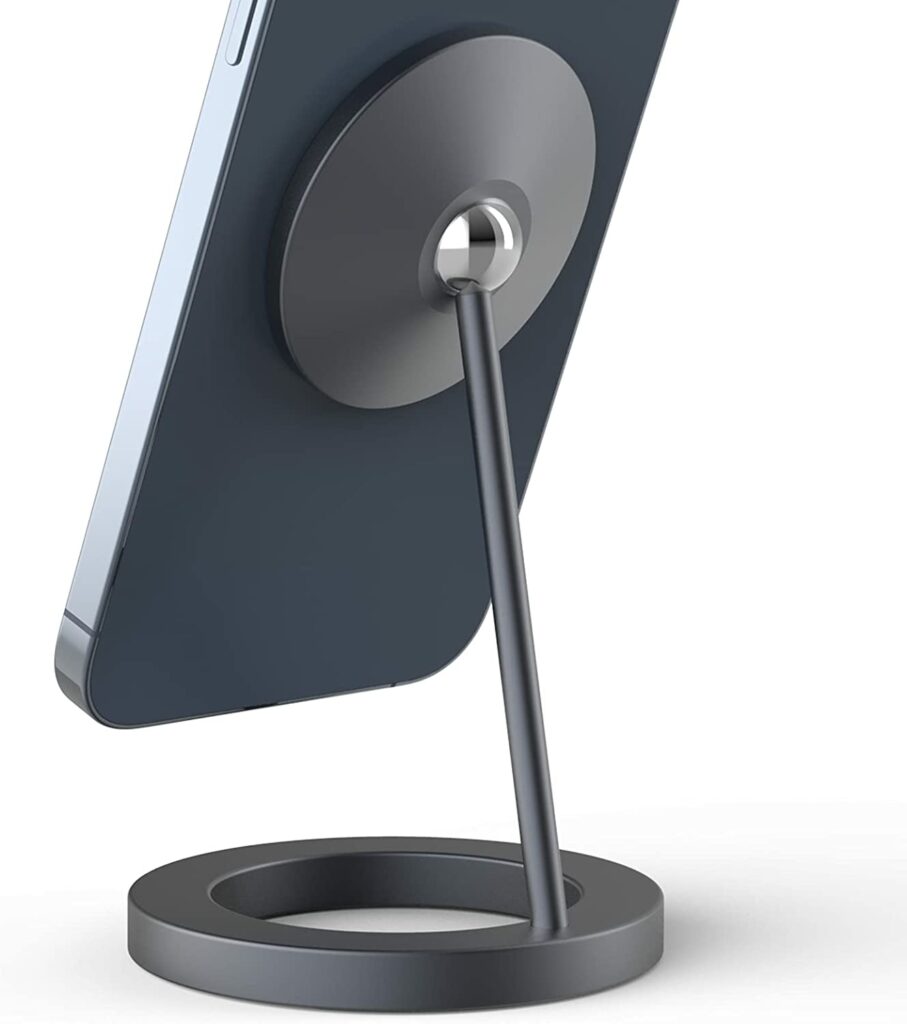 This premium quality, stable, and durable aluminum alloy iPhone Magsafe stand is particularly designed for iPhone 12 and 13 series. It is an ideal accessory when you want to FaceTime and or attend hours-long Zoom sessions.
You can adjust this stand at 360 degrees at your preferable angle and use it quite easily with its magnetic suction design. Its circular standing base holds your device strongly whether you set it vertically or horizontally.
However, only the MagSafe case with built-in Magnet is compatible with it while using thus it is wise to remove any other phone case.
2. Lamicall Phone Stand for MagSafe Charger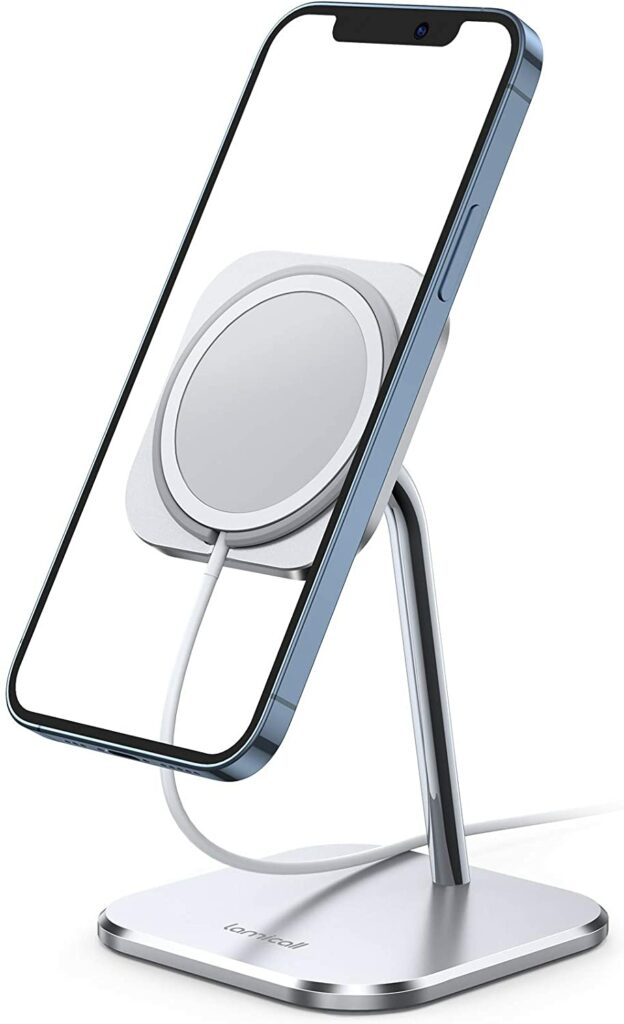 To make your charging seamless, this elegant stand with beautiful metallic luster is particularly designed for MagSafe and fully compatible with iPhone 12 and 13 series.
This MagSafe phone holder is equipped with a 360°universal ball joint design which makes it super convenient to adjust when video calling. You can either keep it on your bedside table or your work desk.
A rubber cushion in the center and base of the cradle prevents your phone from getting scratched and the stand from moving around. Further, you can easily remove MagSafe as it also has a hole on the back.
3. Magnetic Desk Phone Stand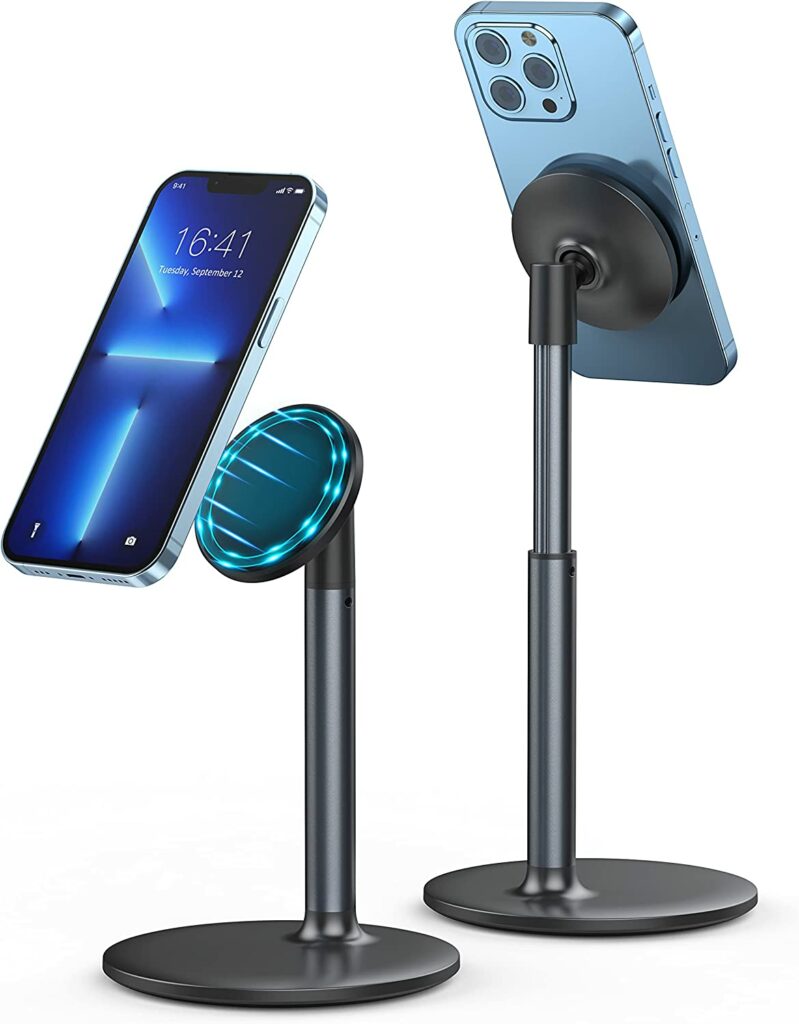 This stand has a unique design with a built-in magnet to hold your iPhone 12 and 13 Series device firmly once it gets closer to it.
Like the above-mentioned stands, this magnetic desktop phone stand also supports all view angles as it can rotate 360º. Adjust the way you want or need it then easily lock it into any position to set it in either landscape or portrait view mode. This comes in handy when watching videos or reading text messages.
What's more? Well, with the magnetic desk phone stand, you can also adjust the height between 184mm and 253mm (7.6 – 10 inches).
Thanks to its adjustable tilt feature, it allows you to use your device from the most comfortable angles and at an optimal eye level. So, experience the best visual experience and keep your hands free!
4. imluckies Magnetic Phone Holder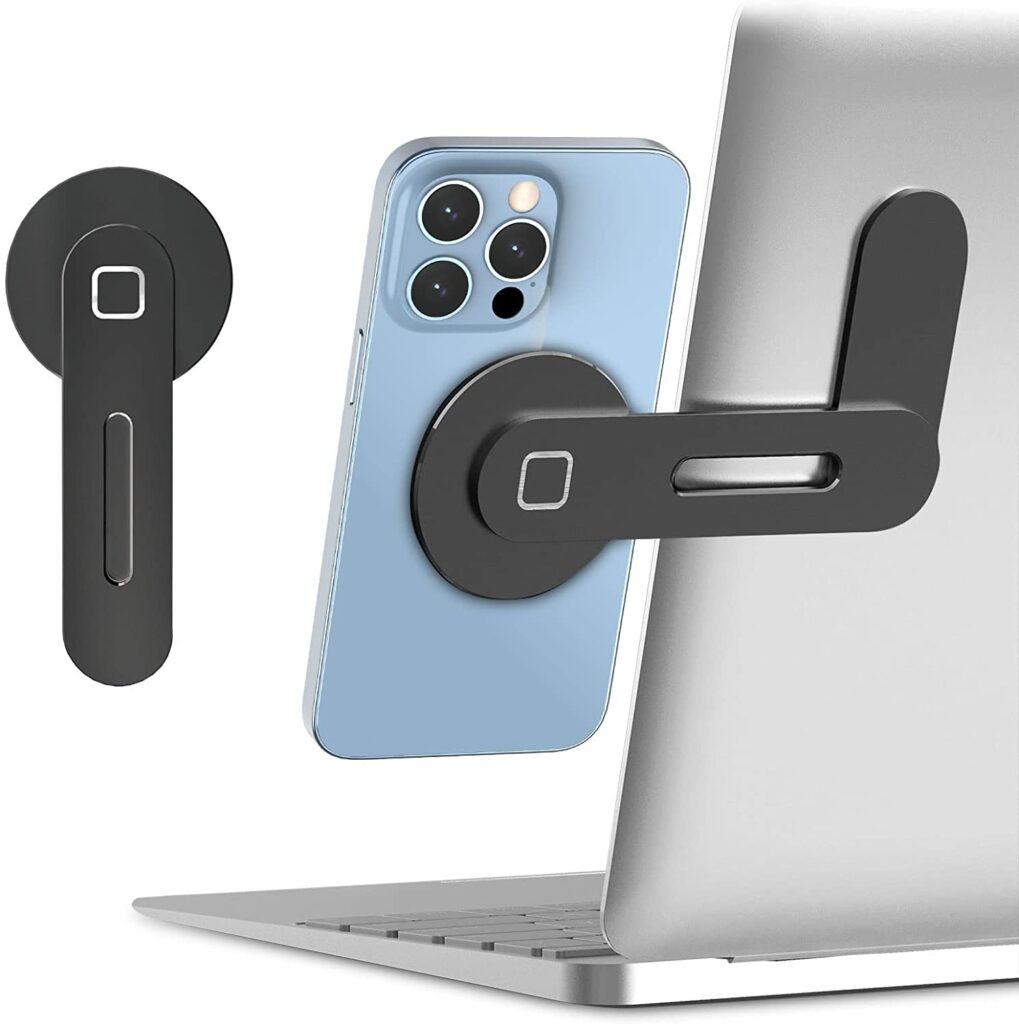 This iPhone Magsafe stand is widely compatible with iPhone 12 series, iPhone 13 series, and MagSafe cases. If you don't own a magnetic phone cover, don't fret, as this charging stand comes with two pieces of magnetic rings that stick firmly on your phone case.
In addition, it is suitable for all types of flat-screen computer monitors, which gives you an instant dual-screen experience. That means you can use your phone even at work!
The computer monitor phone stand is magnetically designed to securely attach to your phone next to your laptop or monitor. It can be adjusted to 180°degrees to suit your needs, making it easier to use.
The magnetic laptop mount is crafted with an ultra-thin aluminum alloy frame and 3M adhesive which hold your smartphone tightly. Further, it can be conveniently adjusted, folded, and hidden behind the laptop for standby.
5. STM MagPod – iPhone MagSafe Tripod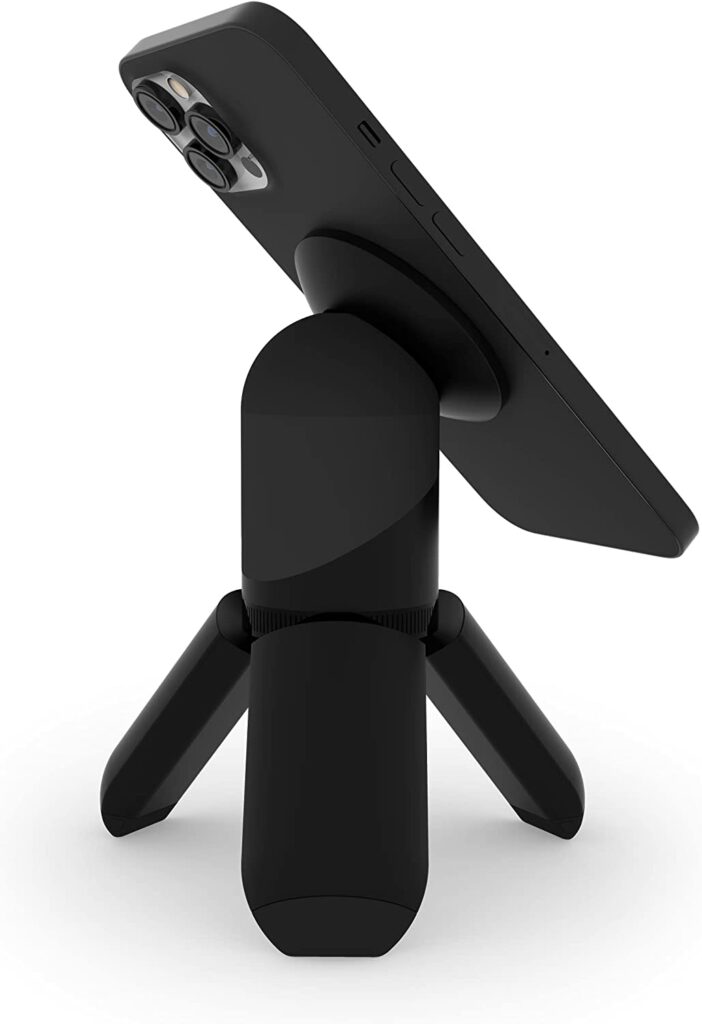 STM MagPod works like a tripod and offers you a stylish phone mount fit for your work desk, kitchen countertop, or nightstand. So, you can keep your iPhone suitably propped, above the mess and clutter of the surfaces around it.
MagPod's magnetic disc rotates and pivots to accommodate any viewing position virtually. Besides, pod legs fold together efficiently and lock in place, making it a great handle for taking photos and videos.
So, whether you are cooking, sewing, shooting videos, or chilling this MagSafe tripod will be your best bet!
Final Words
There are various MagSafe charging stands available with in-built magnets to hold your device at a comfortable viewing angle, while others are rightly compatible with your MagSafe charger.
Nonetheless, they all are built to serve the same purpose. To make it even easier for you we have listed above the absolute best of the best that are also quite pocket-friendly!
However, your only job would be to decide which one will be ideal to fulfill your needs! So, go through the features thoroughly and use your device without any hassle while charging it!
Comment down any queries you may have, we shall be happy to help.