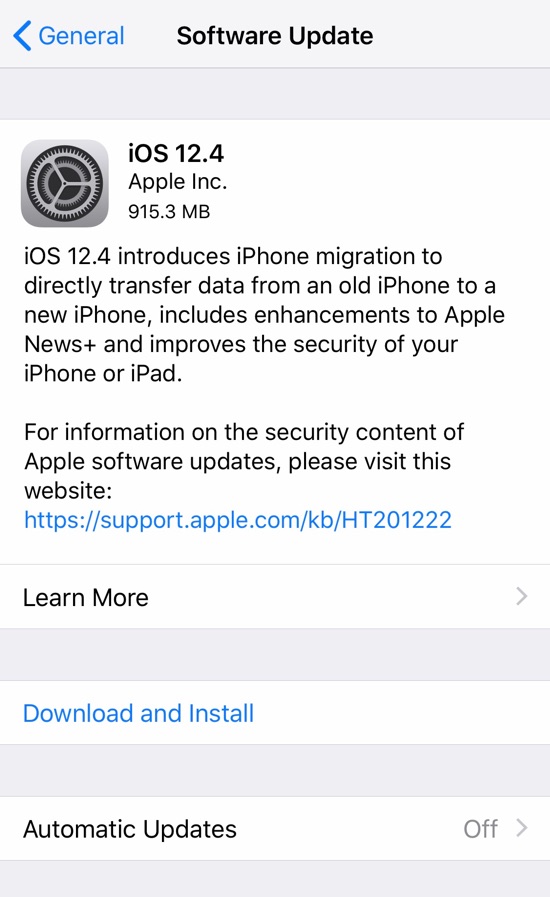 iOS 12.4 software update has been released for all models of iPhone, iPad and iPod touch and it is now available for download. The software update was released after extensive beta testing and brings several bug fixes and improvements to the operating system. Perhaps the most noticeable new feature added in iOS 12.4 is iPhone migration, which makes transfers from one iPhone to another easier.
The iPhone migration tool makes it possible for users to wirelessly transfer data from their old iPhone to the new one during the setup process. This new feature makes migrating from one iPhone to another much more convenient for users who had to rely on iCloud or iTunes backups to make device transfers. Now they can make migrate right on the device without creating backups first.
Apple News has also received changes in this updates. Now Apple News makes it possible for users to access downloaded issues in 'My Magazines' section regardless of if they are offline or online. The update also adds Apple News+ publications to the catalog at the top of News+ feed.  Lastly in Apple News, iOS 12.4 adds the ability to clear downloaded magazine issues. Users can clear downloaded magazine issues by going to History -> Clear -> Clear All.
With iOS 12.4 Apple has finally fixed the Walkie-Talkie app vulnerability that prompted the company to disable the feature entirely two weeks ago. After this fix the Walkie-Talkie feature is available again for Apple Watch users.
iOS 12.4 also brings HomePod support for Japan and Taiwan.
You can download iOS 12.4 IPSW using the links below. Once downloaded iOS 12.4 can be installed on supported devices using iTunes.
iPhone
iPad
iPod touch