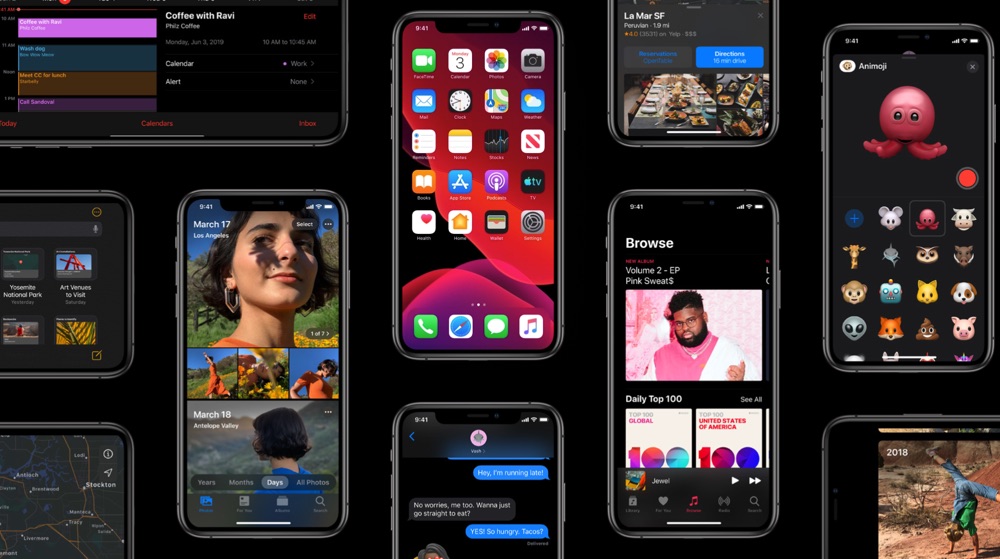 In this list based roundup you will find 20 of the best iPhone tips and tricks that you need to know about in 2021. These tips and tricks not only let you take better advantage of your iOS device, but they will also improve your life overall, who doesn't want that?
iOS 14 is one of the biggest iOS releases in recent history. It seems like with this year's release Apple has tried to give iPhone users what they have been asking for several years. This certainly includes the beautiful dark mode that users can activate on their devices at will.
While the dark mode feature has received the most attention, iOS 14 is full of hidden features that make the whole iPhone experience even more fun.
If you have updated your iPhone, iPad or iPod touch to iOS 14 and are looking for some of the greatest iPhone tips and tricks for iOS 14, then you have come to the best place possible.
The best iPhone tips and tricks for 2021 that are mentioned in this article are unique and not commonly known by many iPhone users. You will learn about connecting a mouse with your iPhone, editing videos, new ways to delete apps, new menus, new modes to save on data, new ways to take screenshots and much more.
With so many hidden iPhone tips and tricks it can be hard to keep track of all the features that you can take advantage on your iOS device.
Before you jump into full details, here is a quick list of all of the features you will find in this list.
Best iPhone Tips And Tricks For 2021
Here are the 20 best iPhone tips and tricks for 2021.
1. Connect A Mouse With Your iPhone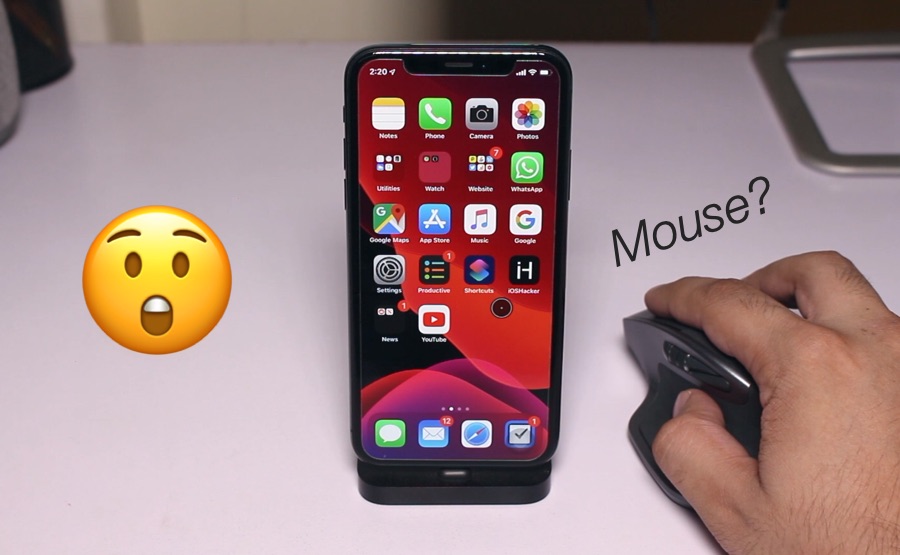 Let's start with the tip that is the most unusual. With iOS 13 or later iPhone users can connect a Bluetooth mouse with their iPhone and use it to navigate around the device's interface. You can play games, browse the web and do all the normal things with your iPhone through the Bluetooth mouse.
iOS 14 even lets users to change the size of the mouse pointer and customize its color. You can use any Bluetooth powered mouse and connect it with your iPhone.
Here's a short tutorial on how to connect a mouse with iPhone.
Open Settings -> Accessibility -> Touch -> AssistiveTouch -> AssistiveTouch -> Enable.
Now head over to the Bluetooth settings section of your device and add your Bluetooth mouse to your iPhone.
Once connected, you will be able to use the mouse to navigate around the iPhone's screen.
You can learn more about the iOS's ability to connect with a Bluetooth mouse here. You can watch our video demonstration of using a mouse with an iPhone below.
2. Add Dark Mode toggle to Control Center For Easier Access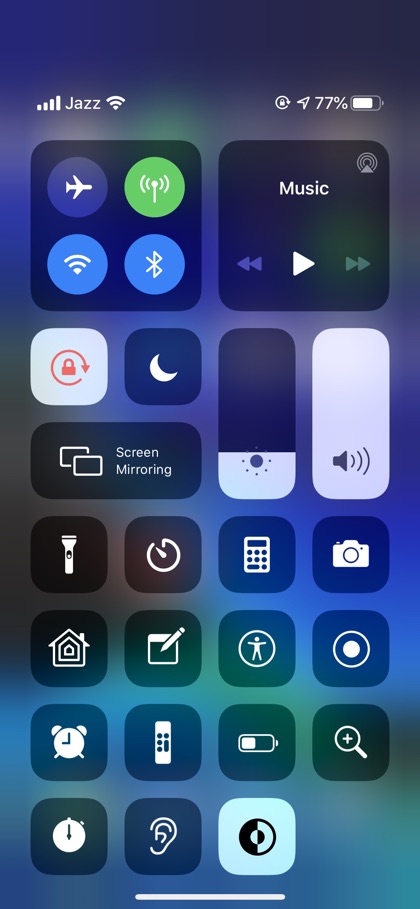 The list of best iPhone tips and tricks in 2021 wouldn't be complete without the mention of the dark mode feature. You already know about the dark mode feature introduced in iOS 13, however what you might not know about is a hidden feature in iOS 13 that lets you enable or disable the dark mode from anywhere with ease.
You can add a dedicated dark mode button on the Control Center and use it to toggle the dark mode feature at will.
You can add the special Dark Mode button to the Control Center by going to Settings -> Control Center -> Customize Controls. Once you are on the Customize Controls page simply scroll down and tap on the green '+' button for 'Dark Appearance'.
This will add the dark mode button to your Control Center. You can also change the button's position in the Control Center by holding on the hamburger button and dragging it up or down.
3. Edit Videos In Photos app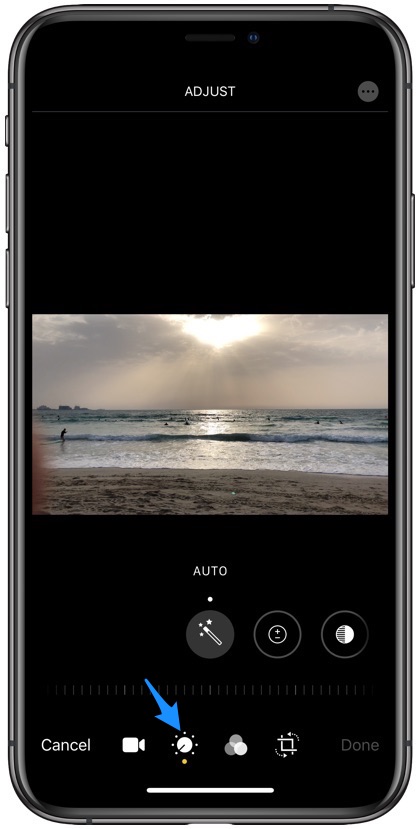 Next tip of our list of best iPhone tips and tricks for 2021 involves Photos app. iOS 13 has finally added the video editing tools in the arsenal of Photos app's editing features. Users are no longer required to download third-party and paid applications to perform edits on their videos.
Now iPhone users can edit their videos beyond trimming and perform many other actions. These include actions like auto-enhancement, edit exposure, highlights, shadows, contrast, brightness, black point, saturation, vibrance, warmth, tint, sharpness, definition, noise reduction and vignette.
In iOS 13 or later users can also apply the built-in filters on their videos, a feature that was limited to still images in previous versions of iOS. That's not it, as users also get the ability to flip, rotate, straighten, move horizontal and vertical in iOS 13. All of these video editing features of iOS 13 can be accessed by loading a video and then tapping on the 'Edit' button in the Photos app.
4. Hide Memoji Stickers from Emoji keyboard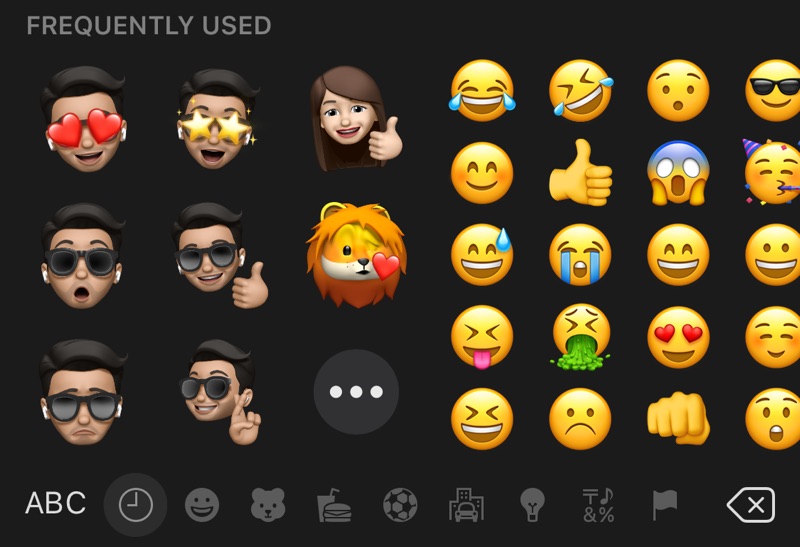 Let's move on to the next entry in our list of iOS 14 iPhone tips and tricks that everyone should know about. With iOS 13 or later Apple has introduced new Memoji stickers, that are available on all iOS devices.
While Memoji Stickers provide a fun way to create personalized Memoji on all devices and use them in playful way in iMessage conversations and third-party applications, they can also be annoying. Especially due to the fact that Apple has added Memoji Stickers at the start of the emoji keyboard.
What many users don't know is you can actually hide the Memoji stickers from your iOS device's keyboard quite easily. To do so, access the Emoji keyboard and once you see the Memoji stickers simply swipe left on the keyboard to scroll, until they get hidden.
That's it, as you have hidden the Memoji Stickers, iOS keyboard will remember this move and keep them hidden until you swipe right on the keyboard to reveal them again.
5. Delete apps on the Updates screen
This one is one of my favorite iPhone 12 tips in tricks for 2021 from this list.
Have you ever been in situations when you are updating your apps in the App Store and come across an app you haven't used in ages. When this happens the first thing I do is delete that app from my device.
Sadly iOS 12 or earlier did not make it easy to do so, since you have to exit the App Store and find that app on the home screen. And if you have many apps or that app is hidden inside a folder, then you end up wasting a lot of time.
With iOS 13 Apple has finally made it easier for users to delete apps by allowing them to get rid of them right from App Store's Updates page. You can now delete apps right from the Updates screen by simply swiping left on it. Doing so reveals the 'Delete' button, and you can tap on it to get rid of that app.
6. Swipe to type on keyboard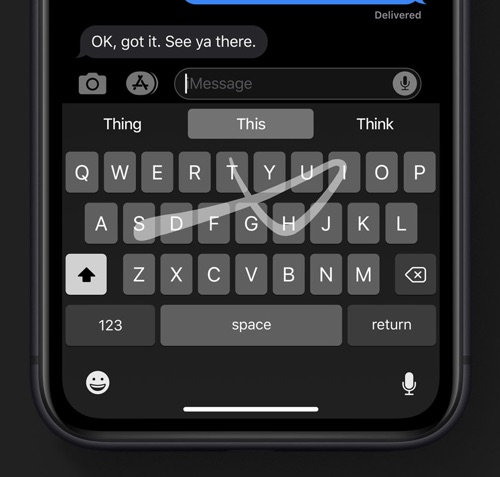 One of the hidden features in iOS 13 is the QuickPath keyboard feature, which allows users to type by swiping their finger on the stock keyboard. This new feature works in the same way as the popular Swype keyboard that become popular many years ago.
With this new iOS 13 feature you can type on the iPhone keyboard with ease by moving your finger from one letter key to another until you form a word without lifting it. QuickPath keyboard in iOS 13 is surprisingly good and makes it much easier to type with one hand.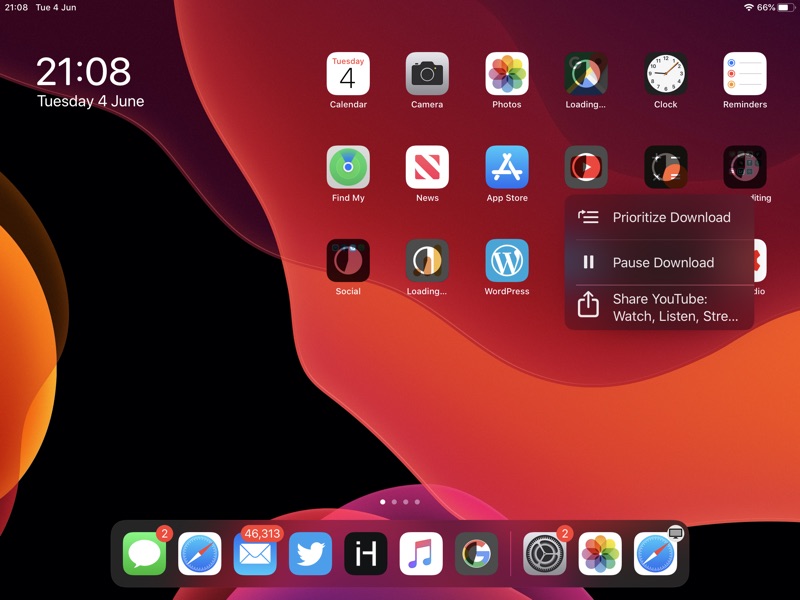 Next on our list of 20 best iPhone tips and tricks for 2021 is the Quick Actions menus feature. This feature brings the previously 3D Touch exclusive Quick Action menus to all iOS devices.
With iOS 13 Apple has finally added the Quick Action menus and Peek and Pop feature to non-3D Touch iPhones and iPads.
This means you can now tap and hold on an icon to access its icon menu that gives you access to a variety of shortcuts for an app.
You can also preview content in many apps, for example in Mail app you can tap and hold on any message from the list to preview it without opening it.
In addition to this you will get access to useful features like ability to pause app downloads, prioritize app downloads etc, which is very exciting.
8. Compress files in Files app and add them to Zip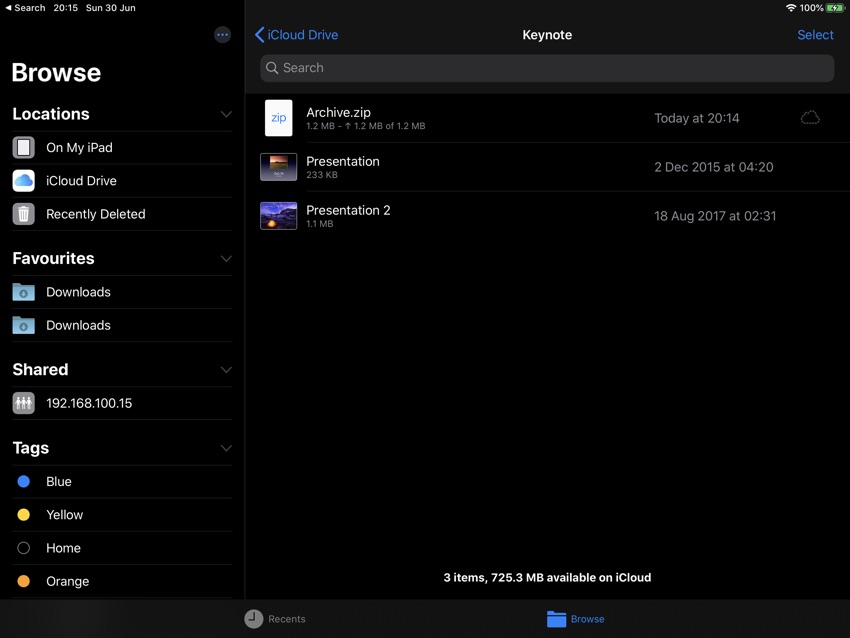 Next on our list of best iPhone tips and tricks for 2021 is a feature found in iOS 13's Files app. Starting iOS 13 Files app makes it easier for iPhone users to share files over iMessage, Mail, AirDrop etc by putting multiple files in a zip.
So now you can compress multiple files into a single zip file right from the Files app. This is a great addition to iOS as previously it required users to either download third-party apps (that didn't work quite this well) or transfer the files to a computer and then put them in a zip.
The ability to compress files on iOS's Files app is a welcome addition. Complete tutorial on this is available here.
9. Take full page screenshots In PDF format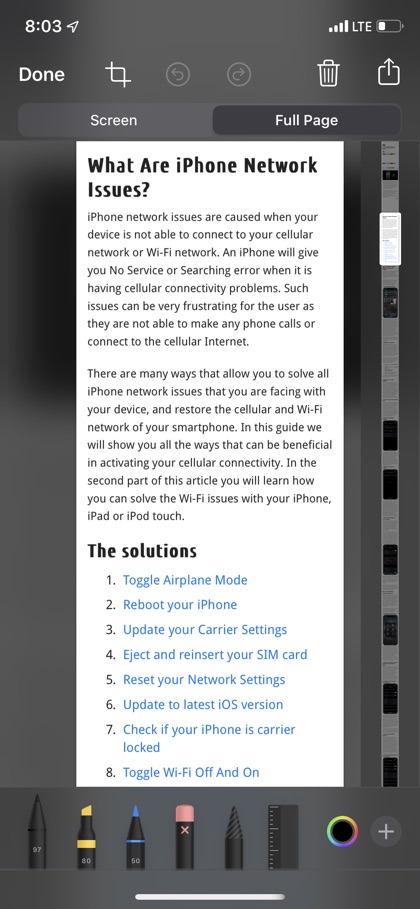 Next on our list of best 2021 iPhone tips is the enhancement for the screenshot feature. In iOS 13 or later, iPhone users can take full page screenshots in most apps. Now when you take screenshots in apps like Safari you are presented with a tab. This tab lets you choose whether you want to save the screenshot of the screen or for full page.
This feature makes it possible for iPhone users to take screenshots of full documents or webpages and save them as PDFs. Users can also markup on the full page screenshots by jumping to the part they want to edit using the convenient scroll bar.
10. Install Shortcuts from untrusted sources
In iOS 13 you cannot install Shortcuts from untrusted sources such as those shared online. Apple wants to limit users to the Shortcuts gallery in order to keep them safe. However you can fix this and get the ability to download Siri Shortcuts from anywhere you like. In order to do so go to Settings -> Shortcuts and turn on the toggle for 'Allow Untrusted Shortcuts'.
11. Silence Unknown Callers To Stop Robocalls
Tired of robocalls and scammers calling your iPhone the time? Then this is going to be one of your favorite iPhone tips and tricks for iPhone 11. Now users have the ability to enable the Silence Unknown Callers feature. Once this is enabled any call coming from an unknown caller, that is someone who is not in your contacts list will be automatically silenced.
The iPhone will not ring when an unknown number is calling you, instead it will just display a missed call alert, allowing you to call back if you feel like it. You can enable the Silenece Unknown Callers feature in iOS 13 by going to Settings -> Phone -> Silence Unknown Callers -> Turn On.
12. Change Downloads Location for Safari Downloads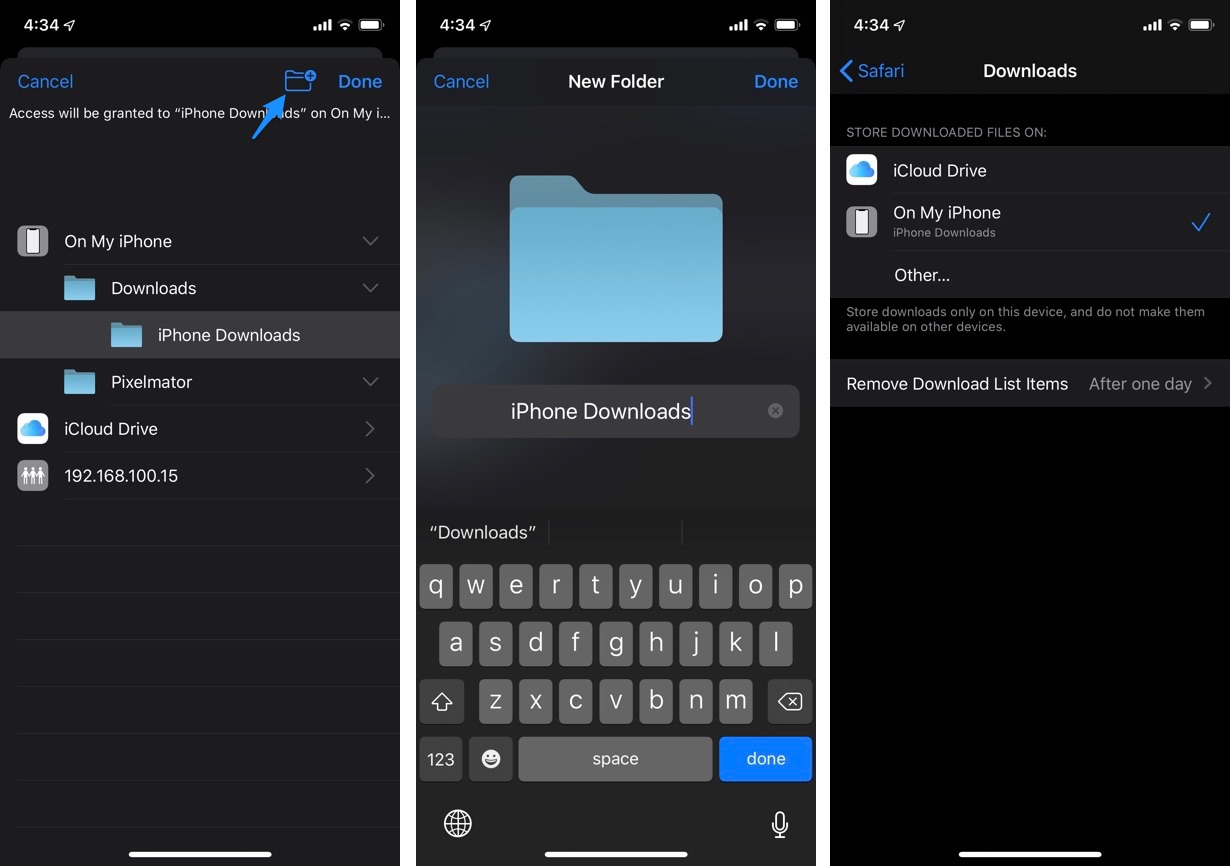 One of my favorite hidden features in iOS 13 is the ability to Download Manager feature that allows users to download files and manage them in Safari. The downloaded files are stored in the Downloads directory inside the Files app. However what many users don't know is that you can actually change the directory in which Safari Downloads are stored in iOS 13.
You can change the downloads location in iOS 13 by going to Settings -> Safari -> Downloads and choose between iCloud Drive and On My iPhone options. You can also tap on 'Other' option and choose the folder of your choice inside the Files app.
13. Remove Location Data from Photos to Improve Privacy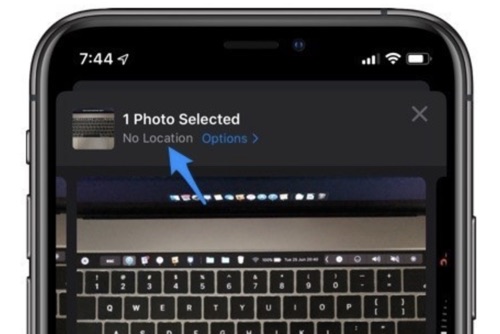 Next on our list of the greatest iPhone tips and tricks for iOS 13 is the ability to remove location data from Photos. In iOS 13 you can take care of your privacy by removing the location data from your iPhone photos before sharing them with other people.
And doing so is incredibly easy too. You can do so by loading the photo in the Photos app and tapping on the 'Share' button from bottom left side. Then tap on 'Options' button and turn off the toggle for 'Location'. Doing so will remove the Location data from the image.
14. Connect To Mac Wirelessly With SMB To Access Files Remotely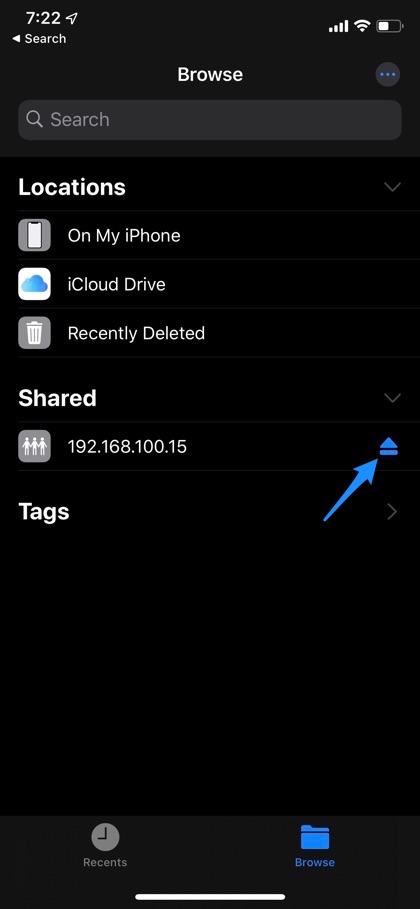 Here's another one of the best iPhone tips for 2021. In Files app you can now connect to Mac wirelessly with SMB and access all of its directories and files right on the iPhone.
You can not only view and read files stored on your computer through the iPhone but you can also share them with others via email etc using the iOS device. A full tutorial on how to connect to Mac wirelessly with SMB is given here.
15. Flip a Photo using built-in tools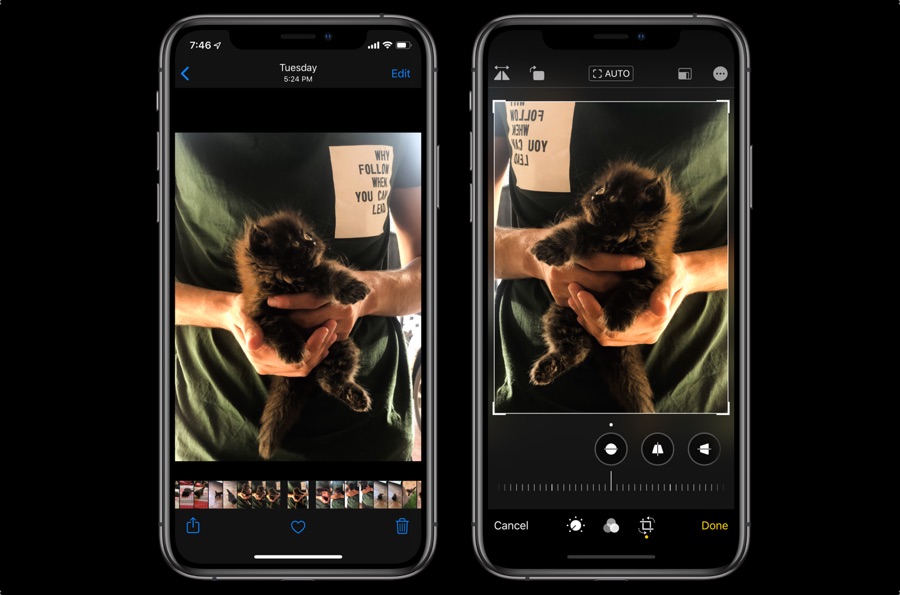 We are not done with this iOS 13 tips and tricks list yet. Next up is the ability to flip photos using the built-in image editor. For the first time Apple has added new photo editing features that make it possible for users to flip a photo. Not only the image flip feature but iOS 13 also adds useful tools like ability to straighten photos and move them vertical or horizontal.
You can access these new image editing features by loading a photo that you want to edit, then tapping on the 'Edit' button. Next on the 'Crop' tool button from the bottom bar. Flip button is available at top left corner of the screen.
16. Quickly change Wi-Fi network Or connect to Bluetooth devices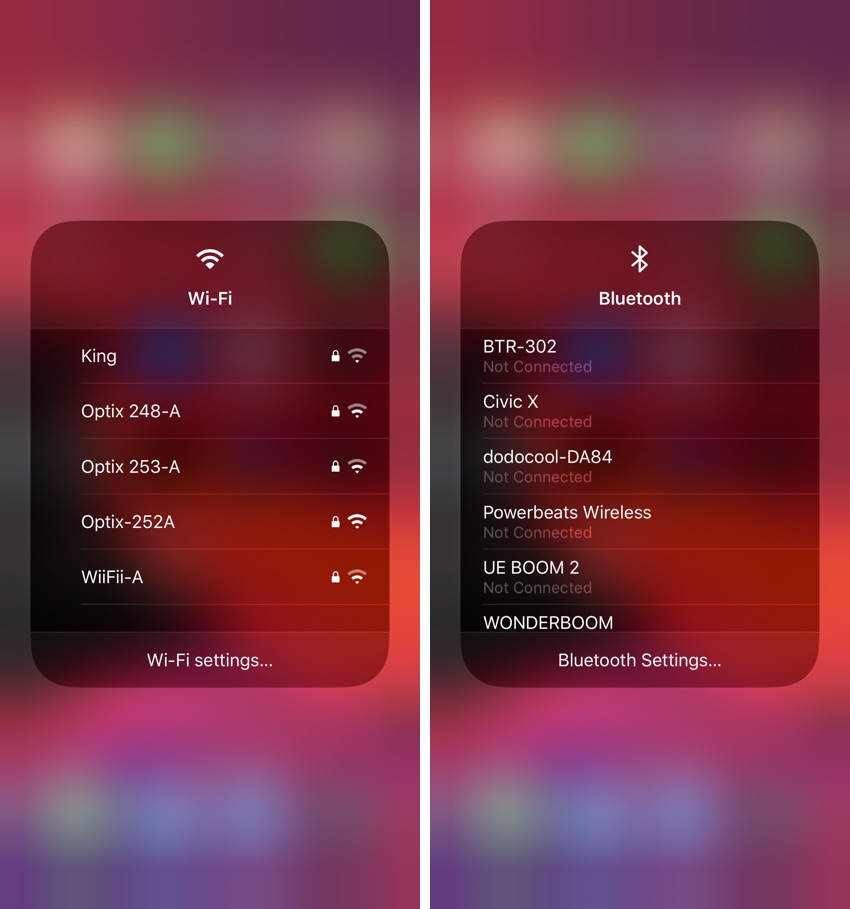 iOS 13 make it incredibly easy to connect to Bluetooth devices and switch between known Wi-Fi networks. Now users can simply access the Control Center Wi-Fi and Bluetooth menus and connect to a Wi-Fi network or Bluetooth device without having to open the Settings application.
You can access the new Wi-Fi and Bluetooth shortcut menus by accessing the Control Center and then tapping and holding on the toggle widget. Finally long press on either Wi-Fi or Bluetooth toggle to access the full menus.
17. Download Unlimited Size apps over LTE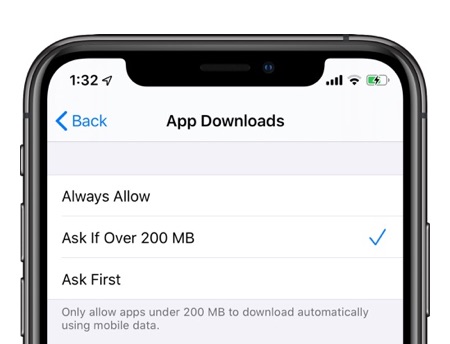 This one is my personal favorite of these 2021 iPhone tips for iPhone 11 Pro users. With iOS 13 Apple has made it easier to download apps over cellular Internet by allowing users to download apps of unlimited size.
Previously users were limited to 150MB download size over LTE. This limit was ridiculous since most users nowadays have large Internet bandwidth that can be used to download apps of any size. With the limit lifted in iOS 13 you can download all apps over cellular Internet no matter their size.
However we recommend that you set your iPhone to ask you if the size of the app you are about to download exceeds 200MBs to be on the safe side. You can change this setting by going to Settings -> iTunes & App Store -> App Downloads.
18. Enable Low Data Mode to save bandwidth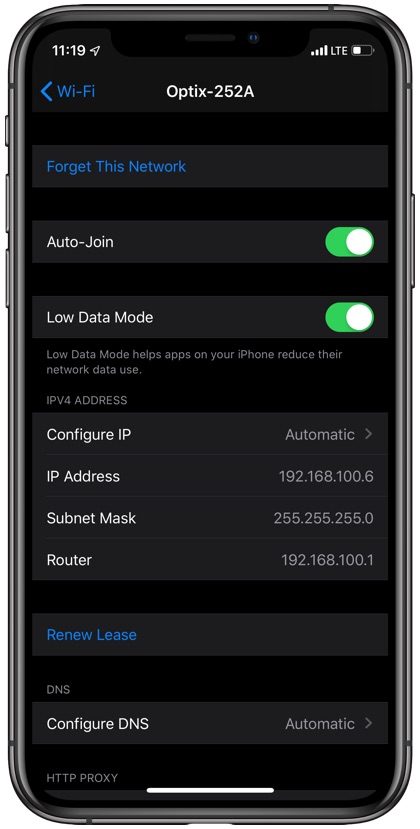 Have slow Wi-Fi Internet or running low on bandwidth on LTE? Use the hidden iOS 13 feature called 'Low Data Mode'. When this mode is enabled iOS will restrict applications from using excessive data in the background and safe significant amount of bandwidth, and improve the Internet speed on your devices.
You can enable Low Data Mode for a Wi-Fi network by going to Settings -> Wi-Fi -> Tap on 'i' button -> Low Data Mode -> Toggle On. Similarly Low Data Mode can also be enabled for Mobile Data by going to Settings -> Mobile Data -> Low Data Mode -> Toggle On. Learn more about iOS 13's Low Data Mode feature here. This is a great iPhone tip for 2021 that can improve your web browsing experience.
19. Set Animoji or Memoji as your iMessage display picture
Next on our list of iPhone tips and tricks 2021 is ability to set an Animoji or Memoji as the display picture for your Apple account. Once you have applied a Memoji as your DP it will appear as your profile photo on iMessages, Apple ID, Contact Card etc. You can set an Animoji or Memoji as your profile picture through the Messages app. Full tutorial on this is available here.
20. Make Wallpaper Darker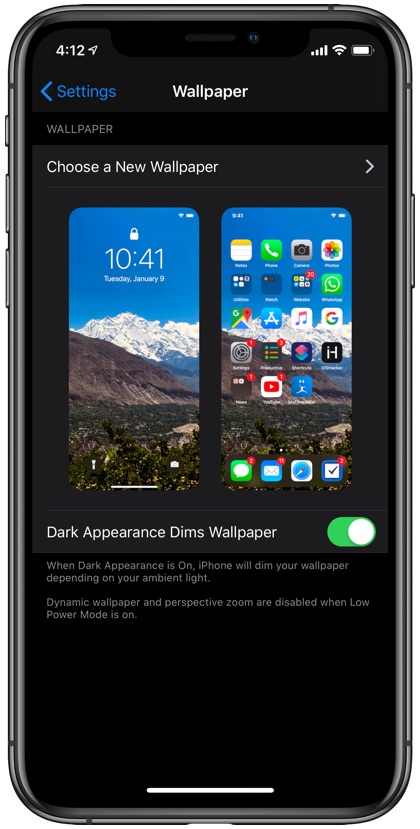 iOS 13 has a new feature that makes the lockscreen and homescreen wallpapers appear darker than they actually are. This feature is there as an add-on for the dark mode functionality however it also makes certain wallpapers look even better than their original look. You can make the wallpapers darker by going to Settings -> Wallpaper -> Dark Appearance Dims Wallpaper -> Toggle On.
There you go folks, this concludes list. These are great tips for anyone looking for coolest iPhone 11 tips, iPhone XR tips and tricks, iPhone XS tips and tricks as well as iPhone XS Max tips and tricks. Not to forget the newly released iPhone SE 2021.
If you liked these Best iPhone Tips And Tricks For 2021, then please share this post with your friends and leave a comment below.