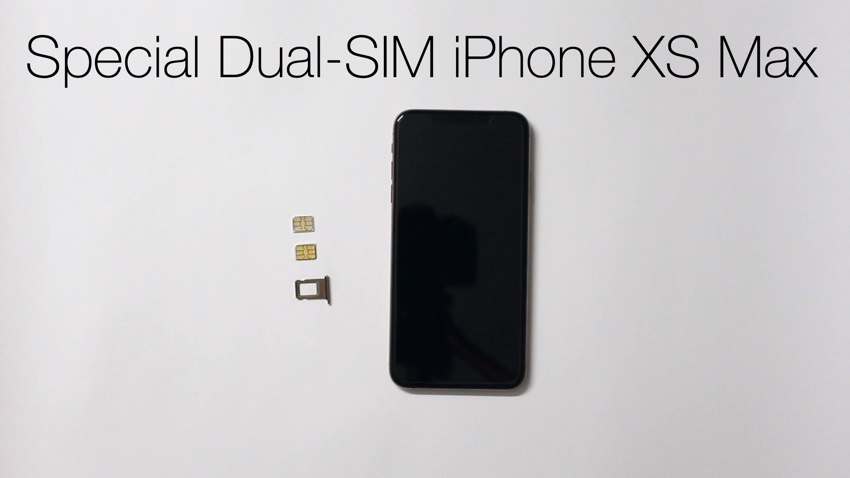 This year's iPhones bring dual-SIM functionality to iPhone via eSIM. This means users can have two numbers on their iPhone at the same time, one with a physical SIM card and other via internal eSIM that can be configured through software. However many people don't know that this year Apple has also released a special edition iPhone XS Max, which is only available in China. This unique iPhone XS Max allows users to insert two physical SIM cards inside their iPhone at the same time.
Having the ability to insert two physical SIM cards inside an iPhone can be very useful, perhaps more so than the eSIM functionality, especially for those who travel a lot and to countries that don't have the eSIM support yet.
This particular iPhone XS Max model comes with a SIM tray that has two SIM slots. You have to insert one SIM on top and other on the bottom side of the tray. While inserting the SIMs make sure the golden chip part of the SIM card remains exposed.
When you insert two SIM cards into this special Chinese edition dual-SIM iPhone XS Max, you can choose a primary and secondary number for both Mobile Data and Cellular Calls. That's not it as you can also switch between phone numbers before making a phone call via the Phone app. When two SIMs are inserted in the iPhone you get a special button that is found on the Phone app's Keypad screen, with this button you can switch between your primary and secondary numbers.
After having used this iPhone XS Max and seeing the convenience it offers for those who have to use two SIM cards, we can't help but wonder if Apple would ever release this iPhone in other parts of the world. We certainly hope they do, and also bring Physical Dual-SIM feature to smaller iPhone XS for those who prefer the smaller form factor.
Watch the full video below to see how the SIM tray on this special iPhone XS Max looks like, and a complete software walkthrough of the Dual SIM set up and settings.
Where can you buy this Physical Dual-SIM iPhone XS Max?
You cannot buy this iPhone XS Max model in any Apple Store or company's online store. You can only get your hands on this device in China. If you buy an iPhone XS Max in China you will get this special device that lets you insert two SIM cards inside it. Interestingly in China this is the normal iPhone XS Max, so all XS Max models come with the feature, and Apple is not charging extra for this functionality, which is great.
Disclosure: iOSHacker may receive a commission if you purchase products through our affiliate links. For more visit our privacy policy page.