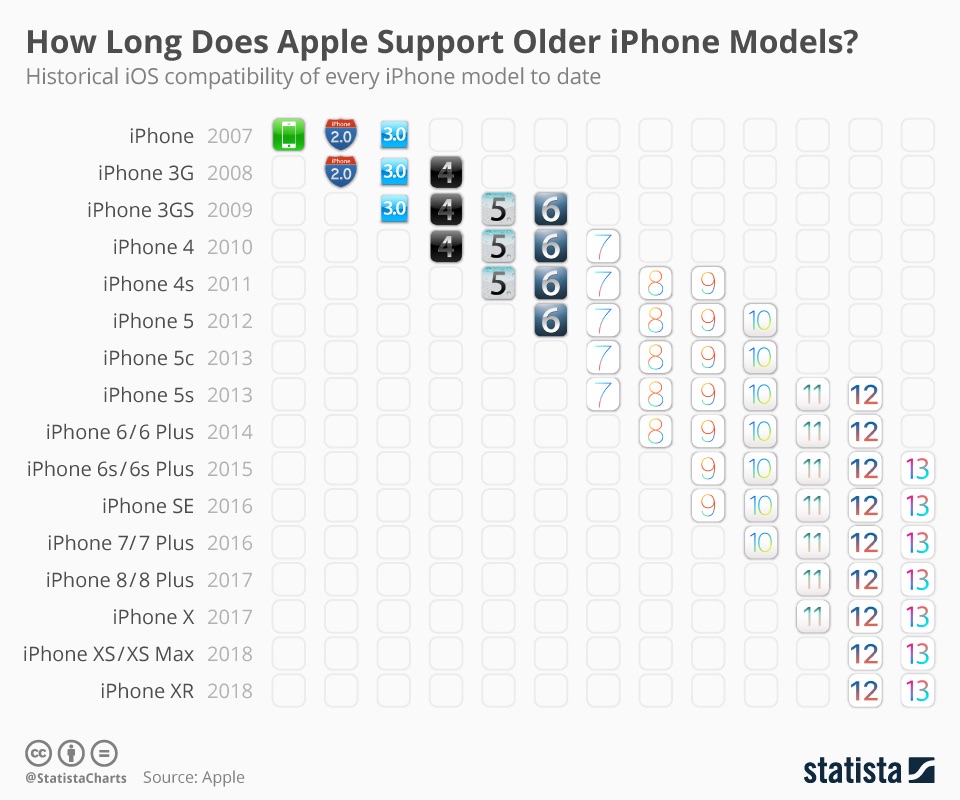 Apple is known to support its hardware with software updates for a long period of time. In fact the company has sent out software updates complete with brand new features to an iPhone model 5 years after its original release.
Recently we came across an interesting chart by Statista, which tells us for how long Apple has supported each of the iPhone models since the original iPhone was released back in 2007. The results are as you would expect with Apple offering new software updates to devices many years after their release and their discontinuation date.
As you can see in the chart above iPhone 5s is the device that was supported by Apple for the longest period of time. This particular iPhone model, which was company's first smartphone with 64-bit processor got 6 major iOS updates spanning 5 years. iPhone 5S users got iOS 7 on release in 2013, and then iOS 8, iOS 9, iOS 10, iOS 11 and iOS 12 in 2018. iOS 12 not only brought new features but also improved the device's speed and performance – 5 years after its original release date.
Interestingly the original iPhone, which was also commonly known as the iPhone 2G along with iPhone 3G got the least amount of major software updates, these devices were only supported with major updates for 3 iOS releases. After iPhone 3G all iPhone models got 4 or more major software updates with more recent models getting 5 years software support.
Another interesting fact that has been highlighted in this chart is that iOS 12 is the only major iOS version that was released for 9 different iPhone models at the same time while iOS 9, iOS 10 and iOS 13 were all released for 7 models of iPhones (not counting the Plus variants separately).
Apple's years long support for its iPhones and iPads is what sets the company apart from its rivals, who have a bad reputation for stopping software support in just a few years of a device's release, not to mention the delayed roll out of major Android updates that bring new features to devices, which sometimes can take months to arrive.
Which iPhones will not get next year's iOS 14?
Looking at the chart above it is apparent that iPhone 6s, iPhone 6s Plus and iPhone SE will not be getting the iOS 14 update when it is released in 2020 considering they are powered by the same processors. This is the same situation that we saw in 2017 when iPhone 5 and iPhone 5C both were dropped from official iOS support list for iOS 11.
Apple is currently beta testing iOS 13 and the major software update is expected to make its way to public in September. You can learn all about iOS 13 and all the new features that have been introduced with it on our iOS 13 coverage page.