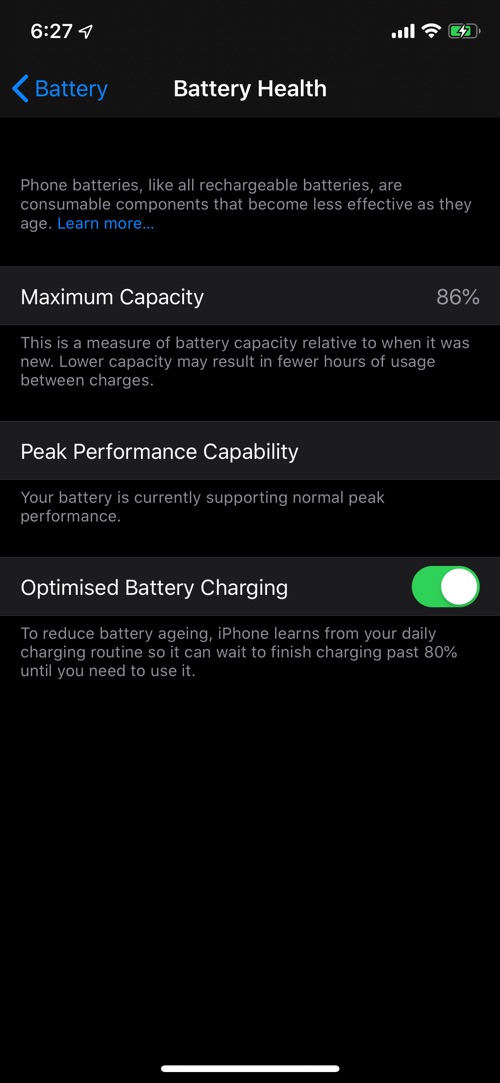 One of the new features that have been added to iPhone in iOS 13 is called Optimized Battery Charging. This feature is designed to reduce battery ageing on an iPhone and to help in increasing its overall lifetime. The feature helps in reducing battery ageing by reducing the time the iPhone spends while being fully charged.
When this new feature is enabled, iPhone analyzes your daily charging routine and learns from it, so it can wait to finish charging past 80 percent until you need to use your device.
So if you recharge your iPhone overnight, and it learns that you will be up at 7AM, it will stop charging when the battery reaches 80 percent and then resume charging again at the right time, so you get 100 percent charge when you wake up at 7.
Here's how Apple explains the feature.
A new option helps slow the rate of battery aging by reducing the time your iPhone spends fully charged. iPhone learns from your daily charging routine so it can wait to finish charging past 80% until you need to use it.
The new Optimized Battery Charging feature can be enabled or disabled by going to Settings > Battery > Battery Health.
When Optimized battery Charging feature is enabled other Apple devices that are connected with the iPhone such as the Apple Watch will also charge up to 80% in order to reduce battery ageing.