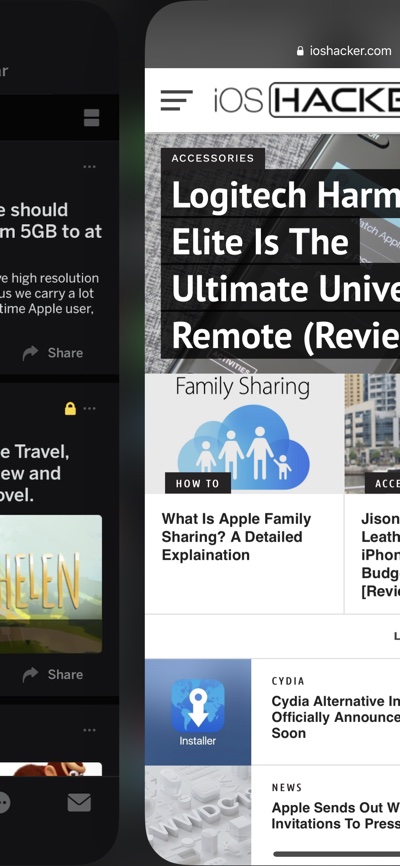 iPhone X has many exclusive features that are limited to the flagship iPhone. Apple has kept these features exclusive to iPhone X even though they could have easily been added to other devices with a software update. One such feature is the super handy swipe to switch app gesture, which allows users to quickly jump between next and previous apps by swiping on the home bar.
This multitasking gesture is easily one of my favorite features of iPhone X and its a shame that Apple has not given it to other devices. Although there are so many annoyances we would like Apple to fix in iPhone X with iOS 12.
With major iOS 12 update just around the corner, we would like to request Apple to add the multitasking gestures to other models of iOS devices including iPhone 8, iPhone 8 Plus as well as older models. With iOS 12 Apple could allow users of non-X iPhones to take advantage of these quick multitasking gestures that make app switching a breeze.
On iPhone X user can swipe left or right on the home bar in order to switch apps, however on older devices Apple will have to find a workaround since they don't have an iPhone X like home bar. They could achieve this by letting users at the bottom of the screen where the home bar resides on the iPhone X to switch apps. This is exactly how one Cydia tweak for iOS 11 has achieved this. Users can just swipe in this general area while on the homescreen or in apps to switch between recent apps. This would add to the convenience of users of older iPhones and bring them in line with the features available on newer models.
The app switching gestures have truly been a hit among iPhone X users, so much so that the upcoming version of Android has blatantly copied the feature. Now that Android users are going to enjoy the same functionality, it is about time Apple opens it up for the rest of the iPhone user community too.