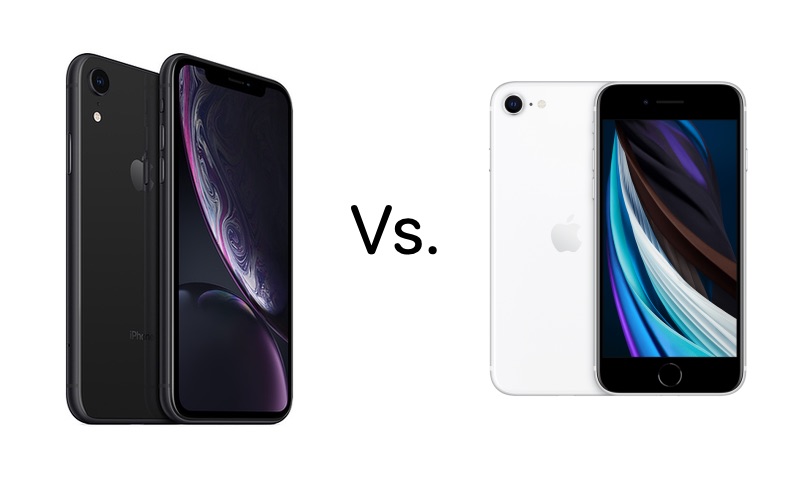 In April Apple has launched the new iPhone SE 2020. Starting at just $399 this phone serves as the budget edition iPhone for those who are looking to buy an Apple smartphone for less than $400.
While iPhone SE 2020 has a lot going on for itself in terms of pricing and specs, there are many things that go against it. For starters this budget iPhone SE features the same old design that we have got since iPhone 6. In 2020, when we are seeing chin-less devices iPhone SE disappoints many who were hoping for a modern new look.
Then there's newly released Refurbished iPhone XR. Apple has recently announced that it will now be selling iPhone XR at its refurbished store. In fact the device is currently available at online Apple Refurbished Store at a starting price of $499.
Users can even get this particular Refurbished iPhone for cheaper than $499 on other online retailers.
When we compare the starting prices of new iPhone SE 2020 and Refurbished iPhone XR, then we can easily see that the price different between the two devices isn't too big.
And iPhone XR makes up for the difference in a significant way by offering a modern edge-to-edge display, much larger screen, better battery life and more.
Seeing the similarity in price we decided to do a head to head comparison of iPhone SE with Refurbished iPhone XR to see which device deserves your money the more.
If you're in a hurry then here's our quick answer: Refurbished iPhone XR offers a better value for money than iPhone SE 2020.
iPhone XR vs iPhone SE: Comparison
Below you can find a direct specs comparison that will show you how these devices compare with each other in terms of specifications.
| | | |
| --- | --- | --- |
| Specs | Refurbished iPhone XR | iPhone SE 2020 |
| Processor | A12 Bionic Chip | A13 Bionic Chip |
| RAM | 3GB | 3GB |
| Display | 6.1-inch Liquid Retina HD | 4.7-inch Retina HD Display |
| Resolution | 1792 x 828 with 326 ppi | 1334 x 750 with 326 ppi |
| Rear Camera | 12-megapixel wide lens | 12-megapixel wide lens |
| Front Camera | 7-megapixel TrueDepth | 7-megapixel |
| Body Type | Aluminium | Aluminium |
| Weight | 193.9g | 148g |
| Water Resistance | IP67 (1 meter up to 30 mins) | IP67 (1 meter up to 30 mins) |
| 3D Touch | No | No |
| Dual SIM | eSIM | eSIM |
| Biometric | Face ID | Touch ID |
| Wi-Fi | 802.11ac Wi‑Fi with 2×2 MIMO | 802.11ax Wi-Fi 6 |
| Fast Charging Support | Yes (Charger sold separately) | Yes (Charger sold separately) |
| Wireless Charging | Yes | Yes |
| Battery Life (Talktime) | Up to 25 hours | Up to 14 hours |
| Colors | Black, White, Blue, Coral, Yellow | Black, White and (PRODUCT)Red |
| Storage | 64, 128 and 256GB | 64, 128 and 256GB |
| Price | $499 | $399 |
As you can see in the side by side specs comparison above the iPhone XR is superior in every way apart from having a processor that is one generation older than the iPhone SE. This is a noticeable different, however it isn't so big that should make you choose iPhone SE over the XR.
Is Size And $100 difference important to you?
The only way you should be differentiating these devices and choosing which one is best for you is the price and size. If you're someone who thinks all the specs differences are worth sacrificing to save the $100 price difference, then go fo the SE.
The second main reason why you would choose iPhone SE 2020 over Refurbished iPhone XR is the size difference. iPhone XR has a screen size of 6.1-inch, which is too big for some users. This is perhaps one of the biggest reasons why Apple has released the SE in the first place, to cater to those who want to a normal sized iPhone. Although fans of smaller iPhones will tell you iPhone SE is still too big and they want an even smaller device.
Having said all this if the $100 price difference and the size difference does not matter to you and you are fine with iPhone XR's processor being 1 year older then it is a no brainer to get the refurbished iPhone XR over the new iPhone SE 2020.
With iPhone XR you are getting a new design, larger screen size, much longer battery life, Face ID, home button less design, edge to edge display and more.
You can buy the Refurbished iPhone XR from Apple's official Refurbished store or you can check out third-party SellCell Store, which is selling iPhone XR and other Refurbished models of iPhone at a lower cost.
What are your thoughts on the Refurbished iPhone XR vs iPhone SE 2020 debate? If given the choice which one would you buy? Share you thoughts in the comments.
Disclosure: iOSHacker may receive a commission if you purchase products through our affiliate links. For more visit our privacy policy page.