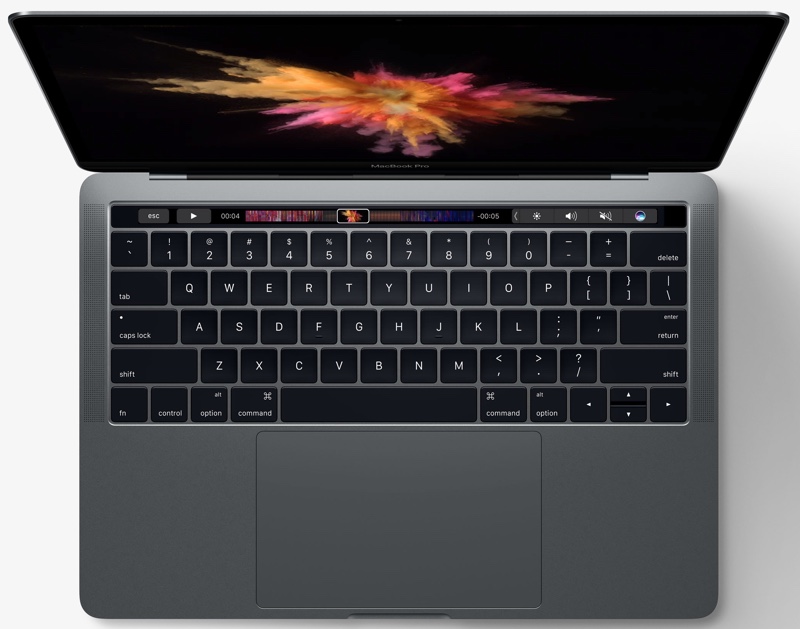 As expected Apple has announced new models for the MacBook Pro lineup. The new notebook brings a number of big features and design improvements to the MacBook. Perhaps the most notable feature of the new device is the Touch Bar, which is essentially a touchscreen strip that displays contextual controls to the users. When compared with the previous generation the new MacBook is more powerful, 17 percent thinner, lighter, brighter and better in every aspect. It has a completely new keyboard, that is very similar to MacBook's butterfly keyboard, however it goes deeper giving a more satisfying press of a button.
The Touch Bar that sits on top of the keyboard replaces the normal function keys with a strip of a touchscreen. This multitouch screen that can accept 10 finger input at the same time allows users to have versatile controls that match the app or content that is currently being displayed on the screen. Apple demonstrated the capabilities of the Touch Bar with a number of its own apps as well as third-party applications. Once the software is updated to take advantage of this feature users will be able to control their apps, enter emojis or predictive text and perform several other functions more quickly.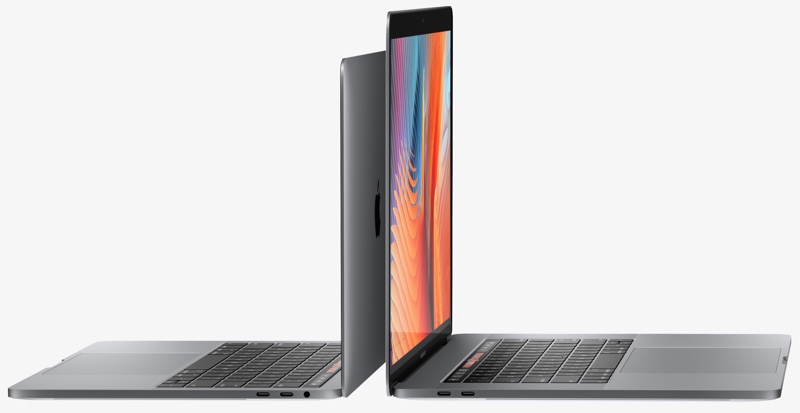 In addition to the Touch Bar, Apple has also added a Touch ID sensor on the MacBook Pro, making it the first Mac ever to sport this feature. Using the Touch ID users will be able to login using their fingerprints just like they can unlock their iPhone. Users can also use the Touch ID feature to authorize payments with Apple Pay when shopping online or in the App Store.
When it comes to performance the new MacBook Pro is a beast. It offers a high level of performance while maintaining its portability. The notebook offers up to 130 percent faster graphics, 100 percent faster flash storage, 3.8GHz Turbo Boost Performance. All these features make the device fully capable of performing power intensive tasks like video editing, graphic editing and gaming. The device features a faster SSD with a base memory of 256GB. The faster SSD offers read speeds of up to 3.1GBps and write speeds of 2.1GBps.
The new MacBook Pro has a better Retina Display than the one found on previous generation. Its screen has a brighter LED backlighting and increased contrast ratio due to which it is capable of delivering brighter whites and deeper blacks. The new Retina Display screen offers 500 nits brightness, 67 percent higher contrast ratio and 25 percent more colors than sRGB.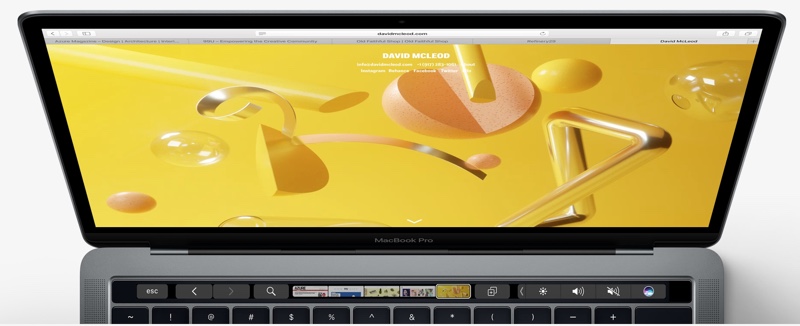 It also packs better speakers that offer up to 58 percent of more volume than before. If you like bass, then you would be interested to know that it offers 2.5 times louder bass for maximum boom. For better sound it offers 2x dynamic range.
When the MacBook launched it surprised everyone with its new butterfly mechanism based keyboard, however that keyboard was criticized because it didn't offer deep enough key travel. With MacBook Pro Apple seem to have solved that problem. It features a second-generation butterfly mechanism that offers more comfort and better responsiveness. The Force Touch touchpad's size has been increased too and it is now 2x larger than before. This makes clicking and making gestures much easier.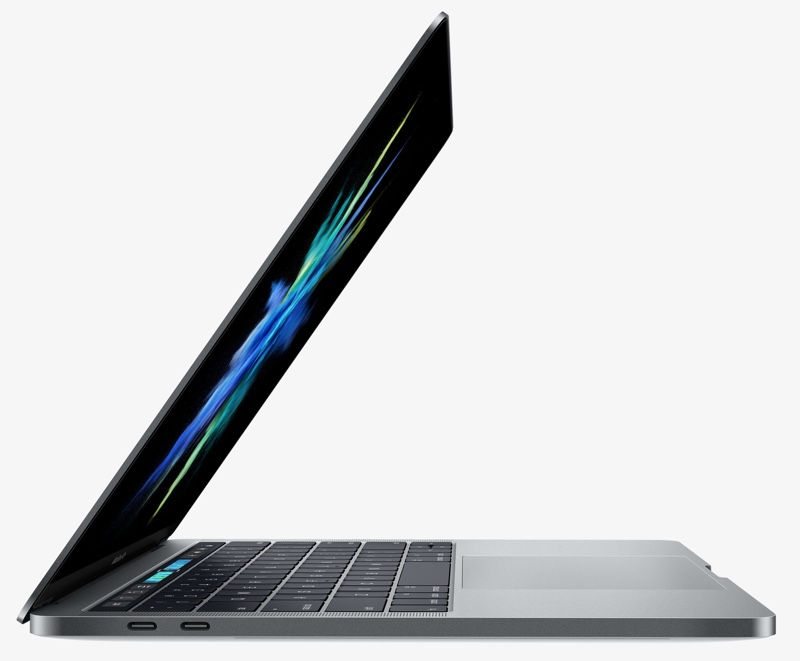 This generation of MacBook Pro has four Thunderbolt 3 ports that follow the USB-C industry standard. This allows the MacBook Pro to not only be future proof by having the USB-C ports but also offer up to 40GBps of transfer rates. This is twice the bandwidth of Thunderbolt 2 ports. Thanks to multiple Thunderbolt 3 ports the MacBook Pro can support up to 2 5K monitors simultaneously.
The MacBook Pro offers a battery life of up to 10 hours on both 13-inch and 15-inch models. Both variants are available silver and space grey colors. Unlike the Macbook, the new Macbook Pro does not come in a gold or rose gold options.
Apple is offering 3 models of the new MacBook Pro. There are 13-inch and 15-inch models that are available with different configurations and feature the Touch Bar and Touch ID. The 13-inch model with Touch Bar starts at a price of $1799 whereas the 15-inch model with a Touch Bar starts at $2399.
Then there is a 13-inch model that lacks the Touch Bar and Touch ID but is available at a price of $1499.