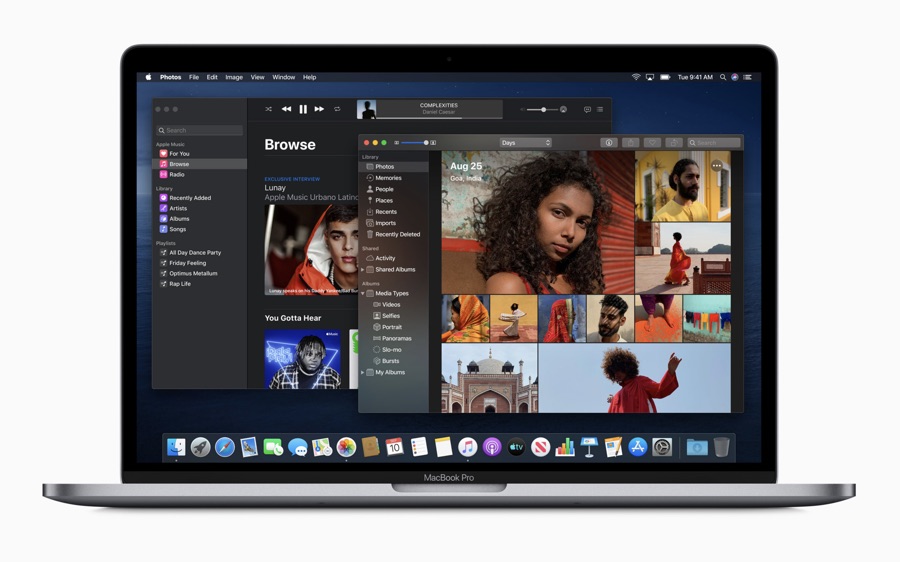 Apple has released macOS Catalina Golden Master, and it is now available for download. The Golden Master has been released 3 days after the release of 10th developer beta. With today's release it seems like Apple will be able to release macOS Catalina for public on its previously announced date of October 4th.
macOS 10.15 brings a number of features to the Mac including new Music, Podcasts and TV apps, Mac Catalyst feature that will allow developers to bring their iPad apps to the Mac, new features for Photos, Notes, Safari and a redesigned Reminders app. This update also brings a new feature called Sidecar, which allows Mac and iPad users to extend their Mac's display by using an iPadOS powered iPad as a secondary display. Sidecar users will also be able to use Apple Pencil on their Mac by drawing with it on their iPad's screen.
Apple is also bringing Screen Time, Apple Arcade, better security, Find My app and better accessibility features to the Mac. It will also kill the iTunes, allowing users to manage their iOS devices through Finder.
macOS 10.15 Catalina supports a wide range of Mac models and is fully compatible with the following Macs.
12-inch MacBook
MacBook Air, 2012 and later
MacBook Pro, 2012 and later
Mac mini, 2012 and later
iMac, 2012 and later
iMac Pro
Mac Pro, 2013 and later
Apple is expected to release macOS 10.15 Catalina for public on October 4th. In the meantime you can download the macOS Catalina Dynamic wallpaper here.