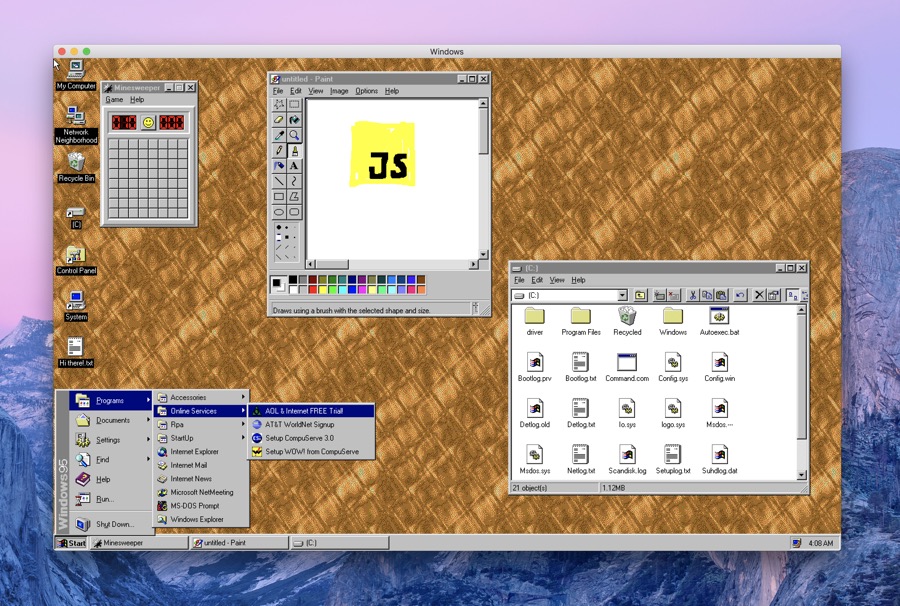 For the 90s kid (or adult for that matter) the classic Windows versions bring back a lot of memories. I still remember playing NFS II on my dad's computer or spending most of my computer time playing classics like Solitaire or Minesweeper.
Good news is now you can download and run Windows 95 using the windows95 app right on your Mac. With this application you can not only enjoy booting Windows 95 and play with its Graphical User Interface, but you can also launch familiar applications including built-in games like Minesweeper and Solitaire. The app also allows users to run other default applications of the platform such as the Wordpad and Microsoft Paint. You can also run Internet Explorer, however understandably it won't be able to load most of the modern websites of today.
The best thing about the windows95 app is that it is just that, an app. You don't need to run any special codes or deal with complex booting mechanisms to run the classic operating system on your computer, just launch the app and start using it. It also runs pretty smooth with apps launching instantly.
Other features of the application include access to Windows 95 file manager, ability to mount the disk image on macOS, auto-updates and more.
You can download windows95 app for free here. It is available for both macOS and Windows platforms.