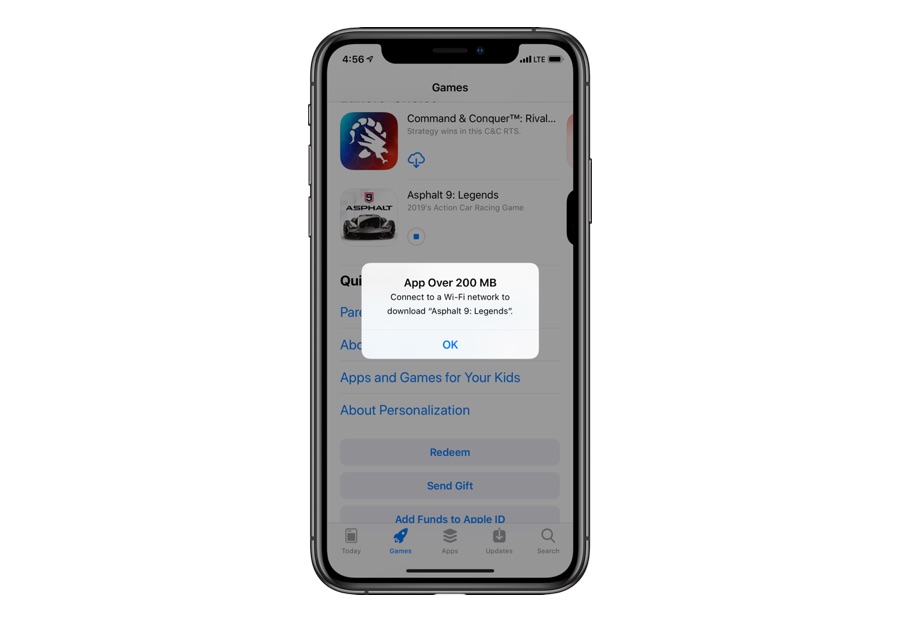 iOS puts a maximum limit on the size of content that you can download over LTE from Apple's online stores. For a long time the limit was set at 150MB, preventing iPhone and iPad users from downloading apps, games and videos that were larger than this using cellular internet. Now Apple has increased the limit from 150MB to 200MB, making it possible for iOS users to download marginally larger files.
The 200MB download limit is in place to make sure users don't accidentally download large files over LTE and run out of their monthly data allowance. However the limit is enforced on users in a way that there's no way of increasing the default limit or ignoring it incase you want to download a larger app. This is especially annoying for users who have large or unlimited data plans, as they too are limited with the new 200MB limit.
While its good that Apple has allowed additional 50MB downloads, taking the limit to 200MB, it is still silly to have it enforced in the first place. A warning notification that would inform user about the large size of the app they are about to download would be sufficient for users to decide whether they want to continue downloading or not.
Disclosure: iOSHacker may receive a commission if you purchase products through our affiliate links. For more visit our privacy policy page.