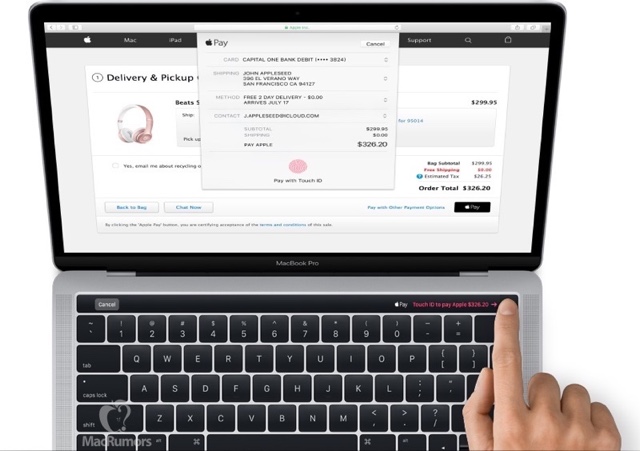 Apple is a company known for keeping its products secret until their announcement and making a splash with a big keynote event. While the company strives to keep things a surprise for its huge fanbase, it is certainly not immune to blunders. In its recently released macOS Sierra 10.12.1 update the company seems to have included a few images of the unannounced Macbook Pro. The new device that features a Macbook like keyboard, a Touch ID sensor and a whole touch panel reportedly called 'Magic Toolbar' can be seen in its full glory.
The images that were acquired by MacRumors also show Macbook Pro running its Apple Pay Touch ID authorization interface. As can be seen in Apple's example image above user is able to pay for its purchases by scanning the finger on the right side of the touch panel. The cancel button for the transaction can also be seen on the other side of the panel. The Apple Pay interface will obviously be replaced contextually with the touch panel showing controls related to what's on-screen. For example if you are using iTunes that's playing music users will see music controls etc.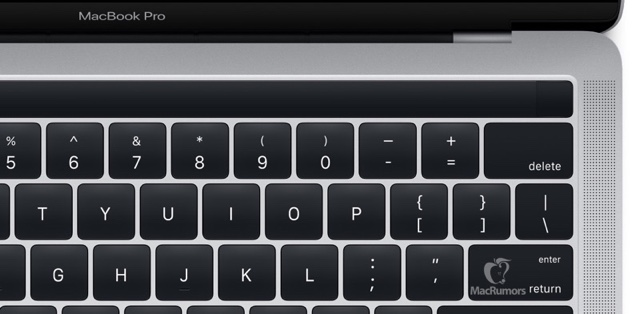 Touch ID might also finally allow Mac users to sign into their computers using their fingerprints. This will make unlocking Macs as easy as it is on iOS devices for many years.
While the touch panel and the Touch ID sensor is going to be the most notable feature on the new Macbook Pro, the images also show that the device has a new keyboard also found on the Macbook. This is different from the mechanical keys found on the current models. The new device also features slimmer bezel around the keys as well as on the screen. This could mean that the device will be much smaller in size, while still maintaining its 13.3-inch screen size. Based on the new keyboard we believe it will be significantly thinner than the current Macbook Pro model. The speaker grills are also moved on the sides just like they are on the bigger 15.4-inch version.
Apple is officially going to hold its special Mac 'hello again.' event on October 27.
Disclosure: iOSHacker may receive a commission if you purchase products through our affiliate links. For more visit our privacy policy page.