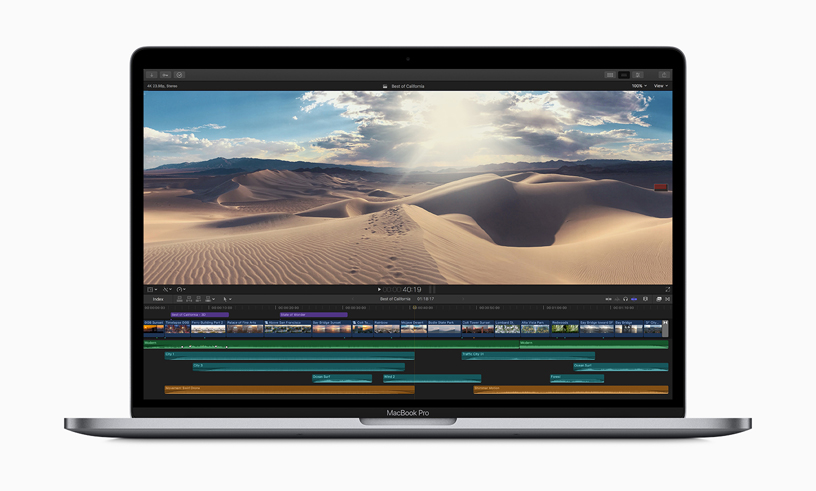 Apple has released a new MacBook Pro today with faster 8th and 9th generation Intel Core processors. These new models become the first ever MacBook Pros to come with 8-Core processors. With the upgraded specifications Apple claims that the high-end notebook will deliver two times faster performance than the quad-core MacBook Pro and a 40 percent faster performance than the 6-Core MacBook Pro.
The 6-Core and 8-Core processors found in the new 15-inch MacBook Pro are capable of delivering Turbo Boost speeds of up to 5.0 GHz. Apple has also added faster quad-core chips to the 13-inch MacBook Pro with Touch Bar, which can now deliver Turbo Boost speeds of up to 4.7GHz.
Apple says the new 15-inch MacBook Pro with 8-Core processor is significantly faster than the 4-Core MacBook Pro and offers following real world comparison.
Music producers can play back massive multi-track projects with up to two times more Alchemy plug-ins in Logic Pro X.
3D designers can render scenes up to two times faster in Maya Arnold.
Photographers can apply complex edits and filters up to 75 percent faster in Photoshop.
Developers can compile code up to 65 percent faster in Xcode.
Scientists and researchers can compute complex fluid dynamics simulations up to 50 percent faster in TetrUSS.
Video editors can edit up to 11 simultaneous multicam streams of 4K video in Final Cut Pro X.
While the processors have been upgraded in this release the new MacBook Pros still come with the same Retina Display, SSDs, T2 Security chip, Touch Bar and design as the last year's model. Although most of the hardware remains the same, Apple has made some changes to the Butterfly keyboard in a bid to reduce issues that caused keys to register twice or stop working entirely. Apple has told TheVerge that it is using new materials in the Butterfly switch mechanism, which "should significantly reduce the occurrence of double and missed key presses". While Apple claims the new iteration of Butterfly keyboard is better, it remains to be seen how it performs in the real world.
Apple is offering Butterfly keyboard made with 'new materials' on 15-inch MacBook Pro and 13-inch MacBook Pro with Touch Bar. It is unknown whether or when the company plans on bringing the improved keyboard to other MacBook models. In the same report TheVerge says Apple will be adding the Butterfly keyboard made with the new materials on MacBook devices that come in for repairs under its Keyboard Service Program.
You can now order the new MacBook Pros on Apple's website. The 15-inch MacBook Pro starts at $2399 while the 8-Core model starts at $2799. The 13-inch MacBook Pro with Touch Bar  costs $1,799.
Disclosure: iOSHacker may receive a commission if you purchase products through our affiliate links. For more visit our privacy policy page.