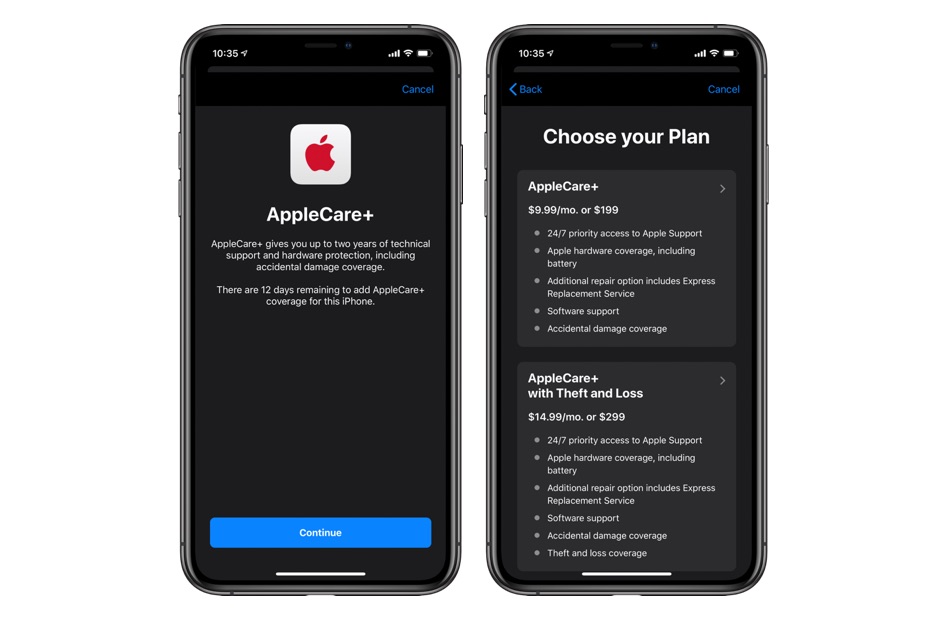 Most Apple customers know that Apple only allows users to purchase AppleCare+ extended warranty within 60 days of purchasing their device. After the initial 60 days have passed the device is no longer eligible for AppleCare+ and user is stuck with 1 year standard AppleCare warranty.
Now it looks like Apple might change this policy and allow users to purchase AppleCare+ for their Apple device beyond 60 days deadline. According to reports, Apple is already testing new policy in select Apple Stores in US and Canada, where the company is allowing customers to get AppleCare+ after 60 days of purchase.
These Apple Stores are offering AppleCare+ to users if their purchase date falls between 61 days to 1 year ago.
The way you buy AppleCare+ after 60 days is different than when you buy it within 60 days. While you can get AppleCare+ by going to iPhone's Settings or Apple's online website within first 60 days, if you are purchasing it after 60th day, then you have to book a Genius Bar appointment to have an Apple technician look at your device and run diagnostics.
Once the technician has performed inspections on your device and confirmed its eligibility, you will then be allowed to add AppleCare+ to your device.
Initially the pilot program will be offered in 50 something Apple Stores across the US and 29 Stores in Canada. It is unconfirmed when Apple will start offering this service in other regions or even if it will continue with this program in the future. Only time will tell.
According to MacRumors the pilot program is being offered to iPhone, iPad, Mac, Apple Watch and other devices. With this program users will be able to buy Apple Care beyond 60 days of purchasing their device.
What is AppleCare+?
AppleCare+ is Apple's extended warranty. Buyers purchasing an iPhone, iPad, Mac, Apple Watch or any other Apple product can choose to buy AppleCare+ warranty by paying extra. Users have the option to buy AppleCare+ on a per month basis or pay upfront for the whole coverage. Once AppleCare+ is added to a product its warranty extends from normal 1 year to additional 2 years, taking the warranty to 3 total years.
Normally Apple only allows users to buy AppleCare+ within 60 days after purchasing the device. So if you buy an iPhone on January 1st, you can purchase AppleCare+ for it until March 1st. After which your device will not be eligible for extended warranty.
AppleCare+ includes 2 years of extended Apple Support, hardware coverage, additional repair option such as Express Replacement Service, Software Support and Accidental damage coverage. By paying extra for AppleCare+ with Theft and Loss you can also get Theft and loss coverage on your device.