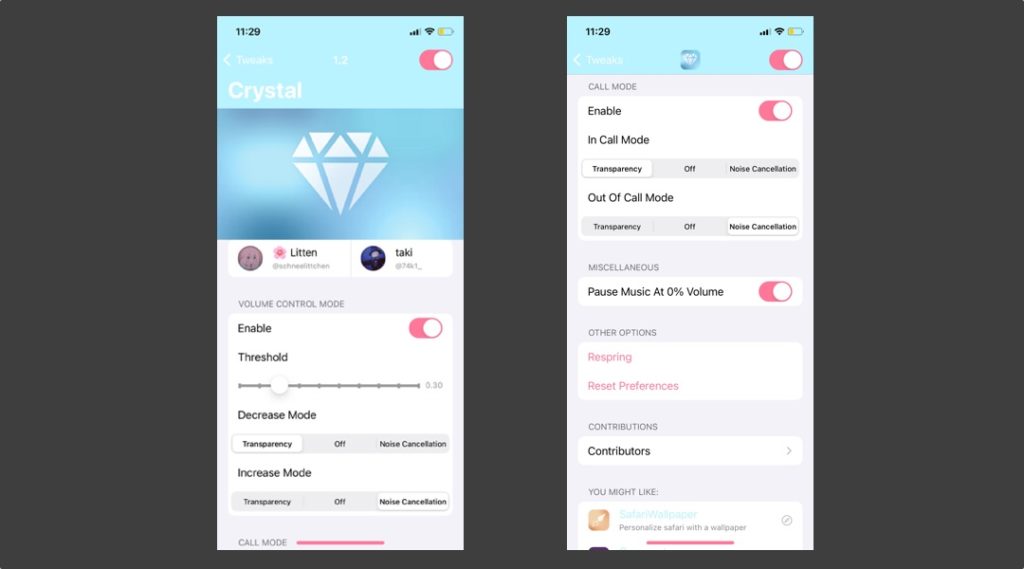 If you own a pair of AirPods Pro then the newly released Crystal tweak is something you need to try on your jailbroken iPhone. This tweak makes using AirPods Pro a breeze by automatically switching its various listening modes based on certain situations.
As you would know AirPods Pro are equipped with Noise Cancellation and Transparency modes. These are excellent features that make using AirPods Pro convenient and enhance the audio experience. The only thing missing from these modes is iOS's ability to intelligently switch between them based on what user is doing, as the switching can only be done manually.
Crystal tweak changes that by allowing users to switch listening modes based on what they are doing on the device. For example, you can configure the tweak to switch AirPods Pro to Transparency mode when you decrease the device volume to a certain level. You can also make it enable Noise Cancellation mode when you are increase the volume.
Users can also configure Crystal to automatically put the AirPods Pro in Noise Cancellation mode or Transparancy mode when they are on a call. They can also turn off the modes altogether. Similarly users can make Crystal tweak enable Noise Cancellation or Transparency mode when they disconnect the call.
This is neat as you are no longer required to manually switch between modes when you're using your AirPods Pros.
Crystal tweak also comes with a feature that if enabled will automatically pause music when the volume is turned down to 0%.
You can download the Crystal tweak on your jailbroken device for free. It is compatible with iOS 14 and iOS 13 powered devices.
More tweaks:
Disclosure: iOSHacker may receive a commission if you purchase products through our affiliate links. For more visit our privacy policy page.