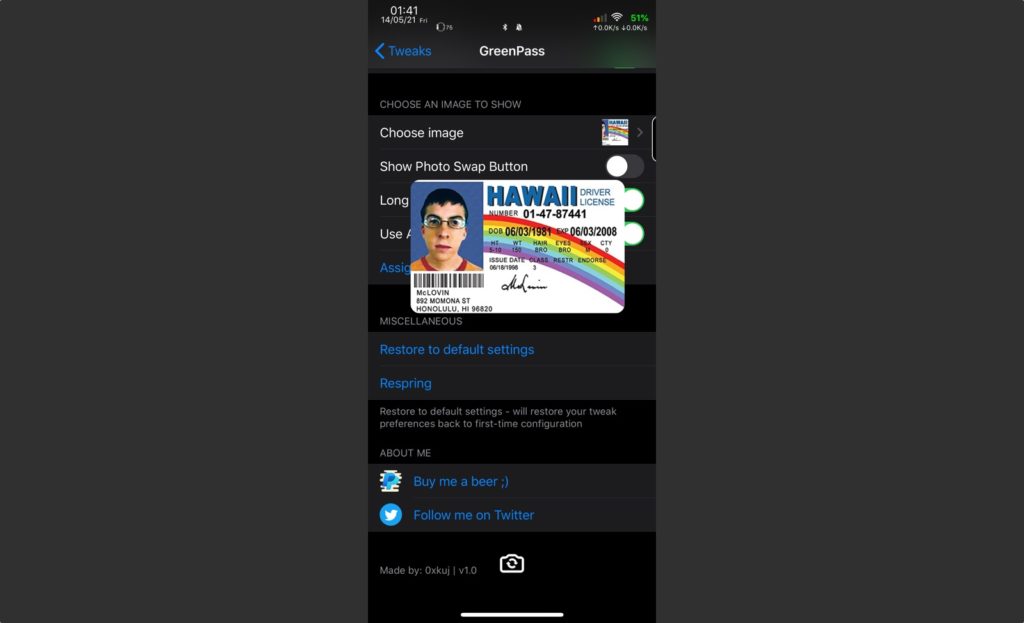 Do you often find yourself in situations where you have to display a pass to enter a building or access a Photo ID on regular basis. If yes, then you need to try the Green Pass tweak for jailbroken iPhones.
With Green Pass you can make your iPhone show any photo of your choice with an Activator gesture. How this works is pretty simple. You can assign a gesture to the Green Pass tweak. Whenever you perform this particular gesture on your device your iPhone will display your chosen image on the screen. This image can be of your ID or any photo that you like.
The best thing about Green Pass tweak is that it can display your selected image no matter where you are on the iPhone. As soon as you perform your chosen gesture the image will appear over any app you are currently using. This means you can show the Green Pass without having to exit the currently opened app.
While Green Pass tweak can be used for any purpose you like, it can also be used for Digital Green Certificates which are being issued in various countries of the world. You can put your Green Pass on your iPhone and then choose your Green Pass Certificate to be displayed on the screen after you perform a gesture.
When the Green Pass photo appears on the screen you can interact with it. You can move, resize and rotate it just the way you like. In addition to that you can choose a different image with a long press or tap on the image to make it go away.
You also get to configure various settings related to the tweak including the ability to enable or disable the gesture, enable or disable animations and more.
You can download the Green Pass tweak on any iOS 13 or iOS 14 powered device. It is available under the Packix repo for free.