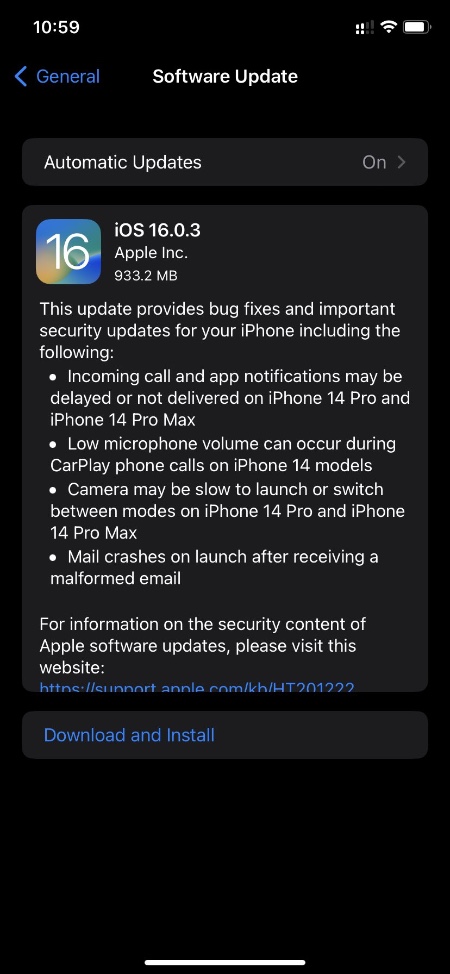 Apple has released another iOS 16 update today. The newly released iOS 16.0.3 update, which is now available for download brings bug fixes and improvements and is recommended for all users.
iOS 16.0.3 has been released ahead of imminent release of iOS 16.1 and comes over two weeks since the release of iOS 16.0.2.
The build number for today's iOS 16.0.3 release is 20A392. This update brings a number of bug fixes and performance improvements.
Apple says it has fixed the issue that caused the Camera app to launch and switch between various camera modes slowly on iPhone 14 Pro and iPhone 14 Pro Max.
This update also fixes the issue on iPhone 14 Pro and iPhone 14 Pro Max, which caused the incoming call and app notifications to be delayed or not get delivered at all.
Another iPhone 14 lineup specific fix that has been made in today's release fixes the issue that caused low microphone volume during CarPlay phone calls.
A Mail app bug that caused the app to crash after receiving a malformed email has also been fixed in iOS 16.0.3.
You can download iOS 16.0.3 over-the-air by going to Settings -> General -> Software Update. In addition to that you can download iOS 16.0.3 IPSW from direct download links below and use Finder and iTunes in order to restore iOS on your device.
iOS 16.0.3 Direct IPSW Download Links