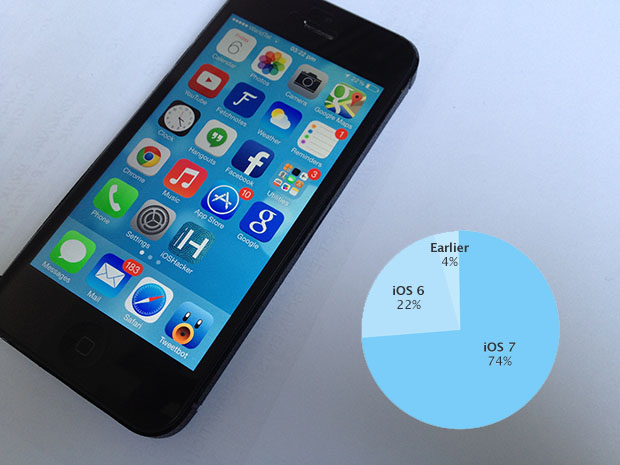 If you read the news websites and social media after the release of iOS 7 then you might be having an impression that everyone hates this latest version of iOS that brings radical changes to design and new features to all supported devices. Well if you thought so you couldn't be more wrong about that as statistics are showing otherwise. According to Apple's official figures around 74 percent of iOS users have already upgraded to iOS 7, which is the latest version of Apple's mobile operating system that powers iPhone, iPad and iPod touch.
The 74 percent figure includes all three devices that run iOS. The adoption rate iOS 7 has seen that too in such a small period of time is unprecedented in the mobile OS space and especially when compared with iOS's main rival Android. This study takes into account the iOS users who had upgraded to iOS 7and accessed the App Store in one week period ending on 1st December. Its worth mentioning here that the latest version of iOS gained 10 percent more users in November than it had back in October.
As measured by the App Store during a 7‑day period ending December 1, 2013.
As of right now according to Apple's official figures as reported on its developers website iOS 7 has 74 percent marketshare while iOS 6 only has 22 percent. A small percentage of iOS users is still using versions older than iOS 6 as well.