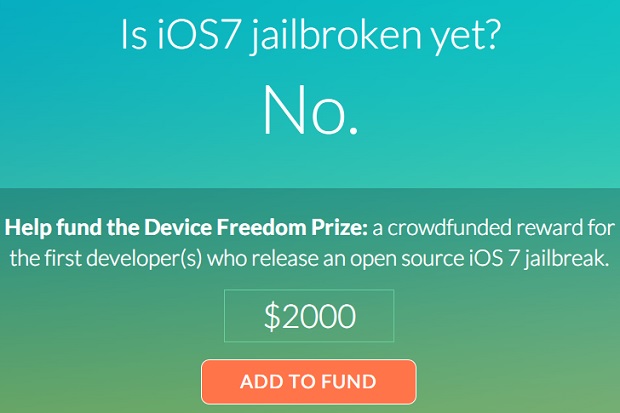 It has been several months since the public release of iOS 7but we have yet to see the release of a jailbreak. Everyone is anxiously waiting for the release of the iOS jailbreak but no one has a clue when it will become a reality. We know different iOS Hackers are working on a jailbreak but they have yet to reveal ETA or further details about it.
Now a group of enthusiasts have set up a website called IsiOSJailbrokenYet.com that aims to collect funds from people, which will be used as a reward for anyone who can release an open source jailbreak for iOS 7. The judges of the contest that is open to anyone who can provide an open source iOS 7 jailbreak includes Kyle Wiens who is a co-founder of iFixit, co-editor of BoingBoing Corey Doctorow, Biella Coleman who is a Professor and Author of Coding Freedom and Chril Maury, who is the prize proposer as well as an accessibility advocate.
So why are they doing it? Here's what they have to say:
We strongly believe that users should have the freedom to control their devices. We wanted an open source jailbreak for iOS 7, giving users the capability to install what they want on their own devices and the ability to audit the code they're using to do so. Jailbreaking is also critical to ensuring that the disabled are able to use their mobile devices as easily as possible. So we started a prize for the first people who can do it.
The rules for this crowdfunded contest are pretty simple. Anyone who could release a jailbreak that fulfils the following conditions will be eligible for the prize.
– Work for iPhones (including 4S, 5, 5c, 5s) running iOS 7.
– Support the latest current version of iOS (7.04).
– Be untethered and accessible to the average user.
– Be publicly released and available free of charge.
– Be released under one of the OSI-approved licenses.
As of now around $2,000 have been added to the fund. If you want to contribute to this project and offer a reward to someone who can jailbreak iOS 7 then go to this page to add your funds. If you are a developer who thinks he or she has the ultimate jailbreak everyone has been waiting for then write to them at [email protected] to claim your prize.