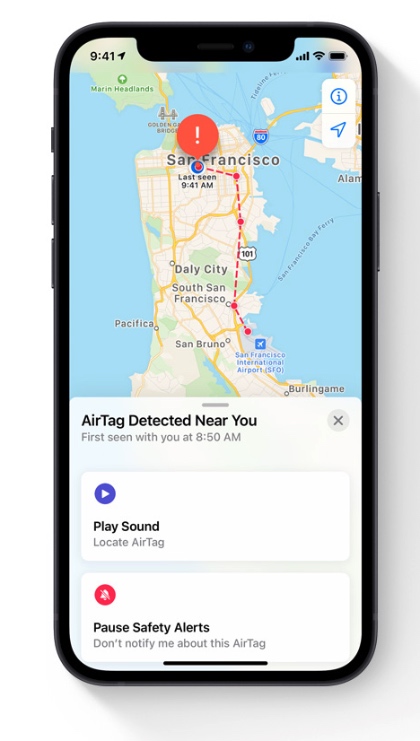 AirTag feature an anti-stalking feature that notifies iPhones and Android devices around it that they are being tracked by sending an alert and sounding alarm.
According to a report from WSJ iPhone users are receiving false alarms on their smartphone regarding AirTag tracking even when there's no AirTag around them.
Users have reported receiving such alerts in the middle of the night, leaving them panicked and searching for AirTag that is nowhere to be found.
The false alerts or as the report refers to them as 'phantom AirTag alerts' accompany maps of user's location with straight red lines. As opposed to actual alerts where users are given the path where the AirTag has been tracking them.
Many users have reported receiving false AirTag stalking alerts where they receive a notification saying 'AirTag Detected Near You' on social networking sites.
WSJ's reports talks about a user named Ryan McClain, who got the false safety alert on his iPhone.
"It was a shock to my morning," he said. "I thought, 'Who would want to stalk me? Who would want to hurt me?'" He searched fruitlessly for the AirTag, had a mechanic check under his car and asked his neighbors if they owned one. They didn't.
The report has accounts from several other users who had shocking experiences.
An Apple spokesman told WSJ that this issue could have been caused due to iPhone receiving area Wi-Fi signals, which temporarily confuse its Location Services.
Going to Settings -> Privacy -> Location Services and turning Location Services off and then back on while the device is connected to Wi-Fi could help.
The spokesperson also said living in densely populating where others in nearby homes could trigger such alerts.
Launched as item tracking device similar to already existing Tile devices, AirTag quickly became a stalking tools for stalkers who found the cheap and small $29 device to be highly effective in tracking the whereabouts of unsuspecting victims.
Apple added anti-stalking features and has tweaked them in firmware updates to help users in detecting when they are being tracked.
Disclosure: iOSHacker may receive a commission if you purchase products through our affiliate links. For more visit our privacy policy page.