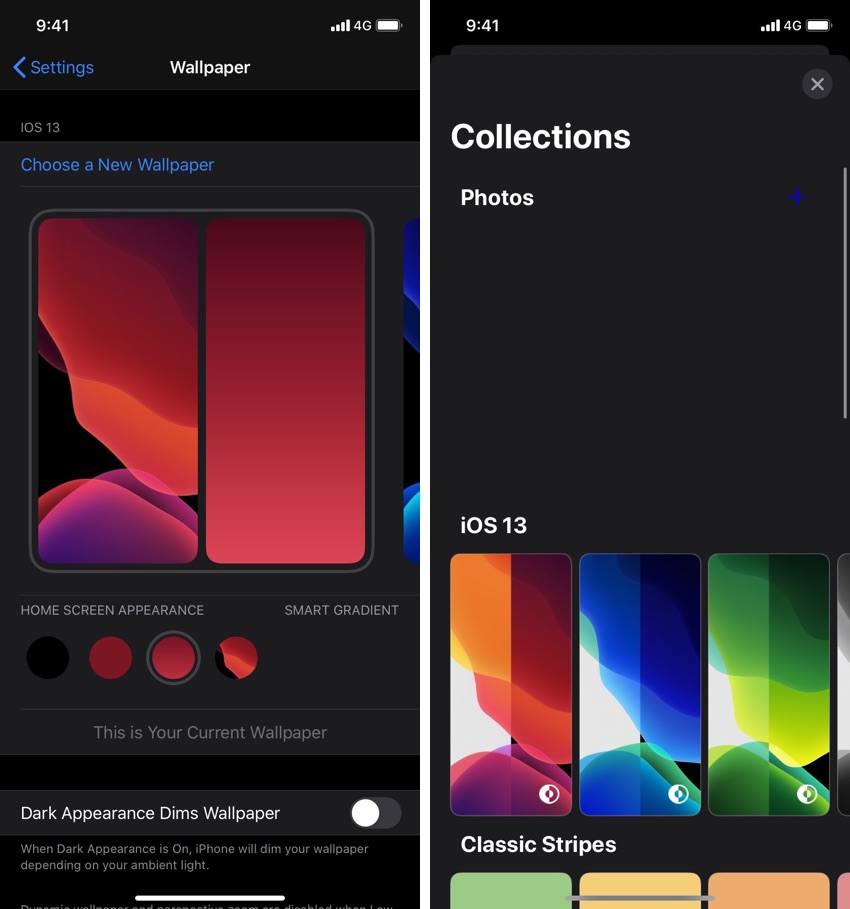 A bunch of iOS 14 screenshots have leaked online. These screenshots show the wallpaper selection screen of the upcoming iOS version. The images that have been posted by Twitter user @DongleBookPro show us what the redesigned wallpaper selection screen will look like, and gives us hints at what other features Apple is planning to bring to iPhones. The leaked iOS 14 screenshots showcase the main wallpaper screen found under the Settings app and a new Collections screen.
The main wallpaper screen that appears in the first screenshot above offers several new options to the user. The wallpaper preview found under the 'Choose a New Wallpaper' button looks different than what we have on current versions of iOS. It not only shows wallpapers for home and lockscreen as a single unit but we can also see a blue wallpaper set up on the right side.
This could mean Apple will allow iOS 14 users to create multiple wallpaper set ups by selecting wallpapers for home screen and lockscreen, and easily switch between these combinations. It would allow users to quickly switch between wallpaper combinations for home screen and lockscreen without having to change them separately each time. This would be similar to how users can switch between watch faces on Apple Watch.
The wallpaper page also has a brand new 'Home Screen Appearance' section that would allow users to select between different appearances for their device's wallpaper.
Hey @EveryApplePro, @MaxWinebach said you like wallpapers pic.twitter.com/4P8BrMzCkI

— Dongle (@DongleBookPro) April 4, 2020
The Collections page that appears in the second screenshot above is designed to organize the stock wallpapers in a more efficient way. From the screenshot we can see that the stock wallpapers have been categorized in sections that feature wallpapers from iOS 13 category, Classic Stripes category, Flowers, Earth & Moon and so on. Users can scroll sideways to access more wallpaper options in any given category.
Website 9to5Mac, which has claimed to have access to leaked iOS 14 code says that Apple is working on a new feature that is internally dubbed as Avocado. Avocado is an app for springboard that will allow users to control their device's home screen. Without going into much details 9to5Mac says Apple has plans of bringing new widgets feature with iOS 14, which would allow users to place widgets on the homescreen and move them around like app icons.
This new widgets feature will be different from the widgets feature found in iOS 13, which allows apps to add widgets to the left most page of the screenscreen. The new widgets will appear in between the icons and will be moveable.