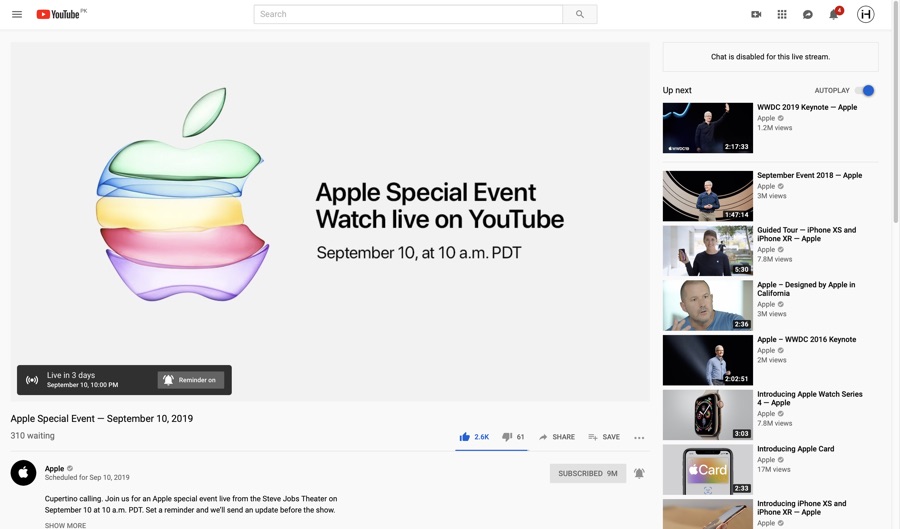 Apple's iPhone event is scheduled to take place on September 10. For the first time ever Apple is going to livestream iPhone 11 event on YouTube. At the event Apple is going to announce new iPhone 11, iPhone Pro 5.8-inch and iPhone Pro 6.5-inch. iPhone is not the only product that is going to see new announcements at this event, as Apple is also going to announce new Apple Watch Series 5, refreshed iPad Pros and possibly a new 16-inch MacBook Pro.
In addition to livestreaming iPhone 11 event on YouTube, Apple is also going to livestream at its usual places such as at the Apple Events page on its official website and Apple TV events app. Last year Apple also offered a livestream on Twitter for the iPhone XS event, however no such plans have been made public as of yet.
With the addition of Apple livestream on YouTube users it has become easier for a larger number of Apple fans around the world to watch and enjoy Apple's big keynote. It is also worth noting that YouTube is capable of offering better livestreaming experience compared to any other service in the world, so you can expect this livestream to perform better even at slower internet connections. Apple iPhone 11 livestream on YouTube will also allow non-Apple TV users to livestream the even on their TV sets using the official YouTube application.
Apple has already set up the Special Event page on YouTube where users can turn on the reminder for the event.
Apple will start the event on September 10 at 10AM PDT. The event will take place at the Steve Jobs Theater at Apple's iconic spaceship campus.
We will be covering the iPhone announcement during and after the event so be sure to follow us on Twitter and on YouTube for latest content.