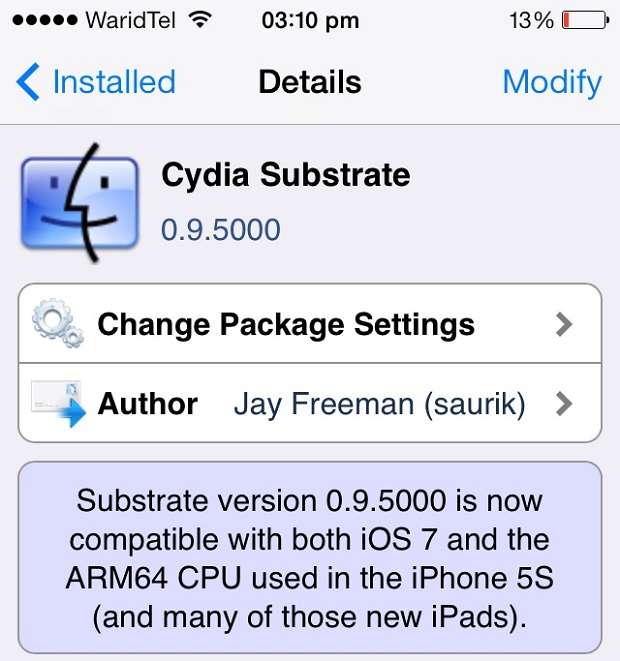 The wait for iPhone 5s and new iPad users is finally over as Saurik has finally released Cydia Substrate (previously known as mobilesubstrate) and it is now available as an upgrade in Cydia. If you have a jailbroken iOS device then head over to Cydia and refresh. Once upgrade for Cydia Substrate becomes available in Changes section upgrade it to the latest version.
This upgrade means a lot for the jailbreaking community as it will not only allow iOS 7 and iPhone 5s users to install tweaks but it will also make it possible for users to develop tweaks for iOS 7 and ARM64 CPU. The version number for Cydia Substrate is 0.9.5000. The name of the package is also changed from MobileSubstrate to Cydia Substrate to make the tool more familiar to the users.
iOS 7 jailbreak has been around for over a week but most users were having problems with tweaks not running properly or not running at all. The culprit was MobileSubstrate's lack of support for iOS 7 and newer iOS models. But now since the Cydia Substrate tool has been released users will be able to install old and new tweaks on their newly jailbroken devices without any issues.
Although Cydia Substrate will make it possible for tweaks to run on newer models the tweaks will have to be recompiled for ARM64 architecture. Here's Saurik's tweet about it.
Substrate 0.9.5000 has been released, with support for iOS 7 and ARM64. (For extensions to work on ARM64, they must be recompiled to ARM64.)

— Jay Freeman (saurik) (@saurik) December 31, 2013