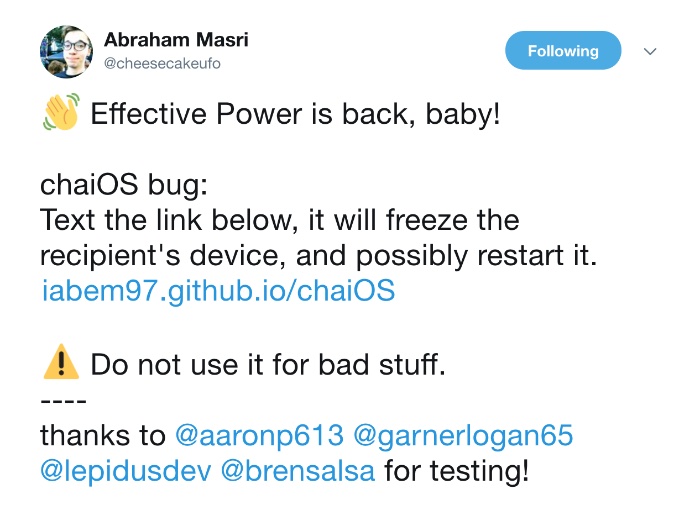 A new bug dubbed as chaiOS bug has been discovered in iOS that causes the target iPhone or iPad to freeze, crash, battery drain or respring. The hack involves a URL that needs to be sent to the target device via iMessage. Once user opens the message thread his or her device displays different behaviours, none of which are desirable.
According to developer Abraham Masri who was first to discover the chaiOS bug that many are comparing to the Effective Power bug from 2015, the text link freezes the recipient's device and "possibly restarts it".
Many users who have tested this link on their devices report that the link indeed causes unwanted behaviour on their devices and they were able to fix the crashing by employing different tricks to delete the thread from the Messages app before their device returned to a stable state.
One tester who was unable to open the Messages app after sending the bugged link to himself notes that he had to start a new thread using 3D Touch menu, only then he was able to launch the Messages app without it being crashed and then deleted the thread with the URL.
The link is also capable of crashing the iOS Safari if opened directly in the browser. Users have also reported that the bug is present on desktop Safari with one user being able to freeze desktop Safari by opening the link.
The chaiOS bug affects iPhone, iPad, iPod touch and Macs running latest software so iOS 11 and macOS High Sierra are affected.
Apple will fix this bug in the next iOS update until then stay safe out there and please don't forward this link to your friends.
Disclosure: iOSHacker may receive a commission if you purchase products through our affiliate links. For more visit our privacy policy page.