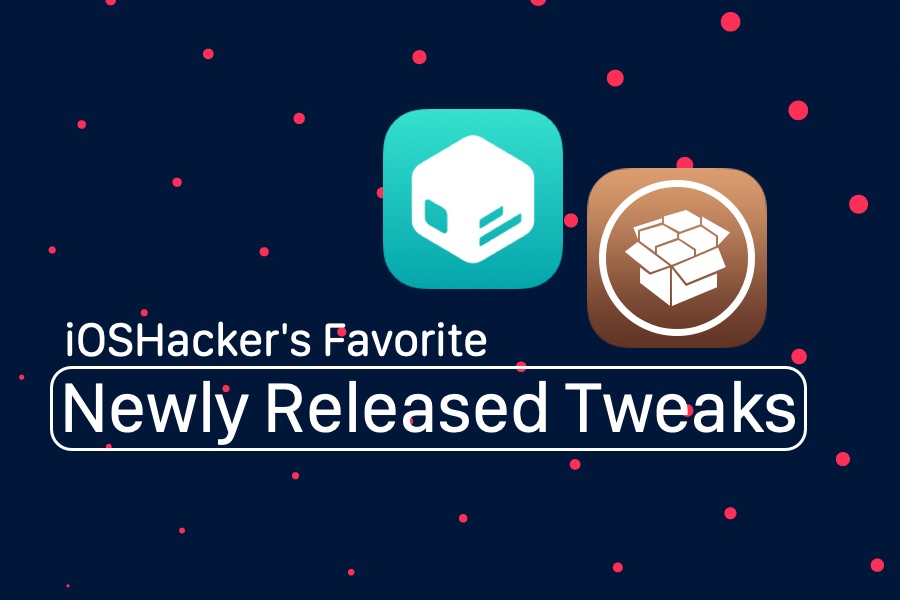 If you are a proud owner of iPhone X or earlier and have used the checkra1n jailbreaking utility to jailbreak iOS 13, then we have some great new tweaks for you. Thanks to the high quality of these tweaks and new functionalities they bring to any jailbroken iOS device, we are sure you are going to love these new additions.
Read on to learn about the newly released Sakal, ColorMeNotifs, ScrollToTopless, TapTapLock, NoShareXIII and TouchFlow. In this roundup we will tell you what these new Cydia tweaks do and how you can download them on your jailbroken devices.
Haven't jailbroken iOS 13 yet? Check our detailed iOS 13 jailbreak guide for help on how to jailbreak iOS 13 or iPadOS 13 on iPhone, iPad or iPod touch.
Sakal Tweak: See Your Upcoming Alarm Right On Lockscreen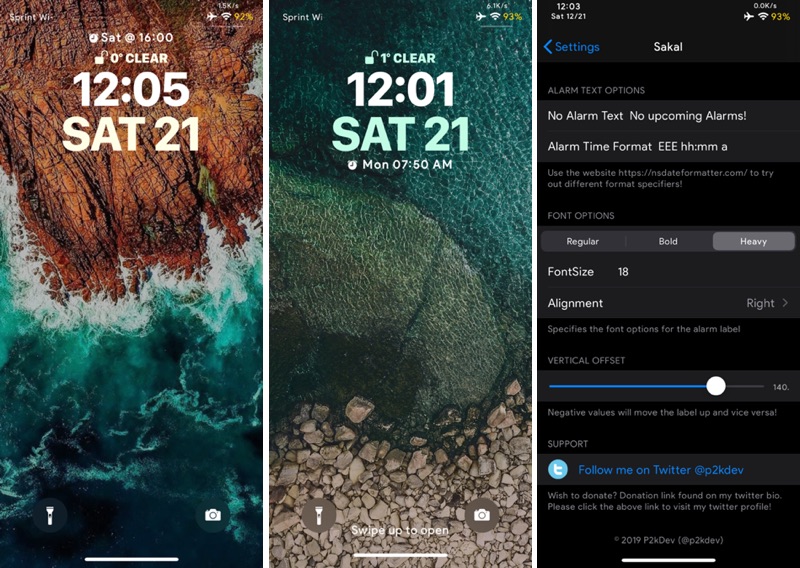 With the Sakal tweak you can make your life easier by adding your upcoming or next alarm right on the lockscreen. With Sakal tweak installed you will get an at a glance view of what time your next alarm is going to ring at, making it convenient for you to turn it off or make changes if you want to. What makes Sakal incredibly useful is the fact that it eliminates the need of opening the Clock app just to make sure your next alarm is going to ring on time.
Sakal tweak offers a number of customization options including the ability to specify custom format, change placeholder text when there are no active alarms, change font size, alignment and weight of text, change the position of alarm info and more. You can configure the tweak from the Settings application.
Sakal tweak is available through the Packix repo, where it can be downloaded for free. Sakal requires iOS 13 or later to work.
ColorMeNotifs Tweak: Colorize notifications, widgets and music widget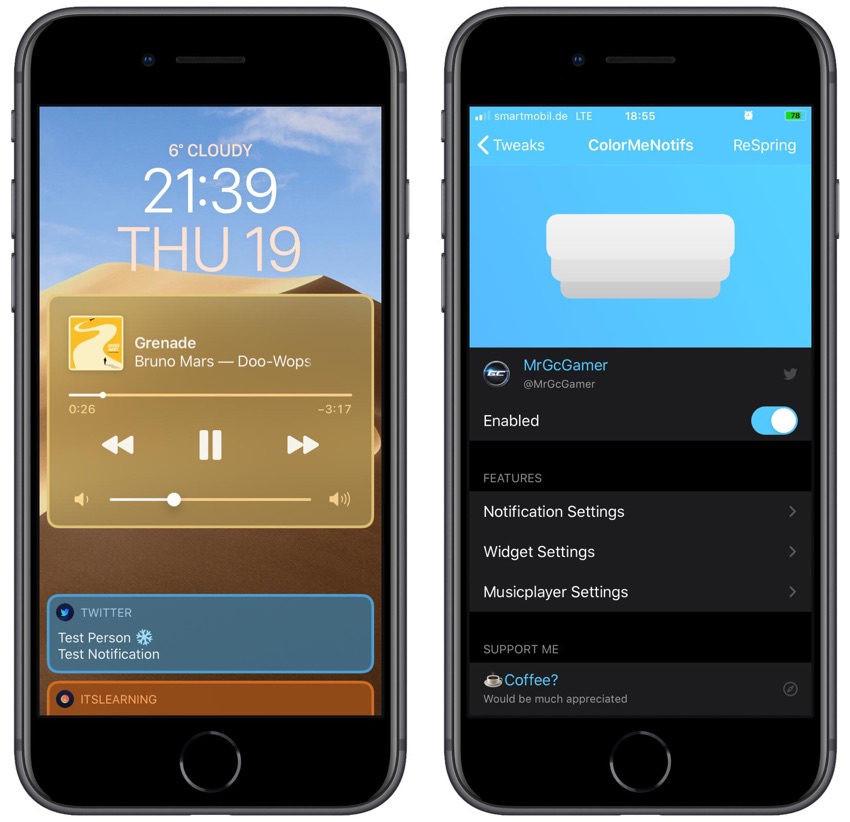 Think iOS's default notifications are boring? Are you looking to add color to the notifications and widgets? Then try the ColorMeNotifs tweak on your jailbroken device. With this tweak you can colorize the look of iPhone's notifications and widgets while significantly improving the lockscreen's look and feel. This tweak also changes the color of the Music widget. ColorMeNotifs can be configured from the Settings app, where you can also change settings for notifications, widgets and music player individually.
You can download ColorMeNotifs tweak from Cydia's Packix repo for free. It works with iOS 13 or later.
ScrollToTopless Tweak: Disable Scroll To Top Gesture In Certain Apps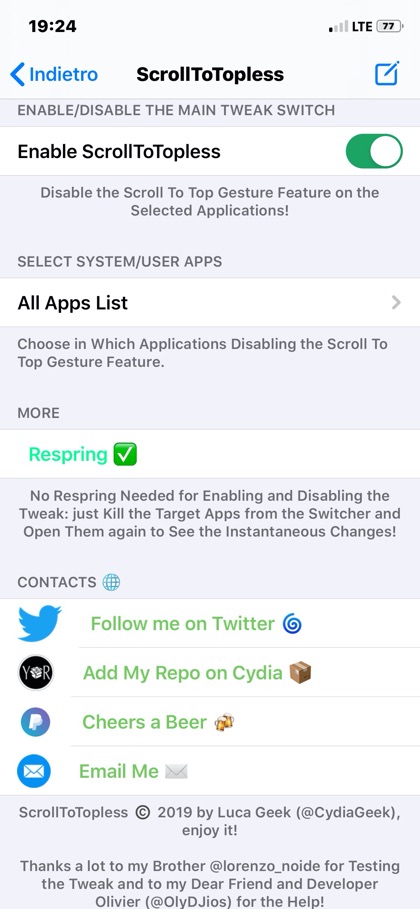 The new ScrollToTopless tweak makes it possible for jailbreak users to disable iOS's default scroll to top gesture. This is the convenient gesture that lets you scroll all the way to the top of the page by tapping on the status bar. While the gesture is very useful it can also bug you in some apps, where you don't want to scroll all the way to the top accidentally. With ScrollToTopless you can simply turn off the scroll to top gesture in certain apps of your choice.
You can easily specify which apps you want to disable the scroll to top gesture in. The ScrollToTopless tweak is available through Cydia's BigBoss repo for free. It works with iOS 10 or above including iOS 13.
TapTapLock Tweak: Lock Your iPhone More Quickly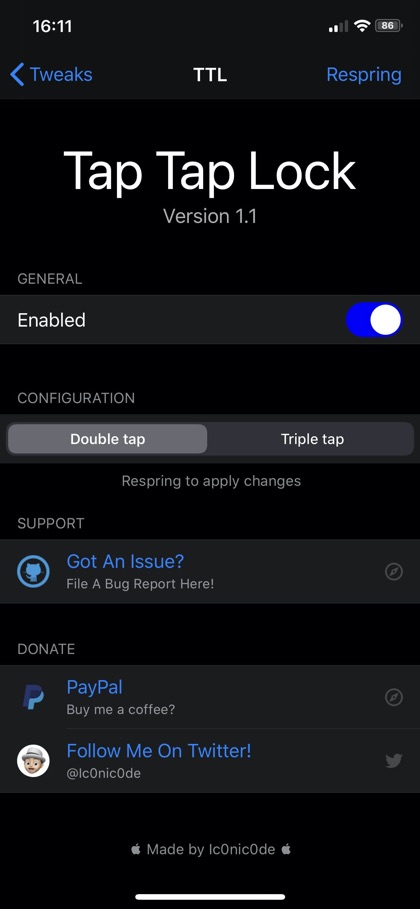 Compatible with iOS 10 all the way up to iOS 13, the TapTapLock tweak makes it easier for users to quickly lock their device. With this tweak installed you can instantly lock your device by double tapping on the home screen, instead of pressing the side button for unlocking. This tweak is also great for those who have a malfunctioning home button.
There are not many options to configure, however you do get the ability to switch from double tap to triple tap option. You can download the TapTapLock tweak from Cydia's BigBoss repo where it is available for free.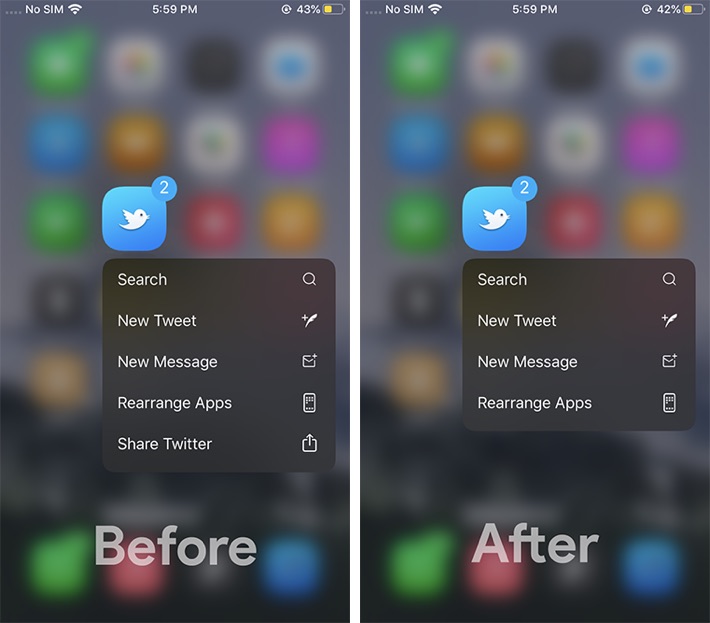 This tweak has a simple function. It simply removes the 'Share app' option that appears right at the bottom of the 3D Touch menu. If you don't use this option, you can use NoShareXIII tweak to disable it. This tweak is available on the Twickd repo for free and only works with iOS 13 or later.
TouchFlow Tweak:
The TouchFlow tweak allows users to have their iPhone display an on-screen indicator every time they touch their screen. This tweak is useful for recording on-screen actions using the built-in iPhone screen recording feature. The tweak also offers a number of options including the ability to always show touches on the screen, only show when screen recording, edit touch's fill color, size, border color etc, show touches force on 3D Touch enabled devices and more. You can download the TouchFlow tweak from Cydia by adding CreatureCoding repo (https://creaturecoding.com/?page=repo) to Cydia or Sileo.
There you have it folks, these are some of the newly released iOS 13 jailbreak tweaks that we like. Did we miss any tweak that should have been part of this list? Let us know in the comments below. Also, don't forget to check our previous tweak roundups below.