We have previously told you about Apple's plans of releasing a Tile-like tagging device to make it easier for users to track their belongings using the Find My app. Now it looks like we finally have a solid confirmation of such a device's existence as website MacRumors is reporting about mention of a Bluetooth tracking device in an internal build of iOS 13 dating back to June of this year.
The tracking device is mentioned with the internal codename "B389". In addition to mentioning the unannounced device the internal iOS 13 build contains what appears to be the placeholder image of the device. According to the report, Apple has mentioned the tagging device multiple times in the internal build that is not meant for public. For example, there are strings like "tag your everyday items with B389 and never lose them again". As Apple also maintains complete privacy internally the codename is most likely to be replaced with the device's actual name at a later point.
The placeholder image that can be seen above features a small and circular tag with an Apple logo in the middle. While this may not be the final design we suspect the device will look something similar to this.
Apple Tagging Device Will Make User's Life Easier
With the new tagging devices Apple will allow users to track their everyday items such as backpacks, keys, wallets etc by attaching the tag with them. Once attached users will be able to track these items from any Apple device such as iPhone, iPad or even iCloud.com. In fact the report claims that internal builds of Find My app features a dedicated 'Items' tag that gives users easy access to their active tags.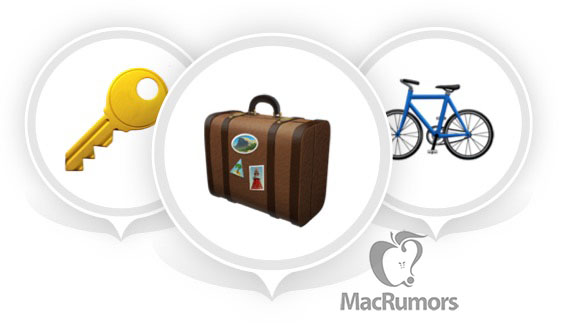 Similar to Tile and other Bluetooth trackers users will get a notification when they move away from a tagged item. This will be useful in situations when you are out and about and leave your keys on your office desk or cafe table. As soon as you go further than a specific point your iPhone will start ringing letting you know you have forgotten the tagged item. Users will also be able to mark 'Safe Locations' such as their house or office so they are not bothered with unwanted notifications when they leave an item behind.
Tagging Device Uses The Vast Network Of iPhone Users
Apple is also taking advantage of the vast network of iPhone users out there. When a user has marked a tagged item as missing it will enter a 'Lost Mode' and start communicating with any close by Apple device. If another iPhone user has found the device iOS will read information from the tagging device and display its owner's contact information. Apple will also send a notification and perhaps the location of the tagged item when it has been found by a fellow iPhone user.
MacRumors also reports that Apple could also take advantage of iPhone's Augmented Reality capabilities and use ARKit to help user in locating their items. The internal build also contains asset for 3D red ballon. This ballon could be used to mark the presence of a tagged device.
Replaceable Batteries For Prolonged Life
Lastly the report also mentions that the device is going to feature replaceable batteries. This means users will be able to simply replace batteries unlike some Tile devices that become obsolete as soon as they run out of battery.
Apple is expected to announce its tagging device on September 10, when it is going to take the stage to announce new iPhone, Apple Watch, iPad Pros and possibly more.